World Bank challenge lists promising agri-tech innovations in Kenya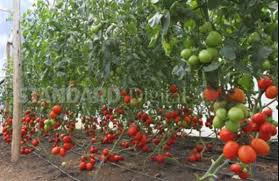 NAIROBI, KENYA: Despite Kenya being the digital innovation hub of Africa and home to many of the continent's innovative start-ups on digital agriculture, many of Kenya's farmers have yet to benefit.
A group of partners, led by the World Bank Group, ran a Challenge competition from 5-6 April to identify Kenya's most promising agri-tech innovations with the aim of getting one million Kenyan farmers onto a digital platform over the next three years.
"Quite simply, new technology has the ability to transform Kenya's agricultural sector," said Jeehye Kim, Agricultural Economist at the World Bank Group. "Other industries like telecoms and transportation have already shown technology's ability to radically disrupt the status quo, and now it is time for Kenya's farmers to harness this potential also."
Each stage of the African agriculture value chain is ripe for disruption. Technologies such as apps, climate-smart seeds or data analytics can be used to dramatically improve farmers' yields if scaled up and deployed effectively.
With regard to logistics, technology can enable suppliers to aggregate farmers' demand for inputs like seeds and services like tractors, which can then cost-effectively be delivered to farmers at the farm gate. Other promising approaches include financial services, enterprise development, market access, and data analytics.
The first cohort of entrepreneurs selected from the Challenge competition included:
Category 1: Productivity
• DigiCow, a simple record keeping App for dairy farmers to enable them to increase their profits through data-driven decision making
• Digital Green, which uses a video-enabled approach to reach large numbers of smallholder farmers with agricultural extension advisory services in an adaptable, scalable and cost-effective way
• Farmers Pride, which combines franchise model, technology and village youth agents to bridge inputs, services and information gap among rural smallholder farmers
• Precision Agriculture for Development, which reaches farmers with personalized agricultural advice through their mobile phones
• SunCulture, which develops and offers solar-powered smart irrigation systems
Category 2: Market linkages
• M-Shamba, a digital extension platform that uses interactive voice response services to transfer technologies to smallholder farmers
• TruTrade Africa, which uses cloud-based mobile and online applications to provide smallholder farmers with a reliable route to market and fair prices for their produce
• Tulaa, which use mobile technology and artificial intelligence to provide smallholder farmers with quality agricultural inputs on credit and broker the sale of their crop at harvest time
Category 3: Financial inclusion
• ACRE Africa, which links farmers to crop, livestock and index insurance products to shield them against unpredictable weather conditions
• Agri-Wallet, which provides mobile cash transfers for agri-buyers and farmers
• Arifu, a personal learning tool you can chat with on any mobile device to learn new skills and access opportunities
Category 4: Data analytics
• Astral Aerial, which operates affordably priced drones that can cover 1000 acres per flight, with sensors to detect crop health.
• Oakar Services, a geospatial consulting firm focused on providing GIS, remote sensing, and other related geospatial consultancy services
• UjuziKilimo, a real-time soil testing service using technology to provide precise and actionable agricultural information to farmers using sensors and mobile phone technologies
"Selecting from such shortlist of organisations was challenging to say the least," said Anup Jagwani, Principal Investment Officer, International Finance Corporation, and a member of the judging panel. "The first cohort of technologies symbolise the future of Kenyan agriculture and were chosen because of their potential to best effect change at scale."
The so-called "One Million Farmer Initiative" was formed by The World Bank Group; Kenya's Ministry of Agriculture, Livestock, Fisheries and Irrigation; the Korea-World Bank Partnership Facility; Kenya's Ministry of Information, Communications and Technology; Kuza Technologies; Dalberg; the UN SDG Partnership Platform and others.
"The Conference has laid the foundation of a One Million Farmer Initiative, which will lay the foundation of a sustainable agri-tech ecosystem in Kenya, said Parmesh Shah, Global Lead for Rural Livelihoods and Agricultural Jobs, Agriculture, World Bank Group. "We are very encouraged by the response of all key stakeholders to the platform.'
Kenya accounts for 23 per cent of all agri-tech start-ups in Africa, yet scaling up the impact of digital and disruptive technologies requires systematic investment in knowledge, innovation and the incubation ecosystem.
Almost one-quarter (24.2 per cent) of Kenyans are estimated to still suffer from undernourishment, according to 2016 data from the Food and Agriculture Organization of the United Nations.
The initial costs of implementing these innovations are high because they are risky, but once farmers are on the platform, it will be accessible to other innovators, driving down future data generation costs.
The initiative will be part of the World Bank's two major agriculture development initiatives in Kenya – the Kenya Climate Smart Agriculture Project and the National Agricultural and Rural Inclusive Growth Project – both valued at nearly Sh5 billion (US $500 million).