Huduma NIIMIS registration kicks off in counties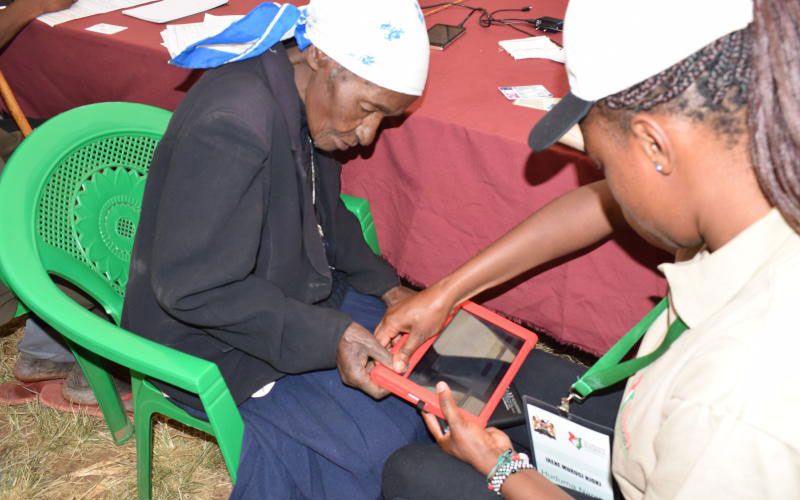 Registration of Kenyans under the National Integrated Identity Management System (NIIMIS) started yesterday in 15 counties on pilot basis.
Deputy Head of Public Service Wanyama Musiambo, who spoke in Busia during the launch of the exercise dubbed 'Huduma Namba' yesterday, said registration of persons under the system is mandatory.
He warned it will be hard for those whose details will not be captured to access government services.
Busia is among 15 counties selected to pilot the exercise ahead of mass rollout of the NIIMS registration next month.
It will target any Kenyan and foreigner aged six years and above.
"The Government will take legal action against anyone who will fail to register," said Musiambo.
Mr Musiambo said NIIMS will help government in planning besides fighting corruption and fraudulent dealings, particularly land grabbing.
Foreigners without Huduma Nambas will also miss out on Government services.
Musiambo said foreigners who have been flocking to health facilities on the Kenyan side in border towns of Busia and Malaba will soon be locked out.
He, however, noted that although Huduma Namba will contain details of an individual, registration for National Identity Card and National Hospital Insurance Fund will still go on.
In Embu County, residents of Manyatta and Mbeere South sub-counties turned out in large numbers to register.
County Commissioner Abdullahi Galgalo urged locals to ensure they register to enable the government in planning.
"Citizens will be provided with new and unique identification numbers that will help them access different services from the government. The new identification will also help in the management of security as it will help in the monitoring of people of interest," he said.
Tana River residents have also been urged to register in large numbers.
Access services
Agriculture Principal Secretary Hamid Boga said the new programme will help citizens and foreigners to access to services more easily.
County commissioner Oningoi ole Sosio asked chiefs and village elders to spearhead the exercise to ensure everyone is registered.
"Huduma Namba is a national programme for establishment of an integrated biometric population database that will be the single source of truth on a person's identity," said Treasury Principal Secretary Kamau Thuge in Nairobi yesterday.
The mass biometric registration will cost the taxpayer between Sh5 and Sh6 billion. Pilot registration will go on for the next 30 days in the 15 selected counties.
Other counties are Kiambu, Nairobi, Nyandarua, Kajiado, Uasin Gishu, Baringo, Makueni, Marsabit, Kisumu, Kisii and Kilifi.
Interior Principal Secretary Karanja Kibicho, last Thursday, disclosed that facial recognition will also be used to capture all the information about an individual.
[Story by Ignatius Odanga, Silah Koskei, Hassan Barisa, Joseph Muchiri, and Jennifer Anyango]