USIU-Africa University partners with AfDB to launch Innovation and ICT Center of Excellence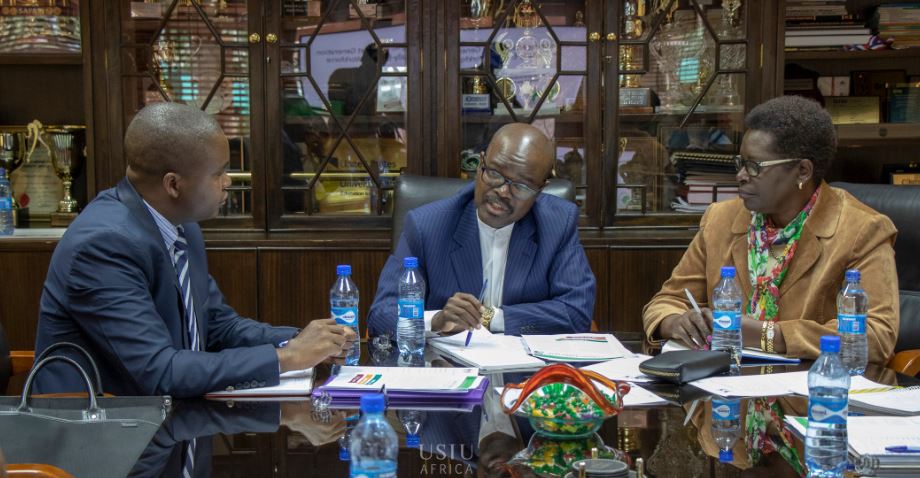 The United States International University, Africa (USIU-Africa) is among the five universities that have been selected to host the African Development Bank (AfDB)'s Coding for Employment Center of Excellence.
"Preparing youth for the jobs of tomorrow remains a necessity in Africa, where many still lack the digital knowledge and soft skills required to succeed. In order to address this shortfall, the African Development Bank has partnered with us to for the latest Coding for Employment Program which seek to empower African youth abler to take on current and future jobs across the continent. By 2025, the Jobs for Youth in Africa Initiative will equip 50 million youth with employable skills and create 25 million jobs in agriculture, information communications and technology and other key industries across Africa," says Prof Amos Njuguna, Dean, School of Graduate Studies, Research and Extension, USIU-Africa.
Over the last decade AfDB has invested US $1.64 billion in programs to prepare youth for careers in science, technology and innovation.
Prof Njuguna added: "Putting youth at the center of Africa's inclusive economic growth agenda is at the forefront of the AfDB's investments and its "High 5s" priorities. This fits into USIU-Africa's vision of building businesses, feeding the continent, expanding power and integration, and improving the quality of life for the people across the continent by preparing youth for today's competitive digital world making it a partnership that will impact lives. As the world moves towards a fourth industrial revolution, the demand for digitization across health, education, and other sectors is on the rise."
Digital innovations have the power to solve the continent's development challenges and are generating new job opportunities. The youth population is rapidly growing and by 2050, is expected to double to over 830 million. Yet, the digital divide in Africa persists and critical skills gaps pose serious challenges to youth securing quality and decent work in a rapidly changing workforce.
"We are becoming the leading university in the youth employability training space, which is so critical for sustainable development" Prof. Paul.T.Zeleza, Vice Chancellor, USIU-Africa.
The AfDB Center of Excellence Program is a flagship initiative of a broader Jobs for Youth in Africa Strategy, wherein the bank will seek to contribute to the creation of 25 million jobs for African youth over the next decade, and to equip 50 million youth with a mix of hard and soft skills to increase their employability as well as their entrepreneurial success rate.
The African Development Bank Group (AfDB) launched its Jobs for Youth in Africa (JfYA) Strategy to produce practical, high-impact solutions aimed at creating opportunities via education and training, transformative jobs and a business environment conducive to entrepreneurial activities.
The first year of the JfYA strategy implementation saw over 1.6 million jobs created and 652,000 people trained, the large majority of whom were women and youth.
Some of the key benefits of hosting a Center of Excellence will entail;
The equipping of a fully operational Information and Communication Technology (ICT) Center of Excellence, equipped with innovative technologies, equipment and facilities.
Demand-driven, industry-led ICT training from the Bank's partners including Facebook Inc., Microsoft Inc., amongst others.
Hosting AfDB supported Innovation and ICT initiative targeted at expanding and providing linkages to job opportunities for youth under the auspices of its Jobs for Youth in Africa strategy.