TUK student innovation tells you when gas is running out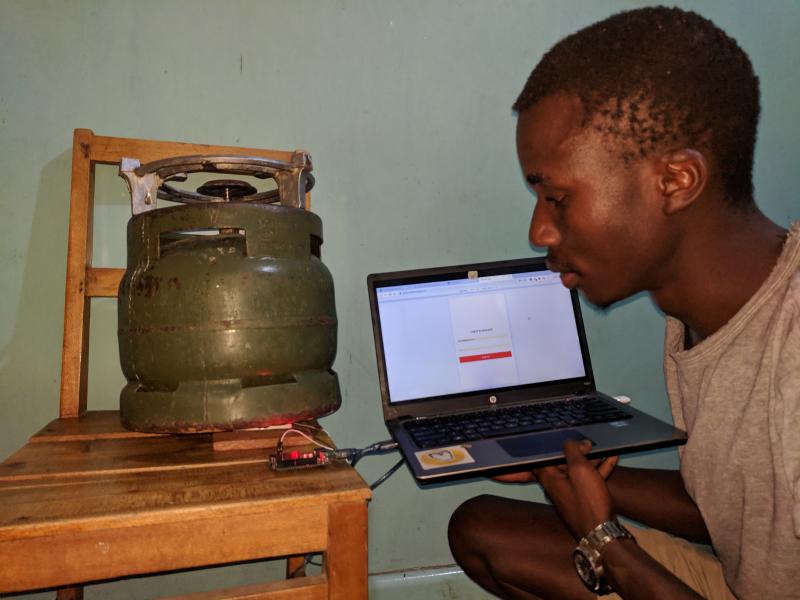 Have you ever had your gas flicker out in the middle of cooking? Well, now there's a way to avoid this experience.
An app by a Technical University of Kenya student seeks to address this.
The app, which provides timely data on gas consumption, also provides information on vendors allowed to supply gas from known gas manufacturers.
Henry Onyango, a fifth year student specialising in Automation and Control at TUK is the brains behind the innovation that provides a platform to gas manufacturers to list all the vendors they work with to ward off fraudsters.
Onyango got inspiration to develop the app from what he calls a painful experience. "I was cooking ugali for my dinner when my gas ran out without warning. It was late and none of my neighbours picked my calls to help me out. That when the idea struck me. I was in fourth year then," says Onyango.
The innovation is a combination of a physical system and a mobile app where all information is relayed to the household and gas manufacturers.
The physical parts include a load cell, a micro-controller and a Wi-Fi module. The load cell is where the gas cylinder is placed to measure the weight of the gas.
The load cell also coverts weight data in grams to electrical signals that are picked and transmitted to an online database through the Wi-Fi module. It is the user who determines the duration in which the data is picked.
Part of the information conveyed through the app, which collects data from the online database includes real time consumption of gas in the house.
"This is to help with budgeting at home. One is also able to know what month they spend the most gas and are therefore able to plan ahead," says Onyango. The 25-year-old says manufacturers have warmed up to the innovation, which is still at the prototype stage.
"I have already pitched my idea to top gas manufacturers and they are happy that their brands will be protected from fraudsters who masquerade as vendors listed with them," he says.
Dr Ojenge Winston, a lecturer in the School of Electrical and Electronics Engineering at the university says the innovation would provide useful data to the industry.
"The kind of data generated through the innovation is useful to various groups of people. It will enable the energy industry to gauge the amount of gas used in a given time. It will also help gas manufacturers know the amount of gas they are selling in regards to varied demographics," says Dr Winston.