Assistant chiefs to lead biometric registration of Kenyans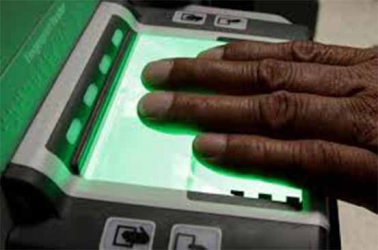 NAIROBI, KENYA: Assistant chiefs have been appointed as Registration Officers for the National Integrated Identity Management System (NIIMS) digital registration and identification of all Kenyans.
The administrators have been asked to recruit five enumerators each from their areas of jurisdiction who will work under them for the exercise slated for October and November this year.
The ministry of Interior has asked the chiefs to pick youths between the ages of 18 to 35 years who must be residents of their respective wards, fluency in local language, computer literate and of good conduct
"It's suggested where possible, they look for previous Independent Electoral and Boundaries Commission (IEBC) clerks who are already trained in use of biometric devices," a circular dated 23rd July, 2018 reads.
The circular signed by Amos Gatheca for Principal Secretary (PS) and addressed to all 47 county commissioners, has asked the chiefs to return the forms to Office of the President by this Friday, 3rd August.
The NIIMS according to the government, will ensure all IDs, refugee cards, birth and death certificates as well as driving licences and passport documentation are printed and distributed for collection from a central location.
Other documentation to be managed by the system under the proposed amendments are foreigner certificates, work permits, foreign travel documentation and student identification cards.
Last week, ICT Cabinet Secretary Joe Mucheru said the system will create, manage and operate a national population register as a single source of personal information for all Kenyan citizens and registered foreigners in the country.
"It is critical that we have one approach as government where we have a single source of truth, a central reference for the registration information and data about our citizens. It will be one database for all Kenyans and not only over 18 but it's everybody. This will help us to deliver services to our citizens in a very efficient way," said Mucheru.
The CS explained the system will have up to date citizen information from birth to death and will assist the government in planning and cut operation costs and also will help detect or prevent fraud, impersonation or any other criminal activity.
"The initiative is aimed at consolidating population registration information into a single database for ease of verification by both government and private bodies," he added.
Kenya says the ambitious system will be designed in such a way that all documents ranging from birth certificate, school certificate, driving license, Kenya Revenue Authority PIN and any other documents will be accessed at the touch of a button.
It will be advanced to the extent that when a person dies, the system marks the individual deceased and such information which will be useful during elections, to get rid of 'ghost voters'
Other sectors such as the National Health Insurance Fund (NHIF), National Social Security Fund (NSSF) and Kenya Revenue Authority (KRA) will be able to use the data.
The ministry is also seeking to introduce Global Positioning System (GPS) coordinates in registration of persons, enabling tracking of their location via satellite capabilities.