Jamii Telecoms responds to controversial spectrum tender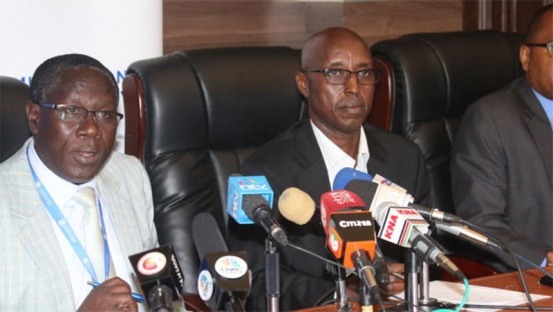 From left: Communications Authority of Kenya (CA) Director General Francis Wangusi and Chairman Ngene Gituku
NAIROBI, KENYA: Jamii Telecoms on Friday defended controversial 4G licence Communications Authority recently awarded it.
In a newspaper advertisement, the company said it got the licence on merit and termed media reports alleging that the award could cost the public a whooping Sh5.2b as a scheme by dominant players in the telecommunications industry to deny Kenyans 'better services'.
On Thursday, media reported that Communications Authority (CA) had issued Jamii Telecommunications a 4G network without charging the requisite spectrum fees.
The reports claimed that Jamii Telecom had paid Sh100, 000 for the 4G licence that would ordinarily have cost Sh2.5 billion. This is also in addition to another Sh2.5 billion initial fee that an operator hoping to set up a mobile telephony business needed to pay the regulator, which would mean CA was foregoing a total of Sh5.2 billion in licensing fees.
In the Friday newspaper advert, Jamii states that just like other operators, it paid the standard Sh15million licence fee. It has also invested over USD50million in setting up the network in Kenya, in line with the Government's and CA's objective of accelerating new broadband connectivity throughout the country.
"This is a product of machinations and intrigues by dominant actors in the telecommunication industry who are keen on protecting their monopolistic dominance from the entrance of new actors," said Jamii Telecom CEO C.K Joshua.
"Should we succeed in being granted mobile license, there will be increased competition in the industry that will break the existing market structure in which certain players enjoy dominance," he said.
The Communications Authority of Kenya was Thursday hard-pressed to explain the circumstances under which it issued a telecommunication licence to Jamii Telecommunications Limited (JTL).
Authority chairman Ngene Gituku, however, said the process of issuing the licence had been done according to laid down procedures and that no money had been lost.
Mr Gituku further said the permit issued to JTL was a trial licence for the 4G network and not an operating licence. "The Authority wishes to clarify that no money has been lost in the authorisation given to Jamii Telecom," he said at a press conference on Thursday.
Mr Gituku added that the telco has been granted a licence to rollout a 4G network on a trial basis for a one year.
The licence was issued September last year. He, however, declined to delve further into the issue, stating that the CA would issue further communication in due course after the board has met.