Fake news by bloggers could mess Kenya's 2017 elections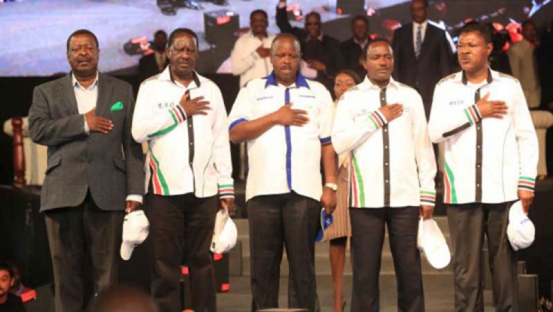 A good case study of what fake news dissemination can achieve was seen in the Busia County nominations — where the front page of a local newspaper was 'manipulated' to proclaim the defection of Dr Paul Otuoma from ODM to Jubilee Party. This happened the very day ODM held nominations for the gubernatorial race in the county.
And with the trend fast taking root in Kenya, the credibility and integrity of the coming General Election is at stake — unless mechanisms are put in place to deal with dissemination of inaccurate information for public consumption.
Dr Samuel Siringi, a journalism lecturer at the University of Nairobi, says that given Kenyans' dalliance with social media, the fake news phenomenon will certainly play a great role in misinformation as the August General Election approaches.
"Going by what happened in America, where even the Pope was alleged, through fake news, to have endorsed Donald Trump, Kenyans should expect the worst. We have already witnessed fake news regarding the NASA politics of selecting a presidential flag-bearer," he said.
The fake-news phenomenon is characterised by some websites and blogs deliberately publishing hoaxes, propaganda and misinformation, which are also shared on Twitter, Facebook, YouTube and Instagram, purporting the news to be real.
Dr Siringi said other examples of the fake news incidents include recent claims on social media that Wiper leader Kalonzo Musyoka had defected to Jubilee and frequent fake stories of the deaths of showbiz celebrities.
According to Prof Amukowa Anangwe of Dodoma University, the emergence of fake news in Kenya has acquired dangerous dimensions.
"Whereas dirty tricks in electoral politics are normal, the shape the phenomenon of fake news is taking should be regulated and the culprits punished in order to curb the malpractice," he said.
Prof Anangwe said that without drastic action being taken against purveyors of fake news, the practice may mislead the electorate to make wrong choices.
Both Jubilee Party and the National Super Alliance (Nasa), for instance, have enlisted armies of toxic and ferocious bloggers who engage in perennial supremacy wars that spew fake news and hate speech on Facebook, Twitter, blogs and websites without any action being taken against the perpetrators. Efforts to talk to both Jubilee Party and Nasa on this issue proved futile after they failed to honour their promises to comment on the matter.
According to Dismas Mokua, a political risk analyst with Trintari Insights, fake news pose the danger of compromising the integrity and credibility of the General Election slated for August 2017.
"Many Kenyans regard social media as a source of credible information, but in the recent past, we have noticed the emergence of fake news on new media platforms as we head to the General Election," he said.
Mokua said that part from new media networks being used to spread propaganda and lies, some fake news proponents have established websites similar to those owned by established media houses, creating confusion among online users.
"Some of the fake news purveyors are even using Photoshop to spread propaganda and lies as was the case recently of a picture of President Uhuru Kenyatta receiving Wiper leader Kalonzo Musyoka to Jubilee Party," he said.
Mokua said that the only way for journalists from mainstream media to stop falling for fake news is to do multiple verification of facts because some politicians have hired spin doctors to ensure their opponents are quoted out of context or stories have a spin to meet their propaganda agenda.
The political risk analyst said most of the people spreading fake news are not conventional journalists.
Alphonce Shiundu, an editor with Africa Check, a platform that verifies claims of fake news and public utterances of public interest, says the government and the public should use the Kenya Information Communication Act to deal with fake news.
"The Act has set up the communication and multi-media tribunal which gives any party aggrieved by a journalist or a media enterprise to seek redress," he said.
Shiundu said the communication and multi-media tribunal has powers to demand an apology, issue a public reprimand to a journalist or impose a fine of Sh 500,000 on the guilty journalist.
"Likewise, the tribunal has powers to impose a fine of up to Sh20 million on a media enterprise that violates the provisions of the Kenya Information Communication Act," he said.
Shiundu noted that social networks like Facebook are working with the International Fact-Checking Network (IFCN) and partner organisations to verify reports of fake news in different countries.
The Kenya Union of Journalists (KUJ) secretary general, Eric Oduor, said guidelines had been developed by media stakeholders that include the Media Council of Kenya and media owners to ensure the public consume accurate and reliable information during the electioneering period.
Oduor said news consumers in the country have raised concerns about the emergence of fake news.
"We have seen a number of emails by concerned news consumers in regard to fake news and steps are being taken to ensure journalists report objectively, impartially and accurately," he said.
He said KUJ was working with the Bloggers Association of Kenya (Bake) to enhance their capacity and ensure they adhere to journalistic tenets in discharging their mandate.
Oduor however added that there was need for the Communication Authority to put in place a legal framework to deal with the problem of fake news.
At the international level, the fake news phenomenon reached alarming levels during the US presidential elections, where links to websites masquerading as reputable sources started appearing on social media sites like Facebook.
Stories about the Pope endorsing Donald Trump's candidacy and Hillary Clinton being indicted for crimes related to her email scandal were shared widely despite being completely made up.
According to a technology author and co-founder of Wired magazine, Kevin Kelly, the major challenge in reporting news is the new shape of truth.
"Truth is no longer dictated by authorities, but is networked by peers. For every fact, there is a counterfact. All those counterfacts and facts look identical online, which is confusing to most people," Kelly said.
For those behind the made-up stories, the ability to share them widely on social media means a slice of the advertising revenue that comes from clicks as people follow the links to their webpages.