IbizAfrica at Strathmore University on the verge of becoming Kenya's Silicon Savannah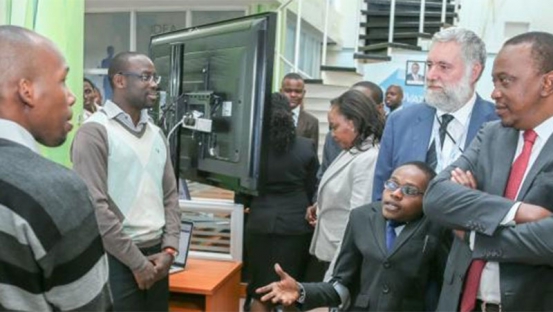 The facility is credited with nurturing Dynamic Data System (present day M-ledger), an intelligent mobile application that allows users to track their transactions by providing financial journals on their devices.
Fredrick Oginga
hashtag@standardmedia.co.ke
Apart from being ranked among the top 100 countries with worldwide innovation influence, Kenya has recorded great achievements that include the unveiling of a laptop assembling plant and developing an online revenue collection system.
Support from research institutions, corporate companies and the Kenyan government has led to the emergence of tech hubs, labs and institutions like m-lab East Africa, iHub, Nailab and Growth Hub. University of Nairobi's C4D lab, Kenyatta University's Manu Chandaria hub and Strathmore University's Ilab and IbizAfrica Incubator is right at the centre of the great technology walk that Kenya has taken.

Best private university
Strathmore University has worked hard over the past years to establish itself in the field of technology and innovation. Strathmore, established in 1961 as the first multi-racial, multi-religious institution, is currently listed as the best private university in Kenya by Unirank, an international higher education search engine and directory reviewing accredited Universities and Colleges in the world. While the term 'student centre' in most institutions in the country might elicit nothing more than the image of a complex hosting indoor games, small businesses and student events enjoying drinks and playing host to events, it has a totally different meaning in Strathmore.
The student centre at the Madaraka-based varsity is an Ilab research and Incubation centres that are on the verge of becoming Kenya's Silicon Savannah. The two units have seen Strathmore churn out graduates who are recognised world over.

IlabAfrica and IbizAfrica
To compete in an increasingly complex and ever-changing education environment, Strathmore came up with IbizAfrica as a new strategy that will not only market their services but also improve their contributions in improving the Kenyan economy. The centre based at the fifth floor of the University's Student Centre hosts close to 100 young innovators and businessmen whose companies will shape the world in the coming years.
According to the University management, the IbizAfrica incubation centre was established to carry out the entrepreneurship and incubation theme of IlabAfrica research centre. The centre acts as a focal point for investors to engage potential technology entrepreneurs. It achieves this by fostering an environment for Kenyan entrepreneurs to develop, nurture, and exchange innovative ideas. The incubator provides mentorship and services to startup companies such as seed capital, legal advice, financial expertise, relevant training and physical resources. The Incubator also provides office space furnished with office furniture, board rooms and with access to free internet.
The university allows everyone with an idea that can lead to a successful business to join the facility. The facility admits applicants on a yearly basis through a program referred to as Pitch Friday. According to the Incubator Manager Mr Bernard Chiira, Pitch Friday allows everyone who has a business idea to pitch before a selected panel before being allowed to either join the incubator or access its services.

Kenya's Silicon Savannah
Just as the Kenyan government had envisioned six years ago, Strathmore University through IbizAfrica is turning the country into an 'App economy'. The facility has already helped develop at least 200 mobile phone-based applications working with over 5,000 start-up companies since 2012.
Down the drain: Grade 'A' student but jobless
Some time back, Bridget Maria Lubia was in the spotlight when she carved herself a place among top candidates countrywide in the Kenya Certificate of Primary Education exams. With this news, a promising future beckoned.