South Africa gives Netflix 14-day ultimatum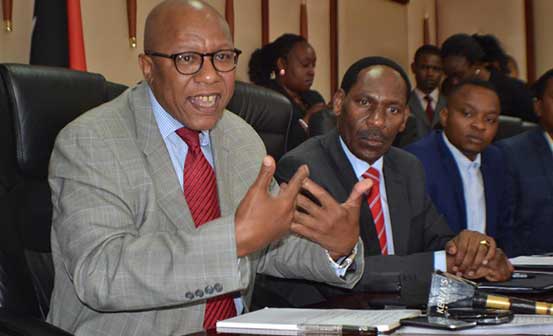 Film and Publication Board (FBP) of South Africa CEO Themba Wakashe (left)addresses media after signing MoU with Kenya Film Classification CEO Mr Ezekiel Mutua (centre)
NAIROBI, KENYA: South Africa has given American internet film content provider Netflix two weeks to comply with regulations or face sanctions.
This is in an effort that vindicates Kenya's own endeavor to have Netflix regulated in its market.
Speaking at a Memorandum of understanding signing with the Kenya Film Classification Board, the Chief Operating Officer of the Film and Publication Board of South Africa Mr Sipho Risiba, said his country has slapped licensing fees yet to be paid by Netflix.
"Monitoring, grading and censorship is an expensive effort and the providers must pay for the exercise," he said adding that this applied to other internet providers other than Netflix.
Mr Sipho's announcement vindicates and energizes initiatives by the KFCB CEO Ezekiel Mutua who has waged a campaign to have the government agency regulate content from Netflix.
"We are emboldened by this progress from our brothers and the same initiatives have been seen in Indonesia where Netflix has been asked besides these fees to open an office and have Indonesians employed," said Mr. Mutua.
Mr Sipho also disclosed that Netflix has been given an option to have their staff trained by South Africa on the country's standards so that the provider has the internal capacity to comply with those standards before being vetted by the country.
"Our values are different from the American values and their 16-year-old is not necessarily our 16-year-old and that's why they must re-rate the films in conformity with our standards," said Mr Sipho who together with his CEO Themba Wakashe are in the country to work on collaborative modalities with KFCB on matters regulation and content development.
The meeting heard despite Netflix having complied with individual country standards across the globe, they have no such for Africa.
Telkom Kenya rolls out new prefix
Telkom Kenya on Thursday rolled out a new mobile number prefix, expanding its number ranges to meet an increasing demand for mobile services in the market.