Couple arrested with bhang worth Sh800,000 in Uasin Gishu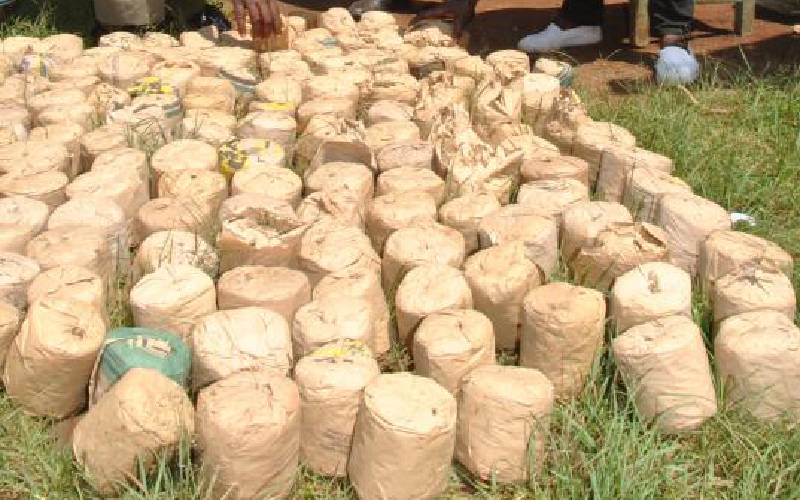 Police are holding a man and his wife who were found with 270 rolls of bang worth over Sh 800,000 at Miti moja, Huruma estate in Uasin Gishu County.
The duo Chrispine Omondi and Faith Kageya Omondi, both Kenyan citizen were cornered preparing the illegal products inside their house on Thursday evening.
Eldoret West, now Turbo OCPD Zachariah Bittok, confirmed the arrest, saying the two suspects, accompanied by others still at large, had been trading in the business for quit sometime.
"We have been monitoring their movements since last year after receiving information from various neighbours that some people were selling bang at night to the locals, especially in secondary and colleges. But after doing thorough investigation day and night, we finally succeeded in the mission by arresting the main culprits who are assisting us with investigations," said Bittok.
He said the peddlers who works as traders in the town are believed to be dealing with some accomplishes from a neighbouring country.
The suspects locked themselves inside the room for a number of hours prompting suspicion from neighbours who later informed the police.
They said the suspects refused to comply with the orders to open the doors even after the officers had identified themselves to them.
"We went there when we had already gathered enough information. This is a pure syndicate which we suspect has connections of senior people from within and from Ethiopia. The reason of saying this is because it is not possible for one to transport or import such huge item without having proper protection,"
"Another interesting thing is that the suspects buy sack of bang from Ethiopia at Sh1,500 and sell a roll at Sh50 at street value. Eventually they get approximately a profit of more than Sh300,000, because the little they sell for a roll is from Sh 50," he added.
The OCPD recommended the good work done by some locals for feeding them with the information that led to the arrest of the two couples.
"The police cannot succeed on their work without the support from members of the public and that why I want to humbly appeal to you, to keep on voluntarily feed us with information whenever you come across such incidences," The police appealed.