We are just asking men to give us little room to thrive- Jackline Olando.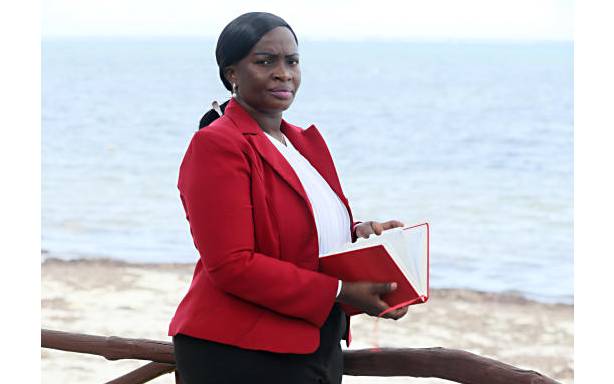 Her career in the construction industry began when she worked as a human resource manager in a large company in Mombasa.
However, her real entry into the relatively male-dominated sector started when she opened her own construction company in 2016.
Jackline Olando says she was encouraged to start Bilcot Construction and Supplies Company after realising she had amassed sufficient knowledge in the industry.
"I was so nervous on the first day when I got down to start my own firm after meeting all the requirements," she recalls during an interview with Home & Away at a hotel in Mombasa.
When she finally settled, she heard there were three other construction startups in Mombasa that were fronted by women.
"I was blown away. I remember an instant feeling of confidence that I was not the only one and we would soon meet to encourage each other," she says.
Olando is a licensed contractor by the National Construction Authority in Category 6 for water, roads and building and part-time lecturer at Moi University's Mombasa campus.
She is quick to state that she did not set out to replace men in a sector they have continued to dominate for over six decades since Kenya attained independence.
"We were, like the rest before us, asking men to make at least a little room for us to thrive," says Olando.
Fill the void
She feels there is high demand in the field and women, though few, want to fill the void.
She lauds the efforts by the government through the Kenya Federation of Master Builders to promote the growth of local contractors and the industry.
"We have been initiated and taken through various training alongside our male counterparts as we get empowered to build world-class capacities to undertake any kind of projects, locally or even abroad," Olando adds.
In the initial years, Bilcot did more of sub-contract work, mainly painting, roofing and general piping.
She concedes that despite being confident that she would excel, she faced challenges that would make her think of quitting.
"I would complete an assignment on time but payment would not be forthcoming. It was very discouraging at times to wait for more than five months to get paid for work done and delivered within the set time limits," she says.
She was sometimes compelled to look for money elsewhere to pay her workers.
However, she has over time ventured into main works. "' Today I am the main contractor of ECD classes at Shika Adabu within Likoni Sub-county," says Olando.
On the government's pledge to give women, youth and people living with disabilities at least 30 per cent of all State tenders, she says more needs to be done to actualise the noble offer.
Women, Olando says, continue to face challenges in the construction industry such as accessing financing for projects and lack of skills.
"However, we have seen some interventions from KFMB that has been working with various stakeholders to ensure we exploit the available opportunities," she says.
Olando says Kenya's building sector, Covid-19 notwithstanding, is lucrative "if you have the right mindset and attitude for work and have a dedicated team right behind you who are professionals and good in their work".
The mother of two advises girls and young women eager to take a career in the construction industry of the need to follow one's heart and never get discouraged.
''Work hard in whatever you do, the sky is the limit,'' Olando says.