Tenants now demand lower rent as malls bubble bursts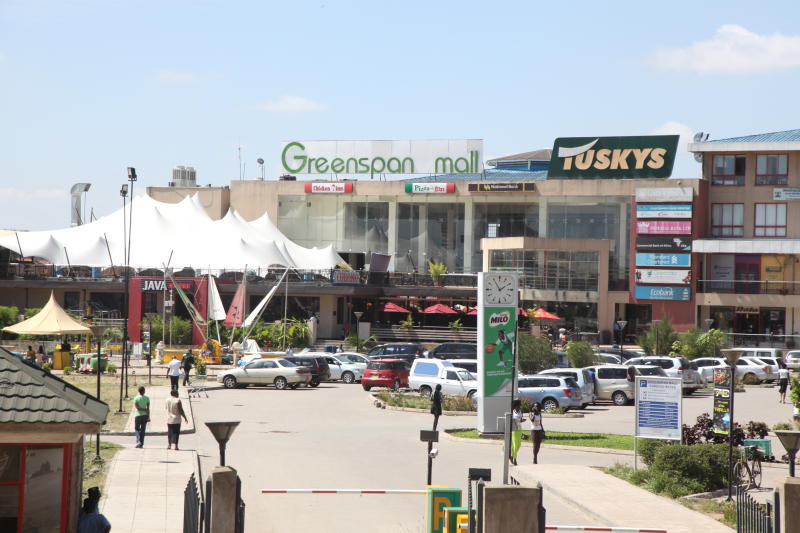 Stanlib Income-Real Estate Investments Trust might have pinned its hopes too high when it sank the first cash it raised into Greenspan Mall.
The allure of shopping malls that has taken hold in the country for a while now is quickly fading, leaving the South African-based financial provider along hundreds of other investors in a discomfiting financial position.
Stanlib's rental income declined from Sh135 million to Sh132 million in the first six months of this year, with their net profit dipping by 16 per cent from Sh78 million in the first half of 2017 to Sh65 million by June this year.
Besides Greenspan Mall in Nairobi's Eastlands, the investment firm also owns Bay Holdings and Highway House, all of which received lower rents in the period under review.
The company said lower rents were only mitigated by a one-month booking of new property, Starling Park Properties in upmarket Lavington, for Sh850 million.
"Rental income has come slightly under pressure due to a temporary increase in vacancies coupled with some tenants bargaining for reduced rentals upon renewal of leases," Stanlib said in a statement.
The situation is not any different in other malls. Tenants are demanding lower rents as footfall decline following tough economic times that hit the country in the run-up and during last year's hotly contested presidential election.
Most investors were lured into setting up malls by the gospel of an expanding middle class.
Property consultancy Knight Frank in a report extolled the manner in which "the retail property sector has been a major focus for development activity within Africa over the last decade, causing the shopping mall concept to take root in increasingly wide range of major African cities."
It noted that this growth has been driven by, among other factors, the explosion of the continent's "consumer markets." However, it appears like the middle-class hype was just that, a hype; the mall bubble has finally burst.
One of the reports that has been relied upon in this middle-class discourse is by the African Development Bank (AfDB) which included in its definition of this socio-economic class the "floating middle class" — those who are not poor, but for whom a slight disturbance can plunge them back into the abyss of poverty.
Kenya's floating middle class noted AfDB, is at 44.9 per cent and without them, the country's middle class would be at a low 16.8 per cent.
The middle class that investors have tumbled over each other for includes this consumer group that is closer to poverty than riches.
Figures from the Kenya National Bureau of Statistics (KNBS) show that there are about 2.5 million Kenyans in formal employment.
Of these, only about 75,000 earn Sh100,000 and above, leaving the rest without an income that can enable them to splurge on the expensive items sold in the malls.
And as the cost of living rises following the decision by Government to slap petroleum products with a 16 per cent value-added tax (VAT), Kenyans' trips to the malls can only reduce further.
Stanbic Bank in a recent report warned that the new tax could raise inflation to 7.5 per cent as prices of all essentials skyrocket.
In a way, it appears as though Kenya is "over-malled."
"Outside of South Africa, the Kenyan capital Nairobi has the greatest volume of modern retail floor space in sub-Saharan Africa and it continues to be a development hotspot," noted the 2017 Africa Report by property consultancy Knight Frank.
At the beginning of last year, Garden City lost the bragging rights as the country's biggest shopping mall after the opening of the Sh16 billion Two Rivers Mall, stretching Nairobi's area under shopping malls to 470,000 square metres.
Today, of the 10 biggest malls in sub-Saharan Africa, three are in Nairobi. Two Rivers Mall, Garden City Mall and The Hub are ranked second, third and fourth largest malls respectively behind South Africa's Mall of Africa which is the largest in Africa, straddling 131,000 square feet.
Experts have described the shopping mall craze as a "ticking bomb." Returns on these investments have been on the decline as too many malls scramble for a few moneyed shoppers.
Just as in the real estate sector, returns on investment are dwindling, said Scholastica Odhiambo, a lecturer at Maseno University, in a past interview with Weekend Business.
Mall owners have tried to get around this problem by charging prohibitively high rents. This has had the unintended effect of scaring away tenants.
Those who have chosen to take up these expensive spaces have been forced to charge high prices for their products to cover for the high fixed costs, including rent, electricity, water and other bills. This has scared away consumers.
Empty floors
Activities in the real estate sector, which would include construction of new malls, grew by 6.8 per cent in the first three months of this year compared with a slower growth of 6.1 per cent in the same period last year.
Houses built during this quarter were valued at Sh100 billion compared to Sh94 billion in a similar period last year.
British magazine The Economist, in a special report titled "Business in Africa," declared: "This is the Africa of business magazines and bank ads: A continent that is rising at a prodigious pace and creating profitable new markets for multinational firms."
The magazine noted that there were 1.2 billion opportunities in Africa. Nairobi, specifically, was described as "a city of malls and highways" by the magazine. And Garden City, which had just been opened, was celebrated as "the latest temple to consumerism."
Today, Garden City is easily another ghost mall with an embarrassing sight of empty floors and deserted parking lots.
Most of these shopping malls that have sporadically mushroomed in major towns and cities spurred on by the narrative of "expanding middle class" have started feeling the heat as this bourgeoisie façade begins to unravel.