Developers, poor planning to blame for death of Nairobi city lanes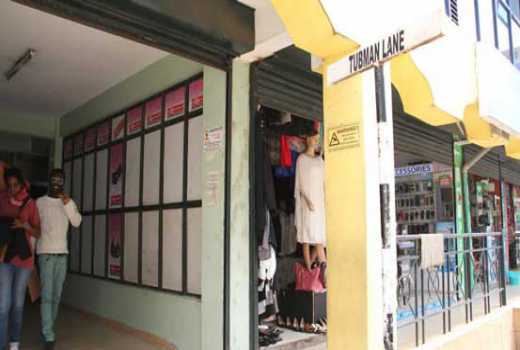 NAIROBI, KENYA: Several pathways in the city have been turned into business premises.
Many pedestrians following street signs have in recent years found themselves in an awkward situation when they found themselves in shops or stalls.
Many have to use circuitous routes to get to places that are just a short distance away.
A walk along city streets reveals the extent of the poor planning and congestion that now characterise the city, with shops and stalls taking up paths previously reserved as lanes for pedestrians.
A number of road signs lead to nowhere, with some pointing into buildings.
Drug store
The Paa Lane sign on Moi Avenue points into a drug store.
The attendant in the chemist said he was not aware that a lane had existed there before.
"I'm just an employee and wouldn't know anything about the shop," he said.
A sign for Chenzah Lane, a few metres away, points into an eye care shop. There is no through way anywhere around the shop.
A number of lanes along Tubman and Kigali roads near Jamia Mall have also been swallowed up by modern buildings.
Tubman Lane leads into a mall façade while Kigali and Babar lanes lead into cloth shops.
One shopkeeper said he had rented the store since 2011.
"I have been doing business here for a long time and no one has ever asked me. To be honest, I see the sign everyday but I have never questioned if there used to be a path across here or not," said Salim Ali, a shop attendant.
Deplorable state
Some operational alleyways are impossible to use due to their deplorable state and insecurity.
Nuru Lane connecting Moi Avenu to Moi Lane at the Parklands matatus stage is an eyesore. The path has been converted into an open-air toilet. The drainage on both sides of the lane are filled with dark liquid and human waste while the end towards Moi Lane was filled with mud and rain water.
"You can't use that route. It is deplorable, I can't even describe it. You can smell the pungent smell from here, can't you?" said Carol Mwende, an attendant in a nearby shop.
Ironically, just next to Nuru Lane, facing Moi Lane, is a small shop where food is cooked and distributed to matatu operators around the area.
Former Chief Justice Willy Mutunga recently complained about how roads in the city were slowly being eaten up by developers.
Matatu operators
He named a section of Ole Odume Road as an example.
Efforts to reach the county official in charge of planning for a comment failed as calls and messages went unanswered.
From its township days, the Nairobi central business district has changed drastically from the time it was declared a city in 1950.
It is now home to tall buildings and constructions that have been declared national monuments, many bearing a strong British architectural influence.