How cons make buying building materials risky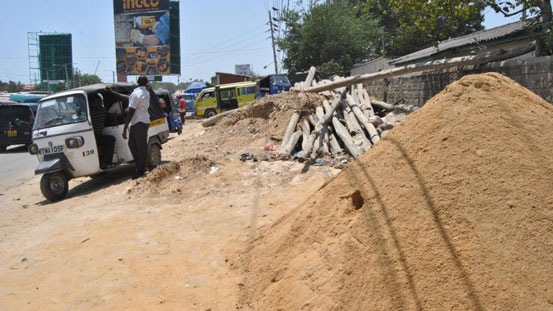 A road reserve turned as a storage for sand in Mombasa County. Photo/Kelvin Karani
At the beginning of this year, the real estate market was a buzz with stories of a real estate firm that took clients for a ride with lofty promises, only to pull the trug from under their feet.
The firm, Simple Homes, set off a lot of self reflection on the possibility of being shortchanged by deals that look too good to be true. Not long after that more Kenyans stepped forward with stories of their uncertain dealings with Gakuyo Real Estate. These stories and many have been told of people buying land or houses, but there is a front that few have looked at but where cons abound. The purchase of construction materials.
When buying sand and gravel for instance, you would be warned to be wary of brokers who use modified trucks, such that the final product delivered is way less than the advertised quantity.
Other 'smart' operators have designed a way of tampering with sand. After leaving the quarry, the sand would automatically settle and compact in the truck. What such operators do, therefore, is that before they get to your site, they would divert somewhere, offload part of the sand, then use spades to dig up the sand in the truck, making it look, full. They call it 'kuweka mchanga hewa'.
It follows, therefore, that unless one exercises caution and due diligence, they can easily exchange their money for air.
Then there are other more elaborate cons mostly operating at the quarries themselves. One such area where cons have made a killing by conning unsuspecting Kenyans is at the stones quarries of Ndarugo in Juja, Kiambu County.
For years, the quarries have provided fertile grounds for unscrupulous brokers to thrive by conning people sourcing for natural machine cut stones. A local contractor Ken Muriuki says the cons execute their thievery with reckless abandon as little action, if any, seems to be taken against them, even in cases where victims report to police.
He says the fraud is fuelled by Kenyan's penchant to cut costs by sourcing building bricks themselves, even when they lack the knowledge on the quarry operations instead of relying on credible suppliers.
The cons masquerade as transportation crew, brokers, quarry managers or owners. A transporter who declined to be named says the cons operate through a syndicate that identifies an enthusiastic newcomer as soon as they join the roads leading to the quarries.
"A newcomer walking to the quarry alone or with a friend is an easy mark. Once they alight at Ndarugo stage on the Kenol-Nairobi highway, cons pretending to be lorry drivers swarm on them asking for transportation jobs. If you agree that becomes the beginning of your woes," he says.
Sam Muthii, from Embu, fell a victim in that fashion when a 'lorry driver' called Thendu promised to carry his stones cheaply and even volunteered his 'turn boy' to guide him to a quarry with the best bricks.
The turn boy led them into a nearby quarry inside a valley where men operated machines cutting bricks into desired sizes and shapes. He was shown stones whose quality stole his heart.
"At the entrance of the quarry were posters warning customers to 'beware of conmen and pay money only in the office'. Since I was accompanied by a friend who had purchased stones before and the turn boy, I was confident that I had avoided conmen," he recalls.
As they left the mines, and walked towards the office, they came across three men discussing what appeared to be a sale.
The turn boy beckoned one of the men, whom he called the quarry manager, who he requested to sell bricks to Muthii at a good bargain.
Muthii saw no harm in it and even discussed the price with the manager and they agreed a price of Sh20 per brick. The transporter was to charge Sh18,000 to deliver the 1,500 pieces of bricks to his plot in Embu.
This would cost him around Sh50,000 compared to buying the stones from merchants in Embu at Sh75,000.
Having agreed on price, they headed towards the paying office but were stopped by a man who hopped from a lorry and requested to buy bricks worth Sh20,000. His receipt and delivery was written on the spot and he paid cash.
Also anxious to be served quickly, Muthii proceeded to pay on the spot to the 'manager' called Njoroge and his delivery was handed to a quarry worker who would guide the lorry to a loading point. He followed the worker back to the quarry but the former walked very fast and Muthii lost him.
On coming back to the spot where he paid the money, he could neither see the turn boy nor the manager; and it dawned on him he had been conned his Sh30,000! Another victim who requested anonymity said he was conned of Sh11,500 by the cons who pretended they would sell the rejects of the stones to him on September 12 last year.
He visited the quarry in a lorry he had hired from Mwea in Kirinyaga County and bought the stones at the office as normal. However as the stones were being loaded onto the vehicle, a man who pretended to be a senior employee at the quarry told Samson he could sell him the rejects at a throwaway price, provided the office clerks were not informed.
They agreed on the price and he paid through M-Pesa but when he hired another lorry to pick up the rejects, he was shocked to learn he had been conned. He reported the crime to Juja police station where he was assured a probe would be launched to nab the cons. He did not follow up.
A foreman in Ruiru told Home & Away how an elderly man putting up housing units almost fainted after falling prey to fake managers who quickly conned him Sh72,000.
Paul Kinyua, a construction foreman, advises people to look for a reliable and honest supplier of quarry stones instead of gambling with hardened cons.
"Let the transporter or supplier provide a sample of the brick quality he will deliver and you pay him once he has delivered the agreed number and quality of the bricks. It will cost you just a little more," he says. He adds that even if one goes to the quarry by himself, the stones end up confusing so much while different layers have different quality that an inexperienced person cannot tell apart. "The inferior quality will compromise the structural strength of a house," he says.
Charles Malila a real estate investor, concurs with Kinyua and recalls how as an entrant in the construction industry he bought Ndarugo bricks from brokers at Sh14 per piece, thinking it was a big saving for him as the stones were valued at Sh21 in many quarries.
"The quality was the worst you could get. I ended up not using them and thus lost Sh18,000. The easiest way to beat this trap is to deal with quarries with a pay bill number and also find a driver you can trust," he says.
Cold weather to hurt tea output
Cold weather and inadequate application of top dressing fertiliser is expected to affect the average tea yield and subsequent income for producers this year.