'Fundis' shortage spoils party for construction sector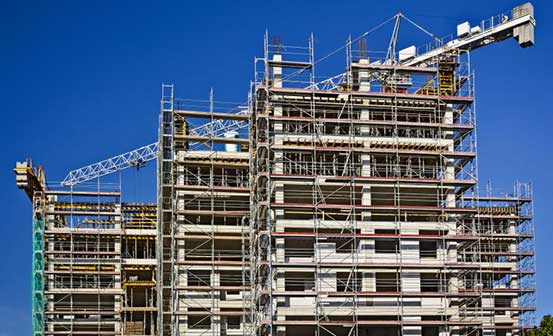 For about five years, Rodgers Mathenge was an unskilled painter earning between Sh100 and Sh200 per square metre of painted surface. He rarely got painting jobs and in a month, he would be lucky to earn Sh20,000.
But since last year, Mathenge, who has been a painter for over seven years, has been a joyful worker. It all started with a training dubbed the "Army of One Million Artisans" jointly organised in Nairobi by Crown Paints and Housing Finance Foundation. Mathenge joined 40 other painters for the training whose aim is to the boost skills of construction workers, commonly referred to as fundis, in various fields.
"They taught us the application of special effect or paint among other things," Mathenge said. The training helped him to upgrade his skills and boost his earning power. He says today, he can earn up to Sh100,000 from just one site, and even more in a month.
Unlike before when painting jobs were hard for him to find, Mathenge is a much sought-after painter today. When we spoke with him on Tuesday this week, he had just finished a painting work for a livestock institution in Nyeri and was preparing to hand over the completed work. His next stop this week will be Kitengela where he has a painting job waiting for him. A few days ago, he finished painting a bungalow owned by a Kenyan woman living in Germany.
Mathenge is one of the few lucky construction workers. Currently, the country's building and construction industry is experiencing a shortage of skilled labour in the face of robust growth. Estimates from the African Development Bank indicate that 75 per cent of artisans are not formally or adequately trained.
According to the Kenya National Bureau of Statistics Economic Survey 2016, the building and construction industry in Kenya has witnessed rapid growth, registering a 13.6 per cent demand of a skilled labour force.
The report said that formal employment demand in the building and construction sector grew by 11.4 per cent to stand at 148,000 up from 132,900. But shortage of skilled labour is already worrying industry players.
According to the National Construction Authority's Construction Industry Status Survey, only 30.3 per cent of construction workers in Kenya are skilled whereas 67.6 are semi-skilled. The survey says that only 2.1 per cent of the labour force in the construction sector are competent, having acquired technical training as construction site supervisors in recent years.
The report further indicates that out of the 30.3 per cent skilled construction workers, 81.3 per cent earned competencies on the job, with only 18.7 per cent having acquired skills through formal technical training.
"Not many have the experience we have in exterior and interior design in special colour paints. There are very few skilled painters in the industry and the few of us who have had training are now forced to move from one town to another," said Mathenge, noting that their wages have also increased.
The boom in the building and construction industry has led to increased demand for skilled labour, but the supply for such labour is still very low.
"There is a mismatch between the demand for skilled labour and the supply in almost all segments of the construction industry," said Argwings Opanga who has worked as a human resource manager in the construction industry for the last seven years. He said demand for professionals in the industry some eight years ago was manageable since supply surpassed demand.
"Plumbers, electricians and other professionals were everywhere and could be cheaply hired in around 2008. Some of these technicians normally went jobless in some instances since the sector was over-supplied by a big margin," he said.
He said that Kenya, having joined the league of middle-income economies are rebasing in 2014, did not anticipate this problem.
"Kenya's entry into the middle-income economies status has brought with it unexpected need for more skilled labour which is the key driver to an economic growth," said Opanga. "In this critical phase of the economy, not only does the construction sector require labour, but professionals who are skilled and competent to handle the changing tides."
Major infrastructural upgrades and mega real estate projects driven by the country's Vision 2030 have seen in Nairobi and other major towns have increased the demand for skilled labour force.
During the construction of the Garden City Mall on Nairobi's Thika Superhighway, phase one of the project created over 1,800 jobs. Many other major projects have since been launched in the last five years.
"Kenya's construction sector has been slowly running out of skilled labour which is made up of bricklayers, carpenters, plumbers, electricians, plasterers and even painters, with the cost of hiring them almost doubling," said Ian Ng'etich, a construction manager with Eldoret-based Alfa Contractors.
A report by the Institute of Quantity Surveyors of Kenya estimates that the current ratio of labour to building cost has grown to 25 per cent from 20 per cent within a period of two years, making the cost of construction even more expensive for aspiring home owners.
"In Kenya, plumbers and electricians are the most sought-after. Their average charge in a day ranges from Sh2,000 to Sh2,500 up from between Sh1,500 and Sh1,000 three years ago," said Ng'etich.
The shortage has forced industry players to step in and train "fundis" in different skills. Crown Paints, for instance, has been training artisans since 2012. They have so far trained 15,00 painters. The "Army of a Million Artisans" training they organised jointly with Housing Finance Foundation in 2015 target painters, plumbers, electricians, carpenters and masons.
Bamburi Cement and the National Construction Authority recently signed a Memorandum of Understanding to jointly train 1.5 million artisans. Bamburi's commercial director Geoffrey Ndugwa said the cement company realised the challenge in the industry 12 years ago and is partnering with other major players to train construction workers.
Bamburi has visited 200 towns and villages around the country, holding over 500 seminars and interacted with more than 200,000 masons so as to bridge the gap.
Data from the Ministry of Education indicates that student enrolment in the Technical Industrial Vocational and Entrepreneurship Training (TIVET) institutions fell by 4.1 per cent to 46,784 in 2015, an effect that was reflected in national polytechnics which registered a 32 per cent decline by enrolling 13,853 students.
More shortage is being anticipated in the industry in the coming years as Kenya's economic projections point that emerging factors such as ambitious professionals such as architects, designers and valuers will be soon getting into the industry as contractors or project supervisors thus a further greater gap is eminent.
But for Mathenge, things are looking up, thanks to the one-week training he attended. "I don't need to advertise myself; my work speaks for itself. Nowadays, I get calls from people I don't even know, asking if I can paint for them."
He is grateful to Crown Paints not only for the training, but for giving him apron, dust coat, colour chart, pen and quotation books.
Illegal caveats can be costly
According to the Land Registration Act, the registrar may serve a notice on the person who placed the caveat, warning that it would be removed after the period specified in the notice.