Ceilings for your garden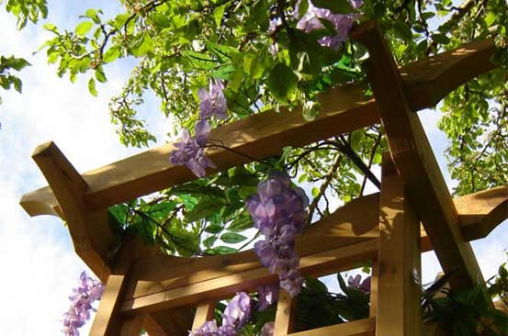 Just like indoors, outdoor spaces also require some kind of a ceiling. While indoor ceilings are definite and straightforward, outdoor ceilings are more subtle. They are typically created by canvas awnings, overhead trellises, arbours, pergolas, the bottom of tree canopies or even the clouds in the sky.
But outdoor ceilings are not any less important. The choice of which ceiling to use in the different 'rooms' within the garden is an important decision as it determines the quality of outdoor space you create.
They influence the amount and quality of light that enters into a space. They may be completely open where maximum skylight is desired or completely solid where little or no light is needed.
Light effects
In between these two extremes, outdoor ceilings may be composed of various semi-transparent and translucent materials that permit filtered and diffused light to enter into an outdoor space. This presents the designer with an opportunity to create different effects and varied ambience within the outdoor rooms.
For instance, very dramatic light effects can be created by an overhead arbour (with or without vines), open trees such as a honey locust or light-coloured canvas awnings. In a similar manner, a semi-transparent or partially open ceiling can cast attractive shadow patterns on the ground, adjacent walls or fence.
The second function of the overhead plane is to influence the perceived scale of a space. An outdoor space that is covered with a low opaque awning will feel smaller and more intimate. Similarly a low canopy shade tree creates a more private and intimate space underneath.
On the other hand, a high outdoor ceiling may establish a more open and grand setting. This ability to control perceived scale is important in the design of outdoor rooms. In a small garden, you may want to increase the perception of size by avoiding solid ceilings that would make the total space appear even smaller.
Likewise a large garden may need a number of overhead ceilings in order to reduce the perceived scale and create a number of more intimate and private rooms within the garden.
Complete the 3D room
In the outdoor environment, the base, vertical, and overhead planes function together to create three dimensional spaces with different uses and feelings. An outdoor space may be almost completely enclosed to create a rather intimate and inward sensation. Such a space tends to have a strong sense of privacy and separation from other spaces.
In contrast, an outdoor space may be open to provide an expansive feeling, outward-oriented views in many directions, and exposure to climatic elements such as sun and wind. Ultimately, the designer must decide what type and degree of enclosure is most suitable for an outdoor space to achieve the intended use and mood.
Students from slum enjoy Jambojet ride
Jambojet celebrated its second anniversary by rewarding high-achieving students from Mukuru Kwa Njenga slums as part of a new initiative to cultivate a culture of academic excellence among the youth.