Boom time for Nairobi CBD clubs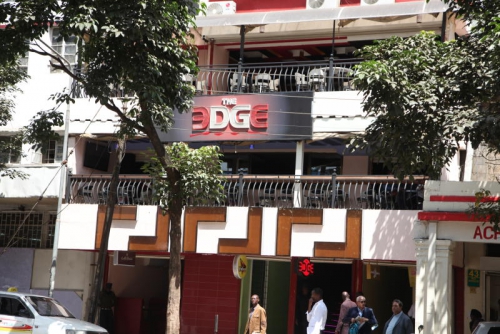 NAIROBI: A casual chat with a bouncer at a popular club in Nairobi's Central Business District (CBD) revealed an interesting aspect of the nightlife. According to the bulky, stone-faced security expert who had chaperoned an artiste to a lifestyle interview I was conducting, some clubs pay over Sh1 million in rents.
"You will be surprised to discover that the clubs make such amounts just two nights from drinks and food," the bouncer, dressed in a tight black T-shirt that exaggerated his frame but at the same time exposed his bulging, twitchy muscles, said. "Clubs are making so much money right now."
Almost every commercial building on Moi Avenue, Tom Mboya Street, Ronald Ngala Street, River Road, Accra Road and Latema Road hosts a night spot. Many former office spaces and exhibition stalls have been brought down to give way for well-decorated and colourful clubs. This year alone, popular joints like Club 24/7 and Edge Lounge have been opened while others like New Florida have been renovated and re-opened.
"So many people work in the CBD or pass through and it is easier for most to beat traffic by lingering in clubs until late," said Ed Wanjohi, who used to run Lavish Lounge on Moi Avenue. "The CBD will always be popular."
Mike Murimi, a businessman, has been lured by CBD's lucrativeness. Late last year, he closed down a bar he was operating in Eastlands' Umoja Estate because he was not making much.
"Initially, I though the employers were playing games with the books but I realised more people are moving to the CBD to spend evenings, especially weekends, there," said Murimi, who also runs a butchery in Ruaka, where he now lives. "It makes sense, because the locals are only popular with the old generation."
"I have been looking for space to open a club in the CBD but nearly all the spaces I want are already booked and paid for, even spaces in new or renovated buildings," he said.
"There are so many people who pass through the city centre. Most of them are young fun-loving Kenyans. Owning a club is the business to be in," he said.
Murimi, like many entrepreneurs, has seen the need to occupy CBD as more and more blue chip companies shift to for Upper Hill and Westlands. Besides Coca Cola, Upper Hill is home to the World Bank Group, Commercial Bank of Africa (CBA), Equity Bank, CIC Insurance, Shelter Afrique, and so on.
According to Dan, who works as a manager for a number of clubs, competition has been growing as entrepreneurs come up with modern trends to attract customers.
"If you are keen, you will see that every new club is almost better than the last that opened. LED TVs, leather seats, attractive and friendly waiters, an array of exclusive drinks on offer, experienced security personnel...one has to stay ahead of competition," said Dan. "Due to the population that works and pass through the CBD, properly planned clubs will always be marketable. Furthermore, Kenyans drink a lot and love to have fun. We are just giving them what they want."
Consortia now own more than one club in the CBD, each club with a different theme and demography. Once in a while, the owners meet to come up with a single winning strategy but the ideas have never taken off. To stay afloat, owners have devised new ways of capturing the market by re-launching every few years.
"If you look back, almost all the clubs that were hot 10 years back are no more, the spaces taken up by new joints. That is how the CBD stays alive," said Dan.
According to City Hall, the CBD is zoned to allow for commercial, residential and light industry facilities. Clubs, which fall under the commercial zone, usually operate in the same buildings hosting colleges, clinics, offices and even restaurants.
"Clubs have survived in the CBD because some of them have restaurants that attract many people," said Mairura Omwenga, an urban planner and chairman of the Town and County Planners Association of Kenya. "Currently, the zoning rules allow for their existence in the CBD."
He says that depending on a building's type of occupancy, some businesses are not affected by the presence clubs: "For instance, an eatery can operate next to a club, but not a bank."
Security is also an issue. We walked into a club near Afya Centre and the security was tight, with bouncers searching everyone walking in. A few minutes later, we notice a glitch. A poster reads: Emergency door. Please collect keys from the barman (at the) long counter.
In many clubs we walked into, we realised there were no other noticeable exits. In clubs that emergency doors existed, they were only known and used by the staff to access the store area.
"We are well aware of the disaster that can occur, but we are also lucky that the unfortunate has not happened," revealed a club manager who sought anonymity. "Most of these buildings were constructed to house offices and not clubs. So, some of the amenities are not compatible (with clubs)."
Sometimes, too much competition edges some clubs out of business. "Right now, there are many clubs that are operating on losses while others are closing down because of factors like too much competition and alcoblow," he said one observer. "The person who wants to have fun in the CBD is spoilt for choice and if he or she feels the music is not nice or alcohol is expensive in one place, he or she moves to the next club."
Office space charges in the CBD has increased from Sh45 per square foot to about Sh75 per square foot. The charges are determined by the quality of the building, amenities offered and the area the location. Clubs in downtown are bigger, occupy more floors and are located in almost dingy places.
"We used to pay over Sh500,000 in rent. When things are not working out well, it is time to move out, sell or re-launch your business," said Wanjohi.