Inside the exclusive world of luxury homes sales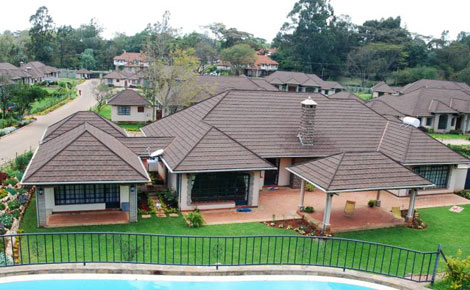 A Knight Frank 2013 report made mention of the drop in house sales volumes in the mid-property market. This was attributed to the rapid increase in interest rates in 2011, the effects of which were still felt in 2013.
Despite this however, "the very top end of the market had been largely unaffected", said the report.
Fast forward to last year and the quarter three, Knight Frank Prime Global Index, a property index that looks into the asking price for prime residential rents for tenants in leafy suburbs.
According to the index, Nairobi continued its rental increase streak of nine per cent growth, as was the case in the same period the year before.
The growth and special characteristics of prime property is supported by another report, the Hass Consult Index.
The average price of a detached house as of September last year was Sh36.3 million up from 8.8 million in December 2000. While the average price of an apartment today stands at Sh13.1 million up from Sh5.2 million in December 2000.
At the very top end of the detached homes are units going for Sh80 million on average.
Detached in this case includes stand-alone houses, bungalows, cottages and villas either on their own plot or in a gated community.
Top-end detached homes otherwise known as luxurious homes in Kenya are described as homes located in the leafy up market areas of Runda, Muthaiga, Spring Valley and Karen.
Kileleshwa and Lavington are considered less luxurious with an abundance of apartments, while Westlands and Upper Hill are considered prime office nodes.
Exodus
"There has been (an) exodus of diplomats' families from Nairobi out of fear of terrorist attacks. Canadian and American diplomats have sent their families back to their home countries, which has led to a decrease in rentals of detached housiing units," says James Hoddell, CEO of MML (Mentor Management Limited), a major project and development management company in Kenya.
He adds: "This market is slow to react to such. There is still quite a demand for high end homes. We recently sold out all our high end apartments in the upcoming Garden City development on Thika road. The 76 apartments, ranging between 40-50 million sold out months before their completion date."
As Hoddell explains, this special segment of the market has its own special characteristics. This happened without making a single advertisement in the papers.
"I just got a call the other day of a prominent member of the business community who is selling his mansion on a three acre piece of land in Muthaiga for Sh600 million. He doesn't want it advertised. The property will be sold strictly through word of mouth," says Martin Dias, CEO of Financial and Property Consultants Limited (FAPCL).
He adds: "Most of the sellers and buyers of these units demand exclusivity when dealing with property. The developers might simply not want you to jack their exclusive designs while the buyers would want exclusive privacy of their residents. They do not want just anybody knowing how and where they live owing to that jaw dropping Sh800 million house advert in the papers."
Martin takes us on a drive to Spring Valley to show us what constitutes these multi-million shilling homes. Spring Valley has the same characteristics as Runda with the same clientele profile.
Our first stop is the Log Homes offices. Log Homes is the parent company looking to develop Limuru Hills Health Farm, Spa and Holiday Homes in Tigoni.
The homes in Tigoni will be fully furnished holiday homes located on a tea farm. Limuru Hills will constitute log homes instead of the standard stone buildings.
These homes will be made of finely crafted logs imported from Finland and assembled on site.
"In the United States, luxury homes are built using logs with luxurious interior finishing. Mitt Romney, American presidential nominee and Obama's competitor during the last General Election, recently bought a home made purely out of logs. Kenya will be the second country in Africa after South Africa to incorporate log technology in a project of this magnitude," says Dias.
Luxury
To get a glimpse of their luxurious interior finishings we visited their showrooms in Lower Kabete, which are exclusively shown to serious buyers only. The media has so far been turned away from featuring the units so as to keep up the exclusivity aspect of the project.
The kitchen working tables are made up of a three-inch granite top: The granite tops available on the market are mostly two inches thick. The sinks are made of European ceramic stone. The roofing is made of imported waterproof shingles. They are preferred for the antique look and unique texture.
"Everything used in the interior and exterior of the log homes has been imported. The point is to get the best of the best," says Dias.
The holiday homes units are on sale at Sh26 million for a one bedroom log home. The units are fully furnished and go up to five bedrooms.
Then there is the Highrose Villas estate also in Spring Valley. The 24 units, each on a quarter acre, cost upwards of Sh150 million. The five bedroom villas are made in the French classical design.
Word is that a senior member of the first family is a potential buyer of one of the units. The villas are five bedrooms with an attic with a large size jacuzzi looking out onto the green, Spring Valley surrounding.
The interior includes wooden floors, extra large ensuite bedrooms and Italian fitted kitchens.
Only four units of the 24 are remaining, six months from the completion date of the estate. Just like the apartments in Garden City, there has been no mainstream media advertising.
"You cannot just wake up and decide to build luxury homes. You must have done some pre-sales before you approach a bank for a loan for the actual transaction," says Dias.
He adds: "The buyers should appear on a list with the traceable amounts that they have deposited with you also reflecting. That's when and only when they consider your request." The buyers he is talking about are your corporate CEOs and top businessmen. The ones who earn Sh5 million a month in salary and Sh100 million a year in bonuses.
According to Dias these types of clients are not easy to get. You must be part of the 'circle' before they buy into your idea and invest in it.
They are the ones who hang out in exclusive country clubs. To close deals with them, you have to be a member of these clubs as well.
The clubs besides having huge monthly membership fees have years'-long waiting lists with every upcoming businessman wanting in to get close to the action where big money revolves.
"They look at your family heritage and tree and your current financial capabilities as the criteria for application to the clubs. Personally, I have been on a waiting list for two years to join one of them," says Dias.
KAA plans partial JKIA runway closure for rehabilitation
Kenya Airports Authority (KAA) has announced plans to partially close the runway at the Jomo Kenyatta International Airport during off-peak for rehabilitation as part of the ongoing expansion and modernisation works at the facility.