What next for Lavington?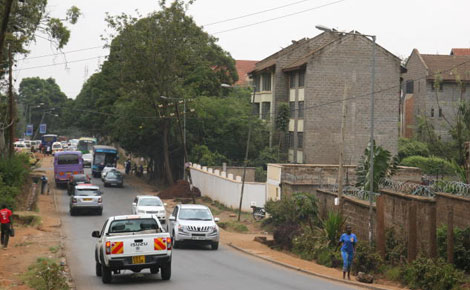 It is after a quarter past 6am; the traffic along Gitanga Road is hardly moving, noticeable are a few errant matatus driving on the pavement in a bid to beat the never ending congestion.
This is one among many challenges residents of Lavington estate and its environs have to cope with since the neighbourhood was re-zoned a few years ago.
In 1987, 2006 and 2012 respectively, policies approving the re-zoning of Nairobi and other major towns in the country were passed; these allowed for construction of higher density developments in areas that were previously closed areas.
One such closed area falling under Zone Five of Nairobi is Lavington. Other estates within Zone 5 are Upper Spring Valley, Kyuna, Loresho and Bernard Estate.
"Today, half an acre which used to accommodate a single family living in a maisonette or bungalow with a maximum of three cars, has town houses or apartments with more than ten families. This is likely to stretch the infrastructure in the area," posits Sam Manjau, a director at Abec Real Estate.
Experts observe that the recent increased developments in Lavington and selected parts of Nairobi are demand-led instead of infrastructure-led.
Demand
"The rapid property development in Lavington and its environs is sparked by the increasing growth of the middle class who are demanding for houses in the top-end of the housing market," says Manjau.
While traversing Lavington estate one would not fail to notice the intricately designed mansions or bungalows laying on half an acre or more, this is what used to be the typical characteristic of homes in this neighbourhood.
"The latter might soon be scenery of the past as many of such properties are being bought, demolished for towering buildings," says Margaret a resident of Lavington for 20 years.
Before the policy to re-zone the area was effected; only a single house was permitted to occupy a quarter of an acre which was the smallest subdivision of land allowed in Lavington.
Today, many properties are characterised by clustered apartments and townhouses in gated courts.
Experts claim that lack of a comprehensive city plan since the Metropolitan Growth Strategy of 1973, (it expired in 2000), is the root course of the challenges facing the estate as it has lead to unplanned and unco-ordinated developments.
Pressure
"The high population growth rate is exerting pressure on low-density residential neighbourhoods. In particular, zones three, four and five are prime, high-income, low-density residential neighbourhoods in the City of Nairobi which are experiencing undue development pressure, mainly as a result of the rising demand for housing, office and commercial developments."
This is according to Policy Review for Zones 3, 4 and 5, Nairobi, Kenya by Arthur Mwaura.
The most affected neighbourhoods in Lavington are in Dagoretti Corner, Riara Road, Korosho Road, Ole Dume road, Argwings Khodek Road, Korosho Road and Gitanga Road.
Few years ago experts had predicted that the re-zoning would reduce the value of property in these upmarket estates. Today, this has elicited a mixed reaction from players in the industry.
"A property on the left side of Gitanga Road where development is restricted to town houses fetches twice the price of the same property on the right side of Gitanga Road, where developers can erect high storey buildings," Manjau reveals.
"An acre of undeveloped land lying on the left side of Gitanga Road would fetch Sh300milion while the same plot on the opposite side of the same road would go for approximately Sh160million," he says.
Some experts however argue that the towering flats in these estates, have managed to bring down the cost of homes as developers can now distribute the land costs over more units.
"The implementation of plans for development of infrastructure has been inadequate and ineffective. The housing, commercial and office developments are now exerting undue pressure on the existing level of infrastructure," Mwaura writes.
Infrastructure upgrade
"The sewer lines need to be upgraded in order to adequately service the increased levels of sewage discharge due to rising levels of development. The problem manifests itself in the form of blocked sewer pipes and overflowing liquid and solid waste," the policy document read.
Residents in Lavington also point out water shortages as one of the challenges faced in the area.
The policy document points out another emerging problem: "The properties whose land-use has been changed to multi-dwelling units, commercial and office developments do not have adequate parking at plot level. This has caused motorists to indiscriminately park on the road reserves, which inevitably leads to loss of green open spaces, traffic congestion and road accidents."
"The entry and exit points to these developments are not properly developed to allow for deceleration and acceleration lanes, which exacerbates the problem of accidents," it reads.
The policy review document for Nairobi further reveals that a rapid assessment of the three zones indicates that about 20 per cent of the people have embraced the force of redevelopment and desire to have plots changing use from single family to multi-dwelling units.
Traffic volumes
The increased development and population in such areas has also paved way for the development of commercial centres such as Nakumatt Prestige, Uchumi Supermarket along Ngong Road, Yaya Centre along Argwings Kodhek Road and The Junction at Dagoretti Corner.
"This retail-oriented developments magnetically attract and generate huge traffic volumes along the main arterial routes leading to traffic congestion," reads the policy document.
John Karanja, the project manager at Apartments Lavington in an earlier interviewed said that investors now prefer the leafy suburbs because of their proximity to the central business district (CBD) and functional infrastructure, which makes property investments in such areas lucrative.