Simple and affordable ways to upgrade your home
NAIROBI, KENYA: For many people, making their home enticing involves employing the services of an interior designer with good taste, importing high-end furniture or acquiring a large space to build an expensive-looking structure.
However, this does not always have to be the case.
Home and Away talked to experts on how to upgrade your home without spending too much money.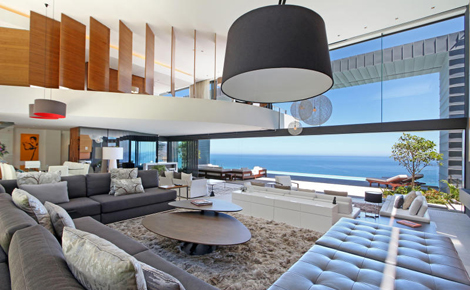 Going for the classics
Many high-end homes are awash with neutrals colours like white, beige, grey, black and ivory. Neutral colours make your home feel calm, clutter-free and classic.
Indeed, this is the secret high-end developers use when trying to sell their units.
Most model homes and apartments contain only white-walled rooms. White is clean, open, invigorating and goes with anything.
Use accessories to introduce other bold colours into your home; a neutral base lets bold-coloured accessories take centre stage.
The white room is also used to draw focus to the space's décor elements and chic surroundings.
A blue vase in a white living room with grey sofas paints a pretty picture.
"The rule of playing with neutral and bold colours is that you should keep the selection of colours to a minimum. Too many colours in one room create a cluttered feel that is not attractive," says John Amayo, an interior designer with Amayo Designs.
Floors and furniture
"Wooden floors add a classic touch. Fake it by using laminated wood planks. They work just the same. Make sure the wooden colour is preserved at all times," says Fred Muchiri, an interior designer at Makai Creations and Interiors.
Buying brand new furniture might be financially challenging.
However, living in a world where people simply judge a book by its cover, you can fake expensive furniture simply by replacing the fabric or covering your sofas.
"Go for a soft feel cover with a rich colour. It will easily transform your furniture from average to chic," says Muchiri.
Transform your walls
Architectural details are a great way to make a home look expensive. Give your plain walls a panelled, framed look by adding narrow strips of moulding.
Moulding is a strip of material, traditionally made from solid milled wood or plaster used to cover transitions between wall surfaces for decoration.
This treatment, known as picture-framing, is a simple way to draw eyes to certain areas of the room.
Keep the spacing even and the edges aligned for a symmetrical, eye-pleasing look.
"Painting the moulding in a woodsy, brown colour adds to the classic theme already created by the laminated wood floors," says Muchiri.
Turn the ceiling into a focal point by embellishing the area around a light fixture's attachment with a lightweight, polyurethane ceiling medallion.
Decorative ceiling medallions are available in various sizes and can be painted in your desired hue.
Kitchen heaven
Ceramic subway tiles made their debut in New York City's subways in the early 1900s.
They captured the public's imagination and quickly moved into their kitchen for both practical and aesthetic reasons.
Subway tiles are a style of white glazed ceramic tile, as used on the walls of the New York City subway stations, where they got their name. They are rectangular in shape.
Backsplash — the panel behind a sink or stove that protects the wall from splotches — can be covered by subway tiles.
Apart from being easy to clean and stain resistant, subway tiles are beautiful, timeless and give the most value for your money.
Subway tiles are an affordable option for kitchens and baths, so you can keep costs low and achieve a stunning look.
There are so many designs of subway tiles to choose from for your kitchen. Consider the tile colour, your kitchen components and the theme of your cooking area.
For a contemporary kitchen with flat-front cabinets, set the stage for modern touches throughout the kitchen. Black and grey, glass subway tiles that run horizontally along the back wall make the kitchen feel energetic and fresh.
You can also have a rustic tile backlash, one made of marble or one that matches the table tops.
Either way, a subway backlash should tell us about your taste. The more unique and striking it is, the more expensive your kitchen will look. "Go for one that is easy to clean regardless of your taste. They tend to get dirty quickly and that might rob them of their luxurious feel," says Amayo.
Make the doors disappear
Interior doors don't have to be solid and boring. Beautiful, space-saving pocket doors may be worth the splurge to add a sense of vintage and adventure to your home.
A pocket door is a sliding door that disappears when fully open into a compartment in the adjacent wall. They usually travel on rollers suspended from an overhead track, although some also feature tracks or guides along the floor. Either the single or double door versions are ideal for a home.
Do not restrict pocket doors to bathrooms use only.
They are ideal for closing off open sections of your home or providing a quick way to move from room to room where a wall currently exists.
When they disappear into the wall, they do not take up as much space as regular interior doors do. You can use them for your bedroom closets doors or in your living room.
Away with gold
Gold is often used as a symbol of money. However, rooms filled with gilded items are usually an eyesore. Silver stands out more without looking cheap or overdone.
A trio or small cluster of silver-plated pictures in different sizes is sophisticated.
Chrome, brushed nickel or metallic grey are all colours that are sleek, classy and much easier on the eye than gold.
"There is a lot of metallic paint in the market to choose from. You can use it to paint your accessories and have that luxurious feel," says Amayo.
Landscaping
Garden landscaping transforms the exterior look and feel of your home by turning your front yard into a colourful, floral oasis.
A walkway is a small investment that will work wonders for your landscape and carry your home's friendly facade to the street.
Use a dark colour to make the point of entry pop and then flank the front door with tall planters. Finish the look by adding symmetrical plantings on either side of the walkway.
Make your front door the centrepiece of your home's appeal. Repaint it with a striking tasteful colour or sand it down and stain it for an antique, weathered look.
Finish the look with updated lights, potted plants on either side of the door and a new, high-end knocker and handle.
Keep it clean
Even the most posh-looking rooms can be cheapened by needless clutter. Dust and dirt are not the hallmarks of wealth.
Unframed posters, which are loose-lying from the wall should be taken down.
All the remotes and video game controllers should be kept in a drawer or a box.
International magazines with catchy headlines and cover photos that we have acquired over the years should be stacked in a neat pile and if the pile is taking over too much space, toss them into a bin.
Dust, mop or vacuum frequently to make sure the room stays clean and orderly. The right lighting can make a small home appear larger or a dark home seem sunny and cheery.
The wrong lighting can make your home feel dark and dreary. Installing brighter, modern light fixtures not only highlights your home's best features, but the right style of fixtures can also create a more current, affluent look.
In replacing fixtures, you should make sure you don't mess with the flow of the house. Give a bathroom or a kitchen a sparkly new look by co-ordinating hardware finishes.
Replacing mismatched accessories with new, co-ordinating pieces is an affordable update that will make your space look polished and luxurious.
Decorate with flowers
Freshly cut flowers invigorate a room in a way that no other type of ornament or plastic plant can. Fresh flowers add warmth and personality to any environment, and they even make the air smell better, which significantly raises the value of any space. Fresh flowers also make it easy to change the look or theme of a room, regardless of its décor.
You can call attention to a specific area or piece of furniture by placing a few buds on or near it, keeping in mind to change the flowers every week or so for a fresh, chic environment.
— Additional information from internet sources.