Experts: Urban areas contain order and chaos, plagued by inequalities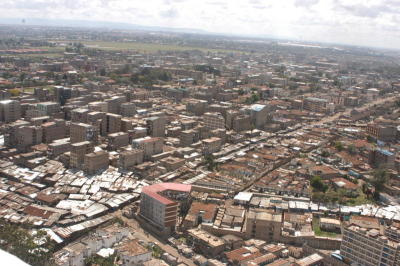 A aerial view of Huruma estate in this picture taken on 19th November, 2005. Picture; JACOB OTIENO
Nairobi; Kenya: World Habitat Day 2014 was commemorated on Monday, October 6, with a befitting theme, 'Voices from Slums', to focus stakeholders' attention on the hundreds of thousands of people living in poor housing conditions in urban areas.
October 2014 has been dubbed the Urban Month by experts as Kenya grapples with the complexities of devolved urbanisation. Planners point out that the absence of an urban policy will only make the situation worse and scare away investors and development partners.
The UN Habitat State of the World's Cities Report 2008/2009 summed up what appears to be ailing Kenya's urban areas today: "Cities contain both order and chaos. In them reside beauty and ugliness, virtue and vice. They can bring out the best or the worst in humankind. They are the physical manifestation of history and culture and incubators of innovation, industry, technology, entrepreneurship and creativity. Cities are the materialisation of humanity's noblest ideas, ambitions and aspirations, but when not planned or governed properly, can be the repository of society's ills..."
In Kenya, the policy and governance instruments and mechanisms necessary to lay a good foundation for sustainable urban development are yet to be formalised, making it difficult to attract investors and plan urban areas responsibly.
Prof Alfred Omenya, an architect, argues that the fact that the National Urban Development Policy that was popularly developed through a highly consultative process in which Kenyans invested their hope for an surban regeneration, is yet to see the light of day is worrying.
He notes that similar policy initiatives such as the slum upgrading programmes have taken a back seat. "This responsibility lies squarely with the Ministry of Land, Housing and Urban Development whose mandate is to give county governments policy direction on urban development, among other things."
The most glaring aspect of Kenya's urbanisation is the inequalities that it has continued to generate and devolved to the counties.
While it is estimated that the urbanisation rate will have reached 44.5 per cent with an estimated 16.5 million people living in urban areas by next year, this comes with mixed fortunes, particularly for the disadvantaged urban majority.
Inclusivity
The African Development Bank (ADB), through its Kenya Country Strategy Paper (2014-2018), notes that although Kenya has experienced economic growth over the last decade, it has not been sufficiently inclusive as evidenced by persistently high levels of poverty and regional disparity, limited access to basic services, inequality and unemployment, with youth, women and other vulnerable groups hardest hit.
The strategy attributes the lack of inclusion to skewed distribution of income and property; past resource allocation policies, which intermittently starved urban areas; and the concentration of productive economic activity within a small formal sector employing relatively small numbers of people but accounting for large economic returns and incomes.
Urban experts argue that with an average of 55 per cent of the urban population residing in informal settlements, inclusivity remains a mirage, unless of course more attention is paid to the real attributes of sustainable urban development.
Civil Society Urban Development Programme Co-ordinator George Wasonga says Kenya's urban space is faced with serious environmental degradation accentuated by increased risk of natural disasters like floods. It lacks basic amenities, including drainage.
Initiatives
Wasonga lauds the recent initiative by counties to establish an Urban Development Committee of the Council of Governors. The committee has its work well cut out, starting with prompting county governments to establish urban boards as envisaged in the Urban Areas and Cities Act of 2011.
"Nairobi alone has more than 100 informal settlements, thus intensifying environmental degradation. Statistics show a rapidly growing urban population, majority of whom continue to live in informal settlements and provide a labour force for the urban economy."
"There can be no 'better city' when majority of the residents continue to be deprived of basic sanitation facilities, access energy through dangerous and costly means and spend a significant chunk of their meagre income on recurring medical expenses," Wasonga says.
World Habitat Day 2014 launched a campaign to recognise life in the slums and give a voice to slum dwellers by improving living conditions as well as highlighting the efforts made in achieving the millennium development goals.
Governments, NGOs, private sector, academia and other institutions are encouraged to recognise current and past slum dwellers as the protagonists of World Habitat Day 2014.