The phases of Mombasa varsity over the years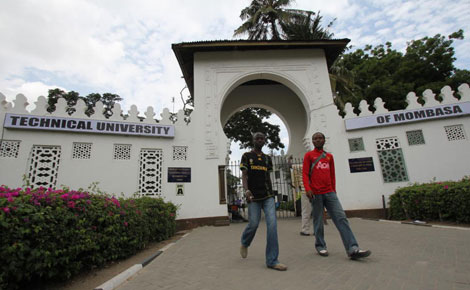 The Technical University of Mombasa (TUM) has passed through three phases to become what it is today.
The phases reflect the Government's efforts in promoting technical, industrial, vocational and entrepreneurial education and training in line with the technological and industrial growth in Kenya and in Africa.
According to the university's website, the origin of TUM can be traced back to the late 1940s.
It was as a result of the consultations pioneered by Sir Philip Mitchell in 1948 between The Aga Khan, the Sultan of Zanzibar, the Secretary of State for the colonies, Sir Bernard Reilly and H M Treasury.
Founded
Out of these consultations, Mombasa Institute of Muslim Education (MIOME) was founded from capital raised by means of Sh100,000 gifts from the Sultan of Zanzibar and Sh50,000 by the Bohra Community of East Africa at the insistence of Dr Sayedna Taher Saifuddin.
Saifuddin was the high priest of the Bohra Community.
The Khamisi family donated 27.5 acres where the institute was built and 4.2 acres in Tudor area where the Kiziwi Campus stands.
At inception, MIOME was charged with providing adequate technical education to Muslim students of East Africa.
First students
In May 1951, MIOME enrolled its first batch of students to undergo a technical education programme, which put special emphasis on electrical and mechanical engineering, seamanship and navigation, and woodwork.
At independence, the board of governors accepted that if the institute was to fully play a role in the development of the education system, then its doors needed to be open to students of all creeds.
In 1966, MIOME become Mombasa Technical Institute (MTI) and started to admit all Kenyans regardless of religion or race.
To comply with the newly set educational policies of independent Kenya, the curriculum was restructured and new additional courses introduced.
These included civil engineering, electrical engineering, mechanical engineering, business studies, mathematics and applied sciences.
In 1976, MTI transformed to become the Mombasa Polytechnic, becoming the second national polytechnic in Kenya.
The Mombasa Polytechnic continued to develop more market-driven programmes.
These were anchored on five departments of Business Studies, Electrical and Electronics Engineering, Building and Civil Engineering, Mechanical Engineering and Applied Sciences.
In line with the Government's strategy to increase access to university education across the country, the dream to convert the polytechnic into a university college was realised on August 23, 2007, through a Legal Notice No 160.
And The Mombasa Polytechnic University College (MPUC) was established.
Positive changes
The university college status resulted in many positive changes implemented with support by the Government of Kenya.
These changes included the recruitment and development of staff, expansion of infrastructure, provision of facilities and introduction of new academic programmes under the mentorship of Jomo Kenyatta University of Agriculture and Technology.
All these came at a time when the country had started warming up to Vision 2030.