Holiday homes for Kenya's elite
Tired of travelling and the lack of privacy in hotels abroad, the rich are now investing in luxurious holiday homes in Naivasha, Kilifi and Nanyuki among other areas, writes PETER MUIRURI
For years, Naivasha was the lacklustre town on the floor of the Rift Valley and always in the news for negative reasons such as crime. Few thought of the area as the ideal location for a dream holiday home.
In recent times, however, this perception has changed as big-time investors in real estate flock to the area, either to buy or construct multimillion shilling holiday homes, a modern concept that is shaking the real estate industry.
Apart from Naivasha, other preferred locations are Kilifi, Malindi, Thika, Eldoret and Nanyuki.
Perched on one of the most splendid views are The Great Rift Valley Lodge private cottages in the Eburru Escarpment with price tags ranging from Sh30 to Sh40 million.
The homes, owned by the who-is-who in Kenya's political, business and corporate world, are weaved around an 18-hole golf course and have been constructed to take advantage of the natural vistas, more so Lake Naivasha and the distant Mount Longonot.
Projected to break ground this year is another golf and resort city that will sit on 2,400 acres off Mai-Mahiu Road, not far from Naivasha.
Known as Longonot Gate, the controlled development will comprise holiday homes to be developed in three phases, an 18-hole golf course, sporting facilities and theme parks. For the convenience of homeowners, the developer also intends to put up a helicopter landing base.
The demand for holiday homes around Naivasha is so high that many upcoming ones are being snapped up through off-plan buying. Crater Park, the first phase of Longonot Gate development, is already sold out.
According to Renie Cork, Managing Director for Karengata Property Managers who are the sales agents for Osotua Villas in Naivasha, the demand for holiday homes is rising by the day, with the number of those who can afford also increasing.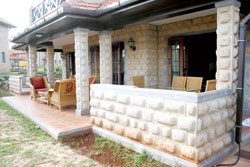 Windsor Park luxury homes in Nairobi. Wealthy Kenyans are investing in lavish holiday homes where they can spend their holidays instead of staying in hotels. [Photo: Courtesy]
World-class golf course
She says: "The demand is so high that most of our property was bought off-plan even before the launch. We only had three homes to sell during the launch in October last year."
A three-bedroomed home in Osotua will cost Sh19.5 million while a two-bedroomed one will go for Sh14.5 million.
Exit Naivasha and enter Kilifi where Vipingo Ridge, the flagship holiday homes development has redefined real estate in the otherwise quiet environs. The idea was conceived in 2004 to create a world-class golf course in addition to a high-class residential estate in three phases.
Phase one holds 254 undeveloped plots for sale on 550 acres, allowing for space and privacy among neighbours, besides hosting the first 18-hole championship golf course. A separate 400 acres are allocated to a proposed game sanctuary.
Phase two was launched two years ago and will host off-plan housing as well as a second 18-hole golf course, conference facilities and a country club. Construction on the first of the off-plan houses comprising 42 luxury golf villas has commenced. Off-plan buying will cost between Sh30 and Sh40 million, with a two year completion clause in the contract.
At Vipingo Ridge, homeowners and golfers have the luxury of flying in courtesy of an airstrip right within the property. Currently, Fly 540 is the only carrier making scheduled flights to the exclusive homes.
What is drawing the monied to invest in the seeming remote locations?
According to Keziah Okanga the Sales and Marketing Manager at Vipingo Ridge Property, the holiday homes concept is about affluence, wealth and exclusivity apart from it being a sound investment.
Artistic homes
"Kenyans are well travelled nowadays and want a holiday where they can put their feet up and just relax in privacy rather than checking into a hotel overseas, which could prove expensive and require detailed planning. They want a getaway closest to home, even for a weekend away with family or friends," says Keziah.
For others, the natural attractions within the countryside act as magnets that attract them to make the expensive investments.
In Nanyuki, a holiday home's main selling point is its proximity to Mount Kenya, the landmass after which Kenya is named.
Take Mukima Ridge, for example, a conglomeration of ten artistic homes designed and developed by Leslie Duckworth. Their elegant style is said to offer a mode of living "far removed from the compromise of city life".
"The homes are set against the backdrop of Mount Kenya's glittering ice-capped peaks, looking across the plains towards the Afro-Alpine Aberdares and neighbouring some of the most famous wildlife conservancies in East Africa," says the catchy phrase on the homes' website.
Resting on a 13-15 acre plot each, a house here costs Sh50 million. But then, this is the area immortalised by Kuki Galmann in her famous memoirs, I Dreamed of Africa, that continues to draw some of the world famous celebrities on holiday.
Though Naivasha appears dry and forlorn, there are many natural resources that a homeowner or holidaymaker would take advantage of.
Aberdare National Park is an hour's drive from the town while Lake Nakuru, with its world-famous flamingoes, is less than an hour away from Naivasha.
The Great Rift Valley Lodge hinges its exclusiveness on the unique ecosystem that is a haven for nature enthusiasts with hillsides full of indigenous plants that attract an assortment of birds, making bird watching from the comfort of a private balcony fun.
Another appeal is Naivasha's closeness to Nairobi, an added advantage for the working and business -minded class.
"Naivasha is also calmer than the city. There is less traffic too. A homeowner can enjoy the confines of his holiday home for a weekend and still go to work in Nairobi without the tiredness that results from long drives," says Renie.
Not to be overlooked is the fact that it is much easier for large-scale developers to procure hundreds and sometimes thousands of acres in Naivasha, Nanyuki or Kilifi than in big cities such as Nairobi or Mombasa.
Also, owing to the rural setting in the respective areas, there are minimal legal hurdles to overcome, unlike in major urban centres where acquiring land may present a number of encumbrances.
Geothermal power
According to Naivasha Member of Parliament John Mututho, there are many incentives that draw holiday homeowners to the area.
"Naivasha and surrounding areas are going to benefit greatly from the increased output of geothermal power that abounds in the vicinity. This will lower energy costs and make Naivasha a top holiday destination," says Mututho.
The MP says the improved infrastructure in Naivasha will attract more investors to the area that has the potential to play a big role in the realisation of Kenya's development strategy — Vision 2030.
"Naivasha is an economic powerhouse, but for investors to come, we need to provide an enabling business environment. That is why the Government is investing heavily in geothermal power, fresh water supply and investigating ways of producing clean and cheap farm produce," says Mututho.
With such developments springing up, Kenya has joined the big league in holiday home bandwagon, a feature that will transform the way of life for the Kenyan elite.