Airports in danger
Over the past few years, aircraft operators have warned that buildings near airports pose danger to passengers and people on the ground because of increasing encroachment on flight paths, writes Harold Ayodo
A drive around Nairobi's Jomo Kenyatta International Airport (JKIA), Wilson Airport and Moi Airbase in Eastleigh depicts the construction boom in Nairobi. Residential and commercial buildings are fast encroaching into areas around airports even as authorities warn that majority are aviation hazards.
Players in real estate say scarcity of land and disregard for safety in Nairobi has forced investors to encroach and construct estates with impunity. According to City Council of Nairobi the illegal developments that include sky-crappers, car bazaars, residential estates and hotels sit on land reserve set aside for expansion of airport terminus.
Consequently, aviation experts concur that several buildings, mostly around Wilson Airport and Moi Airbase, gravely affect operations of flights. For instance, the airbase is sandwiched between highrise flats but we could not take pictures because it is legally gazetted as a Protected Area.
According to aviation experts, flight funnels must be visible to pilots for smooth take-off and landing, which is becoming a rare phenomenon in Nairobi. Last year, successive plane crushes at Wilson Airport generated debate in Parliament, with Imenti Central MP Gitobu Imanyara attributing the accidents to multi-storied buildings around the facility.
However, the then Transport Assistant Minister Harun Mwau said the buildings were legal and had complied with the Building Code.
Compromised safety
Imanyara said that over 50 protest letters had been sent to the ministry seeking to have the constructions outlawed. But, the minister denied knowledge of this.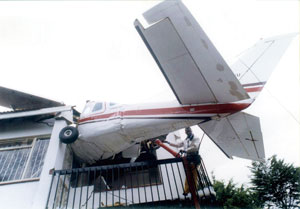 A light aircraft that crashed into a house near Wilson Airport.
"We even have reservations with the relocation of the Dandora dumpsite to Ruai as birds will be flying over JKIA to Ruai," Mwandikwa says.
He says some factories constructed on flight corridors emit chunks of smoke that are dangerous to aviation safety and security.
"We (KCAA) have an aviation safety and security division, which checks developments that obstruct flights landing and taking off," says Mwandikwa.
He notes the Authority is working with the Ministry of Lands, City Hall and the Kenya Airports Authority (KAA) towards clearing the flight corridors.
"After our regular surveys some buildings need to be demolished while others should be reduced in height in line with international practices in aviation," Mwandikwa says.
According to Architectural Association of Kenya (AAK) Chairman Steven Oundo, research and surveys conducted by the association concur with the KCAA. AAK says the construction industry is yet to awake from the dark ages of the past regime when corruption was rampant leading to impunity in the industry.
"Most buildings around airports countrywide are not approved… they ought to be demolished but most are protected by political godfathers," Oundo says.
Grey areas
Oundo says the permissible distance between buildings and flight corridors is a grey area as it is mainly determined by security issues and environment matters.
However, the challenge with determination of security is that there are no specific guides on the distance buildings should leave; therefore, each building approval is on a plan-by-plan basis.
"It makes it difficult to clearly pick out which building has infringed on an airport's flight corridor," Oundo says.
Experts concur that environmental issues are easier to address and they can be mitigated compared to the issue of private developers.
"The mitigation factor would be that the architect would provide a waste management system to prevent flying birds from causing an aviation menace," Oundo says.
According to the AAK, heights of buildings around airports is controlled by international standards and guided by the vision of flight path. Further, the heights of developments around airports should depend on the type of airport, volume of air traffic, type of aircrafts and airport land use.
"As registered professionals, we are aware of the risks of flouting construction rules and regulations by erecting illegal buildings near airports," Oundo says.
For instance, disasters ranging from inaccessibility by fire engines and ambulances to rescue passengers and cargo in the event of a plane crash.