Post-poll immigrants spur Kisii town's growth
Kenan Miruka
James Juma, Director of Jamomo General Merchants, had lived in Kisumu since 1980 and for nearly three decades, had established himself as a major contractor and supplier.
When the post-election violence broke out in January 2008, he lost property worth over Sh2.5 million. His shop, which was located opposite Aga Khan Hospital on the Kisumu-Busia Road, was looted, as was his timber yard at Kibuye market.
Following the violence, he was forced to relocate to Kisii, 65 kilometres from Kisumu.
"I had never imagined moving from Kisumu, which was like home to me. My business was stable as I supplied the Government ministries in Kisumu and the Western region. But with the chaos I lost a lot. Some of my business certificates and other documents got lost meaning my debtors could not pay what they owed me," says Juma.
Joseph Macharia, who runs an auto spares shop, migrated to Kisii from Kisumu with his family at the height of the violence in January 2008.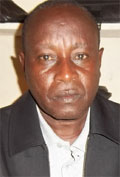 JAMES JUMA,
Director, Jamomo General Merchants
According to Rachael, the huge influx of people looking for commercial property in 2008 saw rent and land values doubling.
"Before 2007, office rent in the town stood at between Sh30-60 per square foot but now tenants pay double," Rachael says.
Mwembe, Jogoo and Nyanchwa residential estates record the highest rent values due to their proximity to the town, availability of water and sewerage serviceS.
A two bedroom apartment in these estates goes for between Sh7,000 and Sh12,000. Nyamataro and Gesonso estates charge lower rates as they are situated far away from town and lack piped water.
Rents go as high as Sh20,000 in the region's upmarket residential areas like Milimani and Nyangena.
Housing Projects
Real estate development is not well established in Kisii unlike other major towns. There are no developers who build and sell housing units and experts attribute this to the fact that the Sectional Property Act has not been appreciated.
"There are very few people willing and able to buy ready houses. Those who want to buy such houses cannot afford them while those who can afford prefer to buy land and build houses of their choice," says Rachael.
The National Housing Corporation (NHC) has started a project dubbed Kisii Highrise Phase I within Nyanchwa Estate where houses will be constructed for sale.
"Unlike other towns, sectional property ownership has not been appreciated. Land is scarce and this model will solve our problems. Let's see if the NHC project succeeds," says Rachael.
Developers, however, argue the Kisii Municipal Council has not done enough to create an enabling environment for real estate development.
Mogambi Mogaka, Director of Ouru Enterprises, a leading real estate developing company in Kisii, says water and sewerage services are unreliable.
"Most estates don't have access to piped water and sewer system and the existing ones are unreliable. The local authority should provide infrastructure and security and get out of the way for developers," says Mogaka.
Residential houses at upmarket Nyangena Estate. [PHOTO: KENAN MIRUKA/ STANDARD]

He cites lack of street lights, which are a threat to security. Gusii Water and Sanitation Company Managing Director Richard Onyari admits the town cannot meet its water requirements and is only able to supply four out of ten households a day.

"The design capacity of our water supply system is 6,000 cubic metres, but the demand currently stands at 25,000 cubic metres per day. The Government intends to expand the Kegati water supply system," Onyari says.

He says plans are underway to ensure more are connected but laments developers have encroached on way leaves. So far, only 1,200 housing units are connected to the company's sewer line.

Low rents

Onyari says the company intends to increase connections to 18,000 by activating dormant accounts and completing the Sh10 million Menyinkwa Water Supply project.

Developers in the region, however, say they are constrained by lack of land. Investors can only buy small portions that may not accommodate large structures.

"Rents are still low in this town and this discourages investment. It is impossible to buy and service a mortgage at the current rent rates without the risk of taking long to recoup the investment," Mogaka says.

Other challenges to developers include high cost of building materials. Sand is sourced from neighbouring Migori and Kendu Bay towns and with the rising fuel prices, the cost gone up.

"In 2008, a ten-ton lorry of sand cost Sh8,000 but now it goes for up to Sh14,000," says Jairus Onchoke, a developer.

Mogaka proposes that to grow the town, the municipal council must find a way of expanding the town from the current two streets and set up more bus terminus to expand the CBD.

"With proper infrastructure, more development in Kisii's real estate sector will be realised," observes Mogaka.

He agrees with Rachael that residents should embrace the Sectional Property Act.

"This system is working everywhere so it should work here because of land constraints," he explains.

Kisii Mayor Samwel Nyangeso acknowledges the town is facing challenges providing services to the growing population.

"The town is rapidly growing because investors fled other towns and moved their businesses here. We have opened access roads and bypasses. The council has entered into partnership with a private company to provide street lighting at a cost of Sh133 million," reveals the mayor.

Nyangeso says the project will commence next month and the whole town and its environs will be connected to boost security. As the town grows, property experts say rent and land values will keep rising.

"In five to ten years, many buyers will be pushed out of the market with high prices. It is not easy for property prices to come down once they rise," says Nganga.

However, with many commercial banks opening branches in the town and offering mortgages, the real estate sector is set to enjoy further growth in Kisii.