Scramble for Embakasi's hidden treasure
By Mwangi Muiruri
Esther Wanjiru wonders what the future holds for her. She laments: "When someone wrenches off my lifetime savings, what do I do?"
Her cry is replicated by shareholders of Embakasi Ranching Company who bought shares in land hoping for a comfortable retirement.
Today, the shareholders say they are living a nightmare claiming the company is frustrating them.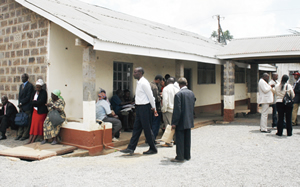 Weary shareholders wait to be attended at the Embakasi Ranching offices in Ruai. [Photos JENNIFFER WACHIE]
"We have demanded that we be furnished with details of what transpired during the last Annual General Meeting so that we can scrutinise the complaints from dissatisfied members," she says.
The discontented shareholders have also demanded to meet the president over the issue, alleging that numerous visits to the Lands Ministry have yielded no results. Further, they claim, their plots have been traded to Government officers, mostly senior police officers.
"What do you expect us to make from all this when all relevant Government offices have been non-committal even after writing several letters, visiting the relevant authorities and staging protests?" Joyce Kabetu wonders.
Another victim, William Kage, says his land was swapped from a prime area to another in the interior of Ruai.
Another controversy centres around Maina Thomas who claims he was allocated a quarter acre of land (reference V. 4097) in 2005 at a cost of Sh32,000, a deal that was allegedly facilitated by a Mr Mahinda.
Mahinda dismisses the transaction as another evidence of fraud "as I had left the ranch board by then."
Banga alleges the ranch has another 930 acres of undeclared land in Syokimau, Kajiado, Kitengela and Athi River, "all of which have been sold off by the board without shareholders consent".
Raphael Kirumba Thimba, one of the directors, admits that the Company has the 930 acres. "Balloting for those plots commenced on January 16, 2007," he reveals. "Bidders paid survey fees only, ranging from Sh5,000 to Sh15,000. The plots ranged between an eighth and one acre."
Asked how successful the bid was, Kirumba responds: "We are waiting for a proper map to tell us how much, but we now have a combined total of more than 10,000 acres of unallocated land."
At the offices, the complainants said the boundaries of their plots had been altered against the Physical Planning Act. Thuita counters the allegations are a "figment of imaginations from losers of past elections vying for the posts of board members".
letter from the minister
He adds: "The people making those claims are out to capture leadership positions for their self gain, not the welfare of the shareholders."
He, however, admits there are new allocations of land "from shareholders who are willing to sell off their shares."
City Hall Director of Planning, Peter Kaniaru, refused to comment on whether the debacle dogging Embakasi is guided by any planning from City Hall.
Nonetheless, the shareholders, Provincial Administration and security agencies admit all is not well in Embakasi and the tussle might explode into a sinister crisis.
Last year, Banga submitted a letter to the Minister for Lands, James Orengo. The July 7 letter was a follow up to another written to him on earlier on April 28. Both cited the above grievances.
A brief reply from Orengo (Reference ML, LND 7/9/8 vol.1 (4) dated April 30, 2008 states in part: "Please let me study the matter and will revert back to you as soon as possible."
Banga says: "That 'soon' has never arrived and we wonder how long we have to wait."
Lands' Permanent Secretary Dorothy Angote says the shareholders' cry emanates from haphazard administration of land at the central database.
"Unless we put in place a national land policy that will create a National Land Information Management System, it will be very hard to escape such complaints," she explains, adding that "only such a system will resolve cases of double allocation and fraudulent sale of both private and public land."
Angote laments that rot has prevailed since 1907 when the search for a land policy started.
security concerns
Kayole OCPD Shadrack Maithya shares the sentiments. He says land problem has become explosive and grown into a security concern.
"We have since stopped several allocations until a proper land administration is conducted," he says. "We are aware of fraudulent dealings and we have decided to vet land transactions here."
He says the exercise is being implemented closely by the Provincial Administration and security agencies. "Those areas that will be found to have contravened sound practices of land administration will be demolished," he warns.
Among those to be affected by the demolition are those plots owned by highly ranked security officers, some of which are developed while others are undeveloped.
Mahinda says no matter how long it takes, the law will catch up with powerful people who have grabbed land owned by shareholders.
"Today they might be untouchable because they are in powerful offices but eventually, they will retire and they will be vulnerable," he says.
Area MP Ferdinand Waititu admits there are problems in land transactions. "If it is not one plot being sold to more than one buyer, it is a shareholder complaining of being swindled. All is not well," he says.
Parliamentary Order Paper 121 of February 17 captures Waititu seeking from Local Government minister Musalia Mudavadi three issues:
1.Provide the list of public utility lands by number and size grabbed in his constituency;
2. The action he intends to take on the grabbers; and
3. Whether the issued title deeds will be cancelled.
"To date, I am still waiting to be given a satisfactory answer," Waititu says.