Politics, religion are inseparable but Church must remain impartial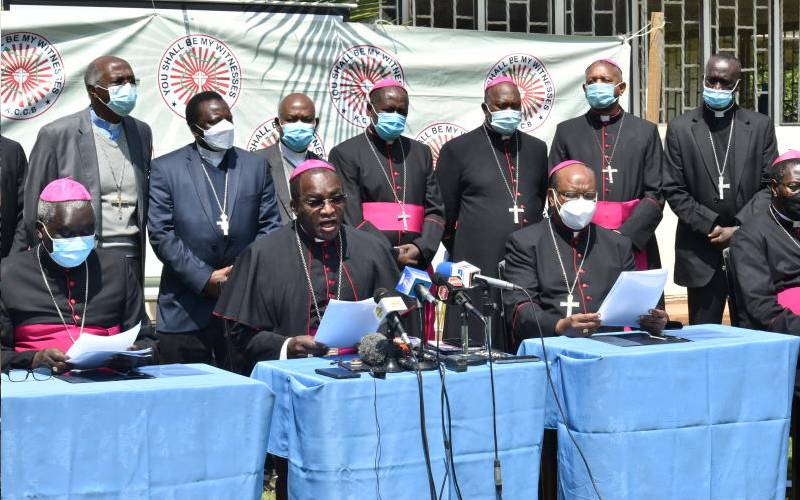 Churches have been fertile vote-hunting grounds for Kenyan politicians.
That is probably why during election period many politicians frequent churches.
Sometime last year, there was an outcry from political circles, especially from Deputy President William Ruto's allies, who felt that by the Kenya Conference of Catholic Bishops and Anglican Church barring politicians from speaking in church, they were taking a political position.
"Whereas all our churches welcome all worshipers, we have witnessed cases where politicians assume the role of clergy and use the pulpit for negative and divisive politics," Anglican Archbishop Jackson ole Sapit said then.
That has largely remained the case; Catholics, Anglicans and several other protestant churches have kept politicians away from the pulpit.
But with less than three months to elections, the Church is increasingly coming under pressure to declare its stand.
Last week, the Evangelical Association of Kenya hosted a town hall meeting at the Nairobi Baptist Church and invited presidential contenders. It was the most overt show that the church, albeit the evangelicals, were intent on being at the centre of politics.
Political and ideological fragmentation is rising, and the Church hopes that by being close to politics, it could give it direction.
Azimio la Umoja One Kenya presidential nominee Raila Odinga skipped the event, but Ruto, who has been targeting the Church, was present.
Ruto has on numerous occasions stated that only presidential candidates who have shown serious religious commitment deserve to lead.
The DP's pleas to the Church was to be active and play a more significant role in determining the next leaders.
Ruto said the Church can determine the country's leadership and should not sit on its hands.
"The Church also has an opportunity to install a government, instead of waiting until others install a government for you. Why don't you install the government yourself?" he said.
According to the 2019 census results, 85 per cent of the population identified as Christians. Protestants were the majority at 15.8 million while Catholics and Evangelicals followed at 9.7 million and 9.6 million respectively.
The power in these numbers is attractive to politicians.
But what direction will the Church go?
Nyeri Archbishop Anthony Muheria believes that politics and religion are connected at the hip. He, however, said the Catholic Church will not tell its congregant who to vote for.
He said the Church should not have a preferred candidate.
"The Church should be able to delineate the qualities of a good leader. That right to choose, that duty, falls on the voter. It is our responsibility to educate Kenyans to discern what is good," Muheria said.
But the Church has a big task ahead of it, to be neutral is to live on a knife edge.
"One thing I can assure you is that the Church is not neutral on values but on candidates, that I can say without fear of contradiction," he said.
Muheria said sometimes it was not about who is good but who, perhaps, will enshrine the good things and who might enshrine bad things.
"It might not be my preferred candidate but it might be a choice of a lesser evil or a greater good.
Muheria, at a meeting in the city with the Kenya Editors' Guild last week, admitted that religion may have lost its hold on national discourse and politics.
"The Church mellowed. That's true. They did it for their time, the ground shifted," he said.
Bishop Alexander Muge, Henry Okulu, David Gitari, Manasses Kuria, Ndingi Mwana a'Nzeki and Timothy Njoya were vocal in their day.
Archbishop Gitari of ACK opposed President Daniel Moi's choice of Uhuru Kenyatta to succeed him.
Muheria believes that religion should be part of political discourse.
"Religion is upon which the ethical concern and ethical values which underpin society are built on," he said.
"But the Church should not tell the people who to vote for.
"The Church should remain non-partisan except for when there are ethical issues. The Church should only take a stand when there is an obvious moral question. Those are the areas that the Church can flag," he said.
The Catholic Church's position on politics - asking for values to be held - was seen on May 8 when Ruto and his Kenya Kwanza team attended service at St Peters Clever Catholic Church Kiminini.
Ruto did not speak at the church, but donated Sh500,000 for the purchase of a car for the local priest.
Bishop Maurice Anthony Crowley challenged the politicians to tell the truth and warned against fanning hatred and divisive politics.
"As leaders, you must demonstrate the best example of truth, preach and teach one another love. Put the country's interest ahead of your political ambitions," he said.
But, admittedly, there was a big spectrum of what is understood as the church.
DP Ruto made a compelling case for why the Church should view him favourably.
Ruto appealed to the evangelical church that is still feeling the effects of a moratorium on the registration of new churches.
He said such a moratorium should be the reason that the Church becomes interested in who is elected president.
"I know that we've had issues with registration of churches. There is a moratorium. It needs to be discussed. What is the nature of this moratorium? and for how many days? What are the reasons? The church again must step forward and have a conversation with the government," said Ruto
But Ruto said the he was encouraged to see that churches were beginning to realise that they could not be neutral.
"The Church can no longer afford to be neutral but place itself at the centre of our politics to fashion a conversation towards the Kenya We Want; an inclusive Kenya of equal opportunities for all," said the DP.
"But the Bible says you can either be warm or cold, you cannot be somewhere there. I don't know which part of the Scripture is neutral," he said.
"It is said that the punishment given to people who don't vote or who don't get involved in politics, is to be ruled by fools.
"The Church should not be a bystander in politics," said Ruto.
Two months ago, Meru Senator Mithika Linturi had to apologise after he made political statements in church.
Linturi was addressing the congregation at Citam, Meru when he veered from the theme to criticise ODM leader Raila Odinga.
The presiding bishop Calisto Odede stepped in and interrupted Linturi's address.
"As a church, we try to minister to people from different political parties without creating any sense of animosity. In a function like this in our church we try to maintain that attitude," said the bishop​.