Alfred Mutua finds Ruto hands soft but there's a red flag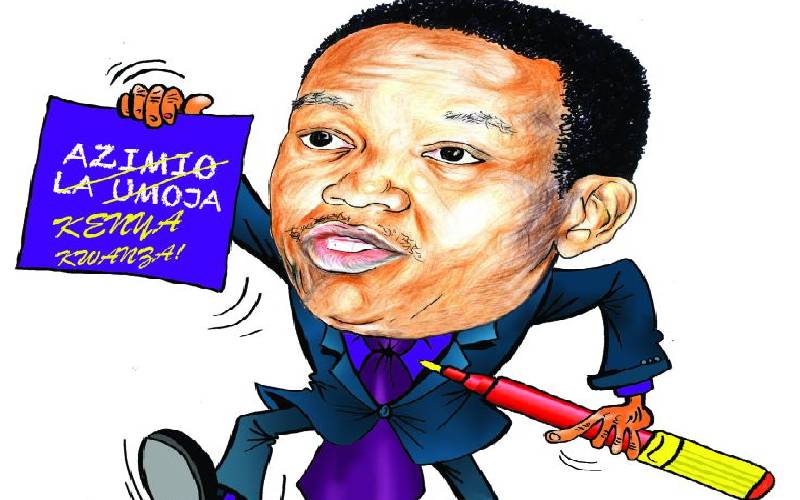 Let's talk about Alfred Mutua, Alfie the G. The G is not for 'gone' as you are inclined to assume, it's for governor.
All the Machakos boss wanted was Tinga, who Mutua admitted he had a soft spot for, to define their relationship. All he wanted was to see the marriage certificate he had forgotten to read before he penned his signature on it, too elated that he had finally found someone new.
More importantly, he needed to know what he was getting from the union. If Mutua is to be believed, Baba wasn't chap chap enough in sharing information. Hustler was different.
Despite being as polygamous as Baba, Hustler makes a point of informing all his potential brides what they stand to gain by joining the union.
"The first thing - when you sit down with (William) Ruto - (is that) he tells you exactly what he has agreed with everyone else," Mutua told KTN News' Ken Mijungu.
'What he has agreed to is code for "mamlaka na vyeo", and the only thing Hustler has confessed to hating.
And Mutua wouldn't have known that Hustler didn't mind dishing out mamlaka and vyeo had he taken Hustler's public pronouncements seriously. He wouldn't have known that if he insisted on listening to the president, who he had said knew Hustler more than everyone else.
"If the president, who knows better than everyone else, doesn't trust him, who are we to?," Mutua said previously.
People change. Feelings change. So Alfie, who thought Hustler pressed too hard when shaking hands, suddenly found the DP's handshake more relaxing than the best massage money can buy.
It is if it happens to come with a plum Cabinet job that is "my people's", which, of course, only means "me, myself and I." Never mind that you have to convince 35 per cent of "your people" to vote a certain direction so that you can earn a cheo and some mamlaka to boot.
And the man who had sworn that Baba was the best person to transform Kenya, would turn around and say he had meant Hustler.
But the red flags were always there. If you ask Alfie, he smelled trouble the moment Tinga showed reluctance in sharing the marriage certificate. For Tinga, it was Mutua's very insistence on seeing the certificate that made him suspicious.
According to Raphael Tuju, the makanga of Baba's Azimio bus, Mutua only wanted a peek to "benchmark" on the demands he was to give Hustler.
The two-term governor had also shown signs when he blackmailed Azimio with revelations that Hustler was calling every night, when Baba & Co were fast asleep.
Alfie wasn't always fickle. For the last six years, he has retained his loyalty for his Maendeleo Chap Chap party, which he formed after he was expelled from Wiper.
And he has lived up to the party's mantra, seeking maendeleo chap chap. It gives him more motivation if the maendeleo is personal. It's no wonder Alfie was able to earn a mamlaka na cheo deal from Kenya Kwanza as chap chap as he did, even more chap chap than others who joined Hustler's coalition earlier.
But as it turned out, the deal could be null and void. First, courtesy of the Political Parties Dispute Tribunal, which this week told Mutua that polyandry is not recognised in Kenya, and hence he can't be the wife of both Azimio and Kenya Kwanza. That is despite Mutua's assertion that he cannot be forced into a marriage that no longer works. Because bibi ya wenyewe is a no-go zone, we shall not talk about what Alfie knows about marriages.
Secondly, because of Johnson Muthama, Mutua's shemeji, who can't "share a podium with Alfie" as he doesn't buy his goodwill.
The aspiring Machakos governor wants Mutua to seek forgiveness from Machakos residents for "squandering their money" before he can sit in one room with him.
And so Alfie the G is gone, away from a partner who wanted him but didn't want him, to another who wants him but, again, doesn't want him.