It's in Uhuru Kenyatta's interest that Raila wins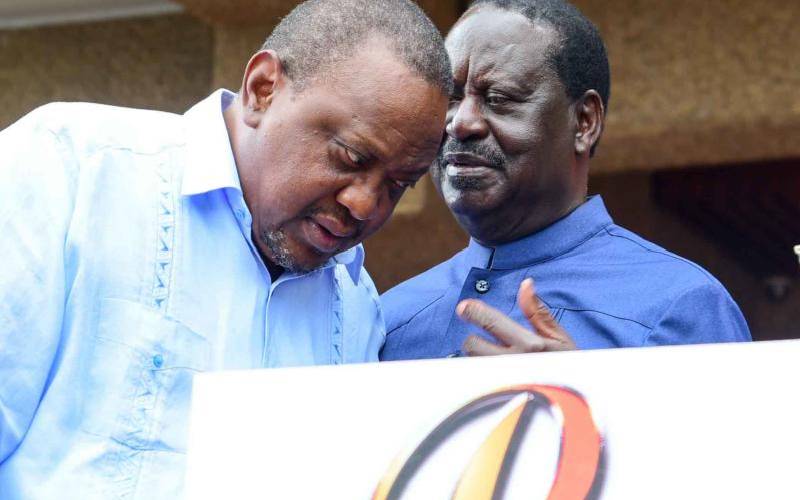 I have argued here before that war metaphors underlie the discourse of political competition in Kenya's presidential elections. It feels as though the country is at war during campaigns. We are constantly reminded that kura ni risasi yako. This is, for example, manifested in Raila Odinga's phrase nimebakisha risasi moja and his popular anthem fire! fire! But that's on a light note.
President Uhuru Kenyatta once called his deputy William Ruto "an uncontrolled missile". I believe he learnt this during their first term.
Ruto, for instance, camped in Central Kenya and successfully generated a rebellion in open defiance of the President. He caused confusion in the ruling party Jubilee by convincing some of its members to join his newly formed UDA party.
Consequently, the president mounted a spirited campaign to sink Ruto's growing ambition to the advantage of his preferred successor, Raila Odinga. Battle lines are already drawn. It is not a secret any more; the August elections are about the president and his deputy. And, the president must win. He must win for several reasons.
One, Uhuru wouldn't want to leave office to someone whom he rejected and who has publicly declared that he will undermine some of the projects that the president started. If Ruto wins, it would be the saddest moment for Uhuru, especially during the handover ceremony.
Public scorn
Two, with all the State machineries and powers vested on him, it would be an embarrassment if he loses to his deputy. Uhuru will become a subject of public scorn and ridicule and UDA politicians would find him an easy fodder for insults.
Three, as already mentioned, Ruto has since invaded Uhuru's home base and is more popular there than Uhuru himself. This is an extreme misnomer and particularly disturbing to any politician.
Uhuru lives in Gatundu, a place he calls home and a where he intends to retire. He certainly would not wish to retire to a neighbourhood that rejected him.
Four, it has been argued that Uhuru has some political future owing to his youthful age and as such, it is not yet time for him to retire from active politics. If Raila loses, that will sound a death-knell to realisation of this dream.
Five, Ruto's presidency will shatter Uhuru's dream of becoming a 'grand old man' of Africa. He would wish to be an advisor playing 'king-maker' and 'king unmaker' roles, throwing his political weight behind future presidential aspirants. That might not be possible if Ruto beats him in the game. All said and done, neither Raila nor Ruto will have an easy ride to State House.
But be it as it may, if Uhuru doesn't act now and decisively and ensure Raila wins, Ruto will ran wild with the crown and history will remember Ruto as the prince that overthrew the King.
Dr Chacha teaches at Laikipia University