Jury is still out on whether it's okay for president to back Raila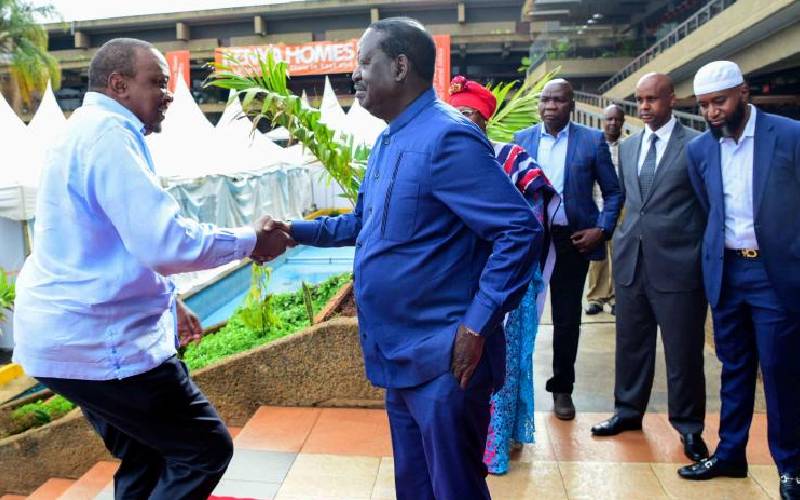 As Kenya and the international community mourn President Mwai Kibaki as a man of the people and a transformative leader, his choice to remain neutral during the successive election and after retirement was not only admirable, but also a good example for sitting heads of states.
Kenya's history of political endorsements is perhaps the most interesting. There are no permanent friends and enemies in politics—President Uhuru Kenyatta is actively drumming up support for ODM leader Raila Odinga, his challenger in the 2017 presidential election.
In the 2002 General Election, President Daniel arap Moi endorsed Kenyatta to run for the presidency. After that election, he conceded defeat to Mr Kibaki of the National Rainbow Coalition, marking the beginning of a new dawn in Kenya both politically and economically.
Two-term limit
The Constitution does not expressly permit or outlaw a sitting president from interfering with the election of his/her successor. In fact, the president exercises his/her executive authority under article 131 (1) (b) as read with 129 (2) of the Constitution to promote service delivery, well-being and benefit of all people.
Further, the Constitution tethers a president to a two-term limit, but does not state whether supporting a presidential candidate implies extension of term. Neither does the legal framework provide for the repercussions nor legal remedies whenever this requirement is violated.
An electoral system must provide free and fair elections by using secret ballot, conducted by an independent body, being transparent, free from violence, improper influence and administered in a neutral manner in conformity with article 81 (e) of the Constitution.
However, the law is not clear on whether improper influence restricts a sitting Head of State from supporting a political camp to the exclusion of the other in whole and in part. This is because by so doing, it is unlikely that there will be a level playing field for the following reasons.
Political animosity
One, the person of the president is held to a higher standard both locally and internationally. As a leader, every citizen or foreigner must feel protected by an impartial head of state who can easily bypass political animosity and initiate reconciliation whenever a conflict blows out of proportion.
Two, any occupier of the house on the hill is regarded as the father of the nation (Baba wa Taifa) and holds that office in public interest. Just like a typical father, he has to balance between all those he considers to be his children. In the absence of such balance, the family feuds and no one wins.
Three, the president is a symbol of national unity. According to article 10 (2) on national values and article 131 (e), the president in public interest must remain objective and neutral by the virtue of being a symbol of national unity to enhance the equitable sharing of the national cake.
Four, the president during his tenure wields immense political power and economic might capable of skewing or influencing elections in favour of the preferred successor through government machinery.
Five, neutrality of the head of state protects the autonomy enjoyed by independent offices and constitutional commissions such as the Independent Electoral and Boundaries Commission.
An endorsement in any presidential election cannot be wished away and neither is it absolute. In other forms of government such as monarchy, the heir is not chosen or imposed upon.
He/she descends to the throne depending on the royal family lineage. It is only in testate succession that a testator/testatrix in exercise of testamentary freedom chooses the beneficiaries to his/her property. From these scenarios, it is imperative to conclude that choosing over people is a precursor to bias, conflicts and disagreements.
Unpopular initiative
Drawing lessons from the Supreme Court judgment, in the quest to amend the Constitution under the Building Bridges Initiative, the president was faulted for promoting the amendment bill in his public capacity.
This made it an unpopular initiative. Akin to the referendum push, the people are vested with sovereign power to decide on their best fits during general and by-elections under the principle of universal suffrage.
There is need to set the record straight in our legal and policy framework detailing whether a president should refrain from favouring a candidate. This is because the president, in his private capacity, cannot be totally excluded from exercising his right to choice as protected in 38 of the Constitution.