Raila Odinga: These are my thoughts on devolution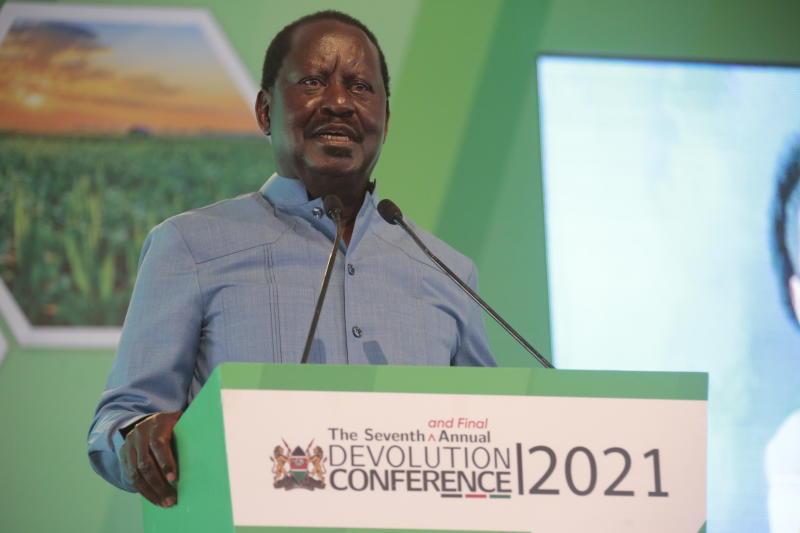 I am pleased to join you at the final devolution conference under the current administration. We are celebrating a decade of this bold experiment with two levels of government, which has been a remarkable journey full of triumphs and challenges.
At this 7th conference, you have decided to confront the elephant in the room of human survival; the issue of climate change. This is a clear indication that counties are coming of age and venturing into some of the greatest challenges humanity is facing.
Climate change is bigger than the election coming up in 2022 or the ones that will follow in in 2027 or 2032. It is a life and death matter. Climate is so important that going forward, we need to have a National Climate Council and situate it within the presidency.
Kenya is experiencing higher temperatures, unpredictable rainfall patterns, increased incidents of drought and floods, and rising sea level. Extreme weather events have led to loss of lives, diminished livelihoods, reduced crop and livestock production, and damaged infrastructure, among others.
The key enablers of our economy–agriculture, water, energy, tourism and wildlife–are extremely climate sensitive. If we don't tackle climate change, all our efforts to grow our economy will be in vain.
County governments operate right on the ground. They are the first port of call when homes and farms get washed away by floods. They are the first line of defence when crops fail due to drought. Counties have a critical role particularly in educating our people on the reality of climate change. You have no option but to provide leadership on this matter.
I am aware that to date, 33 counties have enacted climate change policy and legal frameworks while others are at different stages of formulation of the same. I particularly laud ASAL counties–Garissa, Isiolo, Kitui, Makueni and Wajir–which have gone ahead and established County Climate Change Funds. That is the leadership we are looking for at the grassroots.
The challenge now is for counties to go beyond having funds and laws and identify, prioritise and finance real investments that reduce climate risk and address adaptation and mitigation measures. More funds must be directed towards supporting community-led initiatives and building resilience.
Since 2013, we have done a great job in making devolved system to take root. We have built partnerships between people of diverse backgrounds and governments at two levels. It is far from perfect but it is working and worth it.
The acceptance of devolution enjoys today confirms the saying that nothing is as powerful as an idea whose time has come. Devolution had powerful opponents. But it is here because its time had come.
Today, there are several transformative ideas whose time has come. They are being resisted, the way devolution was, but we will actualise them because their time is here.
I would like to share some thoughts on how we are going to renew and redefine devolution to make it deliver better to the people. Across the country, old and lingering challenges are imposing new pressures on government and leaders.
Unemployment, deepening poverty and rising cost of living have left our people disappointed and sometimes angry at leaders. People need our help. Our duty as leaders is to breathe new life and give new purpose to old institutions and structures. Where need be, we will have to be bold enough to abandon institutions and ideas that are not working and come up with new ones.
Strengthen devolution
For a start, we must strengthen devolution. We must devolve more resources to the counties. This should not be a divisive issue. We must also overcome the challenge of insufficient allocation and delays in disbursement of funds by the National Treasury. The funds will have to follow all devolved functions. This means the National Treasury will have to release all the funds for all the devolved functions at the appropriate time. There are no two ways about this.
The problem of overlapping and duplication of functions by state agencies, corporations and regional development authorities will also have to be addressed conclusively.
Addressing these issues need not mean antagonism between counties and national government. On the contrary, they require a partnership between them.
There must also be a clear understanding that no level of government can succeed when the other is failing. Take economic growth, for instance. When the national economy is weak, counties will be disempowered. So growth, which leads to jobs, and lowers the cost of living, must be a shared concern for both county and national government. Counties must be at the centre of our envisaged growth and recovery for employment and job creation.
In the years ahead, we must renew the contract between the people and their government, both county and national. People must feel that government is there for them and cares about them. Each level of government will have to invent new ways to deal with purely national or devolved challenges.
In the end, however, our people need their problems solved regardless of the level of government that is supposed to do it.
My vision is to push for a strong partnership to make all our counties feel more a part of the solution of our national problems while helping counties solve their devolved challenges and that empowers the counties to determine their own destiny.
I would like to see increased agricultural productivity. This will not only increase incomes, it will also create more employment opportunities.
So we will need to work together to ensure efficient and targeted fertiliser subsidy, a clear programme for mechanisation of agriculture, proper water management and irrigation, deployment of extension officers and functioning systems of market access.
I am keen to see counties go past agriculture and delve into manufacturing and value addition. Today, only about seven counties, all of them peri-urban, are involved in some kind of manufacturing. We need to go for robust manufacturing in all our counties to generate employment opportunities.
We need to establish or revive agriculture-related cooperative societies to promote growth in the counties and absorb rural labour. We also need to put more money into county-level infrastructure development to attract investments to rural areas.
More importantly, counties must improve on own-source revenue collection. This means they must expand revenue bases. Counties with relatively well-established industry and service sectors do better on own-source revenue collection. We must also push for full automation of revenue collection systems to seal revenue leakages.
And we must commit to deal with the old time national and now devolved problem of corruption. On this, action will speak louder than words in the years ahead.
I am also aware that counties are struggling with the problem of marginalisation particularly of minorities. We will need to come up with clear mechanisms to make all communities within counties feel fairly treated and their voices heard.
Finally, I wish to point out one extremely critical issue that we have to address: The question of spending priorities. We must devise ways to make counties spend the largest share of their revenues on development.
The Public Finance Management (PFM) Act 2012 requires that at least 30 per cent of the spending be on development over medium-term. Yet today, majority counties spend more than 50 per cent of their revenue on personal emoluments. This is where devolution is failing to change lives as it should. So we need to enforce and ensure adherence to the PFM Act.
All these challenges and aspirations point to two things: One, that we should not treat devolution as a fixed system. We should see it as an evolving system where the pendulum of powers and roles can swing back and forth between counties and national government.
Secondly, the county governments and the national government must work together in a partnership because none is more important than the other.
This is an abridged version of Raila's speech yesterday at the Seventh Annual Devolution Conference in Makueni