Drop me a Google pin to your home but hang banana leaves too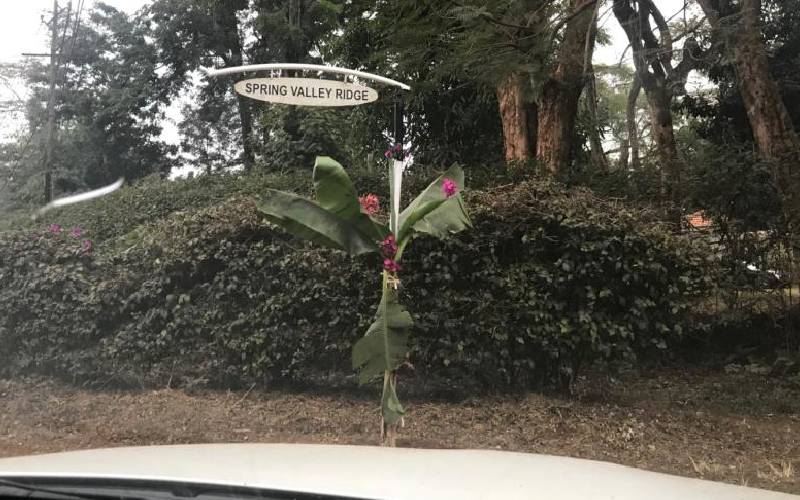 Nowadays it is easy to give directions to your visitors using Google Maps.
Just drop them a pin and they will get there even when streets have no name or signboards, or in some cases turned into scrap metal.
Truth be told, getting directions from a Kenyan is difficult, except maybe in Mombasa where humility still thrives. Furthermore, we are not observant, with some Kenyans living on streets whose names they don't know. Google Maps might have made us less observant just, like googling has made us read and research less.
What is perplexing is that despite the existent of Google Maps and pins, we still use banana leaves and chalk to show direction during functions, even in high-end estates. Banana leaves indicate where to turn and are reinforced by white chalk or whatever chemical it is.
It is not clear why banana leaves are popular; it could be their large size. In Rwanda they use bananas, too. The use of such leaves and pins together espouses modern Kenya where traditions co-exist with modernity.
Dual society
We are a dual society. We go for 'ngurario' but still have a church wedding. We go to hospital but herbalists are still active. We go to church but echoes of witchcraft are still heard.
We go to school, even abroad, but still ride on tribes. Despite advances in science, we still do not want genetically modified crops; we prefer traditional foods, with five-star hotels offering ugali. We are a democratic country but still prefer dynasties and traditional elders.
We are modern but traditions such as female genital mutilation still exist. We are a dual nation, even introducing dual citizenship.
We have homes in Nairobi but feel incomplete till we have a home in the village. We teach our kids about evolution and creation at the same time. Economically, we face East and West at the same time. We have two phone lines, which is rare in other countries.
From our homes to offices, from the hamlets to the cities, we are a dual nation. Even when we graduate from hustling to 'sonkolism', we still remain dual in minds and habits.
We are have become dual even in naming children with the father choosing one name and mother another; say, for Jane Catharine or John Barton. We have a traditional and modern name.
Till we added sign language, we had two official languages, Swahili and English. Just like Canada's French and English.
Economically speaking, dualism is inefficient but is tolerated for convenience.
It takes care of our lag in shifting from one system to another and diversity.
The reality suggests we shall use banana leaves and pin to show direction for some time to come. That is the reality of our dual nation. We had better get used to it for now.
What 'dual' have I left out?