IMF identifies 51 projects to benefit from Eurobond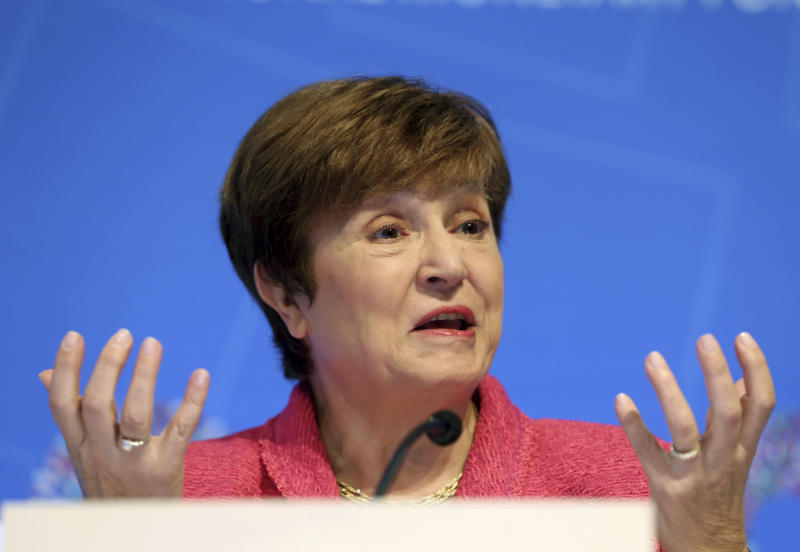 The International Monetary Fund (IMF) has identified 51 projects where Kenya will be expected to invest a Sh248 billion Eurobond loan.
In what are steps clearly aimed at preventing a repeat of the opaque spending of the previous Eurobond loan, the government will be required to spend the money on high-yielding projects aimed at spurring growth and reducing poverty.
Any attempt to spend the money on other items, the IMF warned Kenyan authorities, could lead to the termination of the loan programme that is aimed at improving the country's deteriorating fiscal position.
"Any contracting or guaranteeing of non-concessional external debt for projects other than those listed in ANNEX I results in the non-observance of the performance criterion," said the IMF in a detailed report.
Besides President Uhuru Kenyatta's Big Four agenda of manufacturing, universal healthcare, food security and affordable housing, the money will also be pumped into projects aimed at improving infrastructure, education and energy.
The money will also be used to enhance security, to protect and manage the environment, and to expand the courts.
Other than indicating in the prospectus that money borrowed through the issuance of the Eurobond will go into infrastructure spending and budgetary support, the National Treasury has not offered any information on exactly where the cash goes.
Accountability
Gerrishon Ikiara, an economist and former Transport principal secretary in President Mwai Kibaki's government, welcomed the move noting that scrutiny and accountability will be high, which is a turnoff for people who might have wanted to use the money to enrich themselves.
"That, I think, will influence the decision that IMF will take, especially in ensuring that the money is used in the right manner," said Mr Ikiara.
"It means accountability for this particular Eurobond will be quite high," added the former lecturer at the University of Nairobi.
In the first Eurobond, former Auditor General Edward Ouko is said to have tracked loan spending to certain ministries, departments and agencies (MDAs) after which the trail is said to have gone cold. Mr Ouko could not tell where the Eurobond money was spent, raising fears that it could have been misappropriated.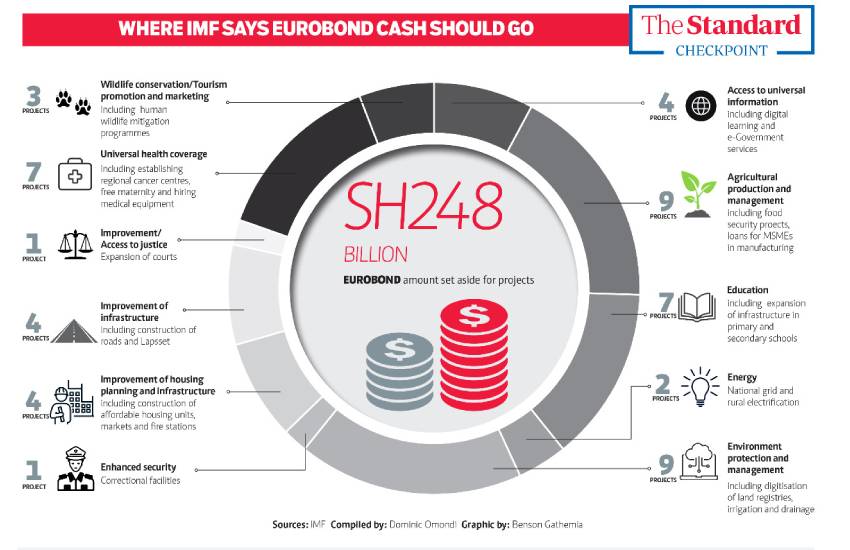 The government has refuted claims that any money was lost. With the fresh Eurobond money, the MDAs will be required to indicate the projects that absorbed the cash.
Major projects
Some of the major projects that will benefit from the cash include the $25 billion Lamu Port-South Sudan-Ethiopia-Transport corridor, construction of computer labs to support digital literacy programmes, digitisation of land registries, and provision of credit to micro, small and medium enterprises in the manufacturing sector.
Other projects include the renovation and expansion of infrastructure in public primary schools, construction of affordable housing units, expansion of airports and airstrips in Malindi, Lanet and Migori, processing and registration of title deeds, and rural electrification, among others.
Kenya will be allowed to issue Eurobond of up to $7.3 billion (Sh788 billion). Of these, $2.3 billion (Sh248 billion) will be used for project financing, while the remaining $5 billion (Sh540 billion) will be used to repay maturing loans including "refinancing of the 2024 Eurobond and retiring of relatively expensive syndicated loans."
Debt distress
While Kenya is at high risk of debt distress (default) and should ideally not be allowed to take on commercial loans, the IMF agreed with Kenya's request for exemption with non-concessional loans to be put into project financing and debt management operations.
As such, said the IMF, commercial borrowing will be used to, first, "finance projects that are critical for Kenya's development strategy and have high economic and social returns and for which concessional financing is not available."
Second, the money will be used for liability management operations, including refinancing maturing loans.
About 70 per cent of the country's commercial loans is Eurobond, with the country issuing its first dollar-denominated sovereign bond in 2014.
The IMF has stepped in to help the country's finances to recover, a situation that was aggravated by the Covid-19 pandemic. Kenya will be expected to undertake 'major surgeries' of its laws and institutions in the next 38 months as it seeks to collect more taxes, reduce wasteful expenditure and bring down its debt levels.
To this end, said Ikiara, the IMF expects the country to put most of its money into projects with highest economic value.