Change of tack has not helped curb virus effects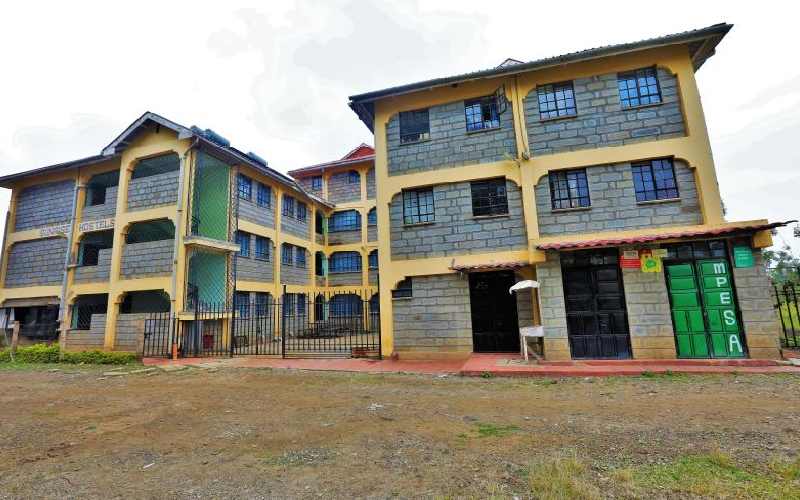 The Covid-19 pandemic is posing a danger to the survival of small businesses, with more entrepreneurs expected to close shop.
The economic crisis is dire, especially for the small businesses operating near universities and campuses after the institutions were closed in March and students sent home for an unspecified time.
Most of the businesses that relied on students living in hostels outside the institutions of higher learning but have now been starved of their market.
Operators in restaurants, groceries, salons, cyber cafes among other businesses have been pushed out of business, which has left most business centres and buildings abandoned.
"Most businesses closed one month after students went home. It's not possible for small businesses to survive without income for weeks," said Jennifer Nyambura, a businesswoman at Bomas centre near Dedan Kimathi University of Technology in Nyeri.
Ms Nyambura said she got good business from her fast food venture during normal school days, but she had since changed to making food and delivering it to workmen at a nearby construction site.
"Business is not doing well here but I couldn't close. Cash flow went down because most of the customers were students," she said.
At Bomas Centre, small businesses, including butcheries, salons, shops and PlayStation joints have closed with the now overgrown grasses shooting through and covering the compounds.
Looking forward
Nyambura says she looks forward to the return of business boom when institutions of higher learning reopen in September.
Next to Nyambura's kiosk, Dennis Mugambi sits on his pool table where students flocked to pass time playing video games.
"I sit here all day without a single customer. Sometimes I invite my friends to play so I can get money to feed my family," said Mugambi.
In a day, he said he earned about Sh1,500 out of over 80 customers but since the university closed, he barely gets two clients.
"Taking home Sh100 is a big deal. The pandemic has really affected businesses and we hope to get back to normal as soon as possible," said Mugambi.
The financial blows have also rained down on investors dealing with students' accommodation facilities.
Eunice Waweru, a caretaker for Sunrise Hostels near DeKUT said students stopped paying rent for the 79 rooms she manages. Other nearby hostels are also deserted, with only the guards manning the buildings.
"Rent ranges between Sh4,500 and Sh3,500, but no one is paying. Their belongings are inside the rooms. We understand most people are struggling to survive," said Waweru adding that she collects about Sh500,000 monthly rent during normal times.
The caretaker took a pay cut and two other employees have been sent home on unpaid leave.
Joe Wanjau, a landlord, said his tenants, mostly university employees, have been laid offs and cutting short his rent income.
"Some tenants requested to stay and promised to pay rent later. We are living in uncertain times but we will reemerge stronger," said Wanjau.