Coffee farmers wary of Sh3 billion bailout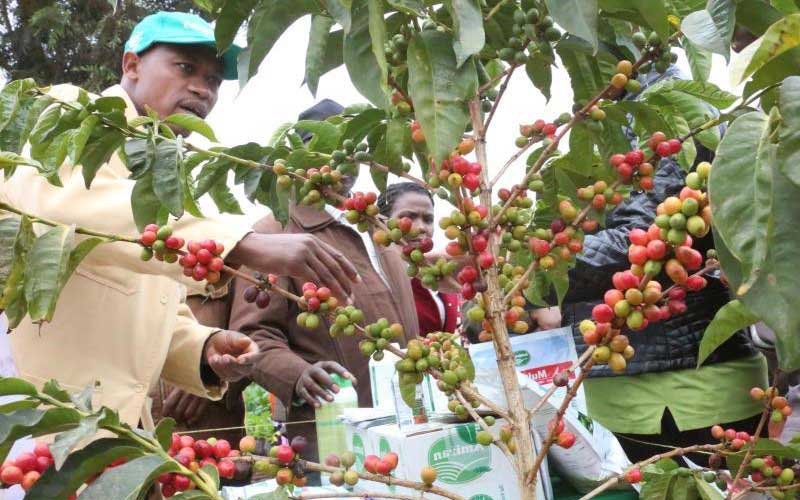 A Sh3 billion revolving fund re-established by the national government to heal the ailing coffee sub-sector has been met with resistance from farmers.
The money is supposed to be given to growers as cherry advance.
However, Kiambu farmers' co-operative societies appear uninterested in accessing the funding and have challenged Agriculture Cabinet Secretary Peter Munya to address the criteria that is to be used to repay the loan before they accept the stimulus package.
Mr Munya recently told coffee farmers at the county headquarters that the government is ready to advance a 40 per cent upfront funding through a revolving fund.
In the proposed bailout dubbed Cherry Picking Advance Fund, the CS said the cash crop would act as collateral for farmers seeking to access the credit fund that is to be managed by the New Kenya Planters Coffee Union (KPCU) and contracted local banks.
The CS further told the farmers that the revolving fund is meant for posterity, adding that they will receive the money directly as the government concludes plans to enable them to access inputs and loans at a later stage.
During the meeting, farmers sharply disagreed with the CS over the threshold of setting an industry regulated price for the commodity.
"We want to liberalise the coffee industry more so the coffee market. As farmers, you can choose to take up the credit or not," Munya told off the farmers.
Yesterday, chairman of Kiambu Coffee Growers Association Francis Mara, whose association comprises 23 coffee societies, questioned the sincerity of Munya's bailout plans, which he said will put many coffee farmers at financial risk.
He said although the ministry's deal looks good to the farmers, they were likely to be exposed given that the CS is yet to address an agreed factory buying price of the product and what the said 40 per cent will be based on.