City leather factory set for major revamp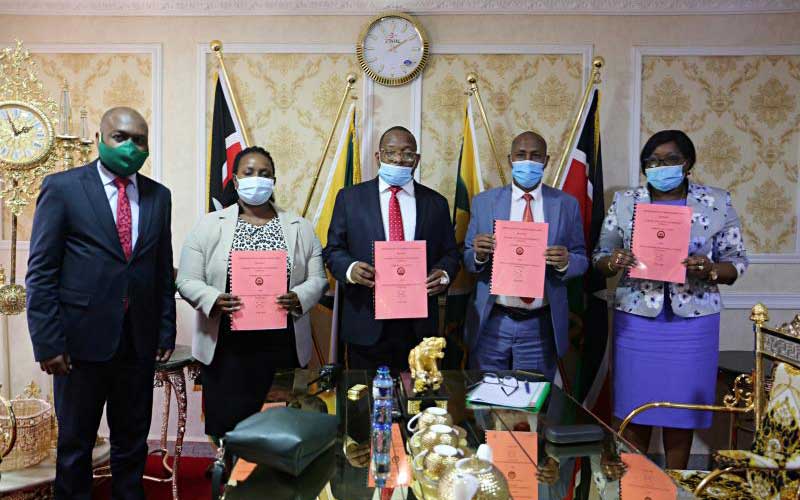 The Nairobi County Government and the Kenya Leather Development Council (KLDC) have entered into a partnership to revamp the Kariokor Leather Factory.
The deal will see the factory fitted with modern equipment to enhance its output and provide an additional 10,000 jobs to city residents.
Speaking during the signing of the Memorandum of Understanding between the county and the factory yesterday, Governor Mike Sonko said the youth would be the biggest beneficiaries of the rehabilitation programme.
"These job opportunities will be created within a span of three years and are tailored to benefit majorly of the youth in the county," said Mr Sonko.
The facility is expected to increase its average annual production capacity to 10 million shoes from the current two million.
This is expected to increase traders' annual income to more than Sh1 billion annually by 2022.
KLDC Chief Executive Isaac Noor said the adoption of the latest technology would ensure the facility produces better leather quality products for export to the larger Eastern and Central African markets while borrowing the best global practices.
"The move will not only create more jobs, but also see Nairobians benefit from the raw materials obtained from our livestock such as hides and skins. This will also mean that there is going to be additional revenue created for the county government," said Mr Noor.
Nairobi has the highest number of slaughterhouses with an average annual production of 525 tonnes of hides and skins, 1.6 tonnes of goatskin, 31.5 tonnes of calf hides and 199 tonnes of camel hides.
Last year, Nairobi County Markets Director Fredrick Ndunyu said City Hall would introduce training sessions for employees on how to operate the new machines.
"Currently, their products are of good quality, but they have been having problems with finishing. When it is hand-done the quality is not as good as when done by machines, but all this will soon change," he said.
A management board will also be created by the leather council, the county and national government.
Other stakeholders will be incorporated to ensure the facility is managed effectively.