Meru, Embu factories top Mt Kenya bonus as rates drop by over Sh10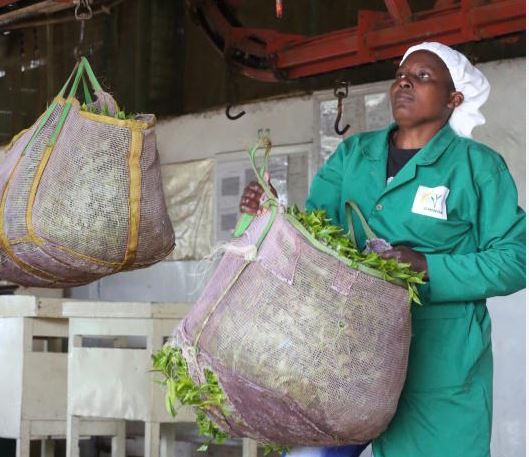 Tea farmers in Mt Kenya region are unhappy with reports that their annual bonus payments will drop by more than Sh10 compared to what they earned last year.
Kenya Tea Development Authority (KTDA) chairman Peter Kanyago said this year's payout would on average be 30 per cent lower.
Most of the factory boards in the region have already approved the new rates, which are unlikely to be more than Sh40 a kilo.
Farmers from some of the 65 small-holder tea factories affiliated to KTDA reacted to the news with dismay, saying this year's bonus was the lowest they had earned in nearly 10 years.
"It is shocking. We have put in so much work, and going by the trends over the past years we expected that we would earn better this year. We want KTDA to reconsider these payments, otherwise we will incur losses," said Moses Mwangi, a farmer affiliated to Gathuthi tea factory in Nyeri.
Last year the highest bonus was paid by Mununga Tea Factory, with growers receiving Sh52.10 for a kilo of green leaf.
KTDA Meru Regional Director Paul Ringera said payments in the region ranged from Sh26.05 for Michimikuru Factory in Tigania East to Sh35.10 for Githongo Factory in Central Imenti.
Last year, Michimikuru farmers were still the lowest earners at Sh39 while Imenti Factory paid the highest rate at Sh48.
Other Meru factories are paying as follows: Githongo (Sh35.10), Imenti (Sh36), Kinoro (Sh31.15), Weru (Sh31.05), Kionyo (Sh33) and Keigoi (Sh28).
"The industry has been hit hard by turbulence in the main export markets of Pakistan, Sudan and United Kingdom. There has been a very slight improvement in the prices for our produce," said Mr Ringera.
Other factories that have approved their rates are Kiru and Githambo, both in Murang'a, at Sh28 and Sh27.75 respectively.
Consult stakeholders
"The prices are absolutely not favourable to farmers. I have embarked on a fact-finding mission to know the reasons that have influenced this. We must engage in consultations with key stakeholders on the way forward," said Kathuri Murungi, who represents farmers in South Imenti, which has three small-holder factories.
Factories in the western Kenya tea-growing belt, including Kisii, will pay farmers the lowest amounts. Some will take home as little as Sh10 for a kilo of green leaf.
Kiamakoma in Kisii, which paid Sh23.85 last year, is down 52 per cent to Sh11.50.
Approved rates for some factories west of the Rift Valley show a 51 per cent decline in earnings. Tegat Tea Factory will pay farmers Sh14.10 compared to Sh28.70 paid last year.
Underlying the bad year farmers have endured is the fact that some factories will be paying bonus rates lower than the Sh15 monthly payouts. This last happened in the 1990s.
Bonus payments are made for total tea produced by each farmer in one year. The growing period is between July 1 and June 30 the next year.
Rukuriri Factory in Embu so far has the highest approved rate in the county at Sh39.20. This is still a 21.3 per cent decline from last year's rate of Sh49.80.
Its neighbouring Kathangariri Factory has approved a Sh35 payout, which is a 27.4 per cent decline from the Sh48.20 paid last year.
Mungania in neighbouring Kirinyaga County has approved a rate of Sh37, which is down 26.3 per cent from the Sh50.20 paid last year. That was one of the highest payouts in the country.
All Kiambu factories have approved their rates, which range from between Sh30 and Sh36. Kambaa will pay Sh34.50 while Kagwe will pay Sh35.
Factory workers
Kagwe in Githunguri has seen its pay decline by 20.4 per cent, while Gachege in Gatundu North will pay 28.7 per cent less than last year.
Joseph Mburu, who sells his tea to Theta Factory in Gatundu South, urged KTDA to consider reducing the number of factory workers and staff in its main offices, and to transfer the savings to farmers.
"The misfortune of a messed-up export market has exposed the soft underbelly of the small-holder tea sub-sector. Maybe it is time the current set-up was reviewed," said Mr Mburu.
Pakistan has devalued its currency after a trade row with neighbouring India, while Sudan's economy suffered badly after the military overthrew long-serving leader Omar Al Bashir in April last year, resulting in political instability.
The value of the Sterling Pound has been badly affected by the UK's impending exit from the European Union (EU), badly jolting what is an important market for Kenya's tea.
In Murang'a County, which has more than 10 tea factories, top performing factories in Zone 2, including Ngeere, Njunu and Makomboki, are yet to approve rates.
Factories that have approved payouts in Zone 3 in Kigumo, Kiharu, Mathioya and Kangema have rates below Sh30.
The largest dip of 31.9 per cent has been recorded at Githambo in Kiharu, while farmers in Kanyenya-ini will earn 24.7 per cent less this year.
All the four factories in Nyeri are yet to approve their rates, with announcements expected in the next few days.