Travellers long night at weighbridge gridlock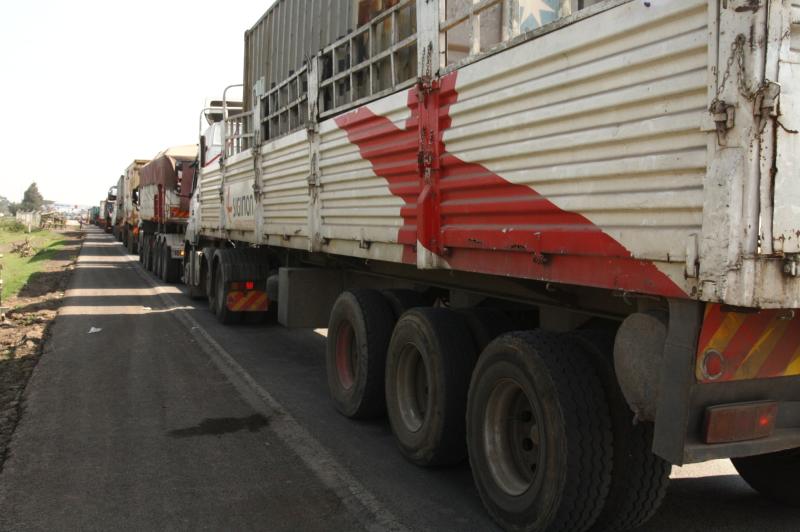 For a motorist using the Nairobi-Nakuru highway, several spots stand out either due to their scenic beauty or for being black spots.
However, the Gilgil weighbridge located along the busy highway sticks out like a sore thumb for all wrong reasons, and mainly so for the perennial traffic jams.
Motorists sigh relief every time they pass through the weighbridge as many are the times hundreds of commuters have been forced to spend the night at the area.
Police point an accusing finger at impatient drivers who overlap, causing the jam while drivers want the road expanded due to an increase in the number of cars using the road.
"Lack of discipline and impatience has caused this problem but we are doing all we can to help in the flow of traffic," Gilgil OCPD Emmanuel Opuru said.
On the other hand, traders count losses running into millions of shillings every time there is a jam on the road.
Heavy trucks
Some term the jam as 'man-made' by truck drivers who have exceeded their weight and officers manning the weighbridge.
On Friday, hundreds of motorists were forced to spend the night on the troubled section of the road for the umpteenth time due to yet another traffic crisis.
Among those caught up in the jam were senior government officers, patients in ambulances and tourists headed to various destinations, including the Jomo Kenyatta International Airport (JKIA) in Nairobi.
The closure of a section of the road used by heavy trucks led to the jam that stretched more than 10 kilometres on both sides of the weighbridge.
The situation was worsened by overlapping drivers who failed to give way, forcing traffic officers to watch helplessly as the crisis deepened.
Abel Wahome, a matatu driver, said the jam started on Friday morning and worsened as the day wore off.
The situation was worsened by the high number of vehicles using the section of the road, forcing some motorists to seek alternative routes.
"Every weekend, the number of motorists using the road rises and the closure of a section used by trailers led to the crisis," he said.
A passenger Pentrina Muthoni, who was heading to Nakuru from Nairobi, told of passengers' agony, with some forced to relieve themselves in the bushes and seek food from hawkers.
"Everybody was in a hurry to pass the affected section of the road and in the process the drivers ended up blocking each other, forcing us to spend hours at the area," she said.
Worst days
Salim Nyaga, a truck driver, said Fridays have been the worst days to pass through the section of the road.
In the past, he said, truck drivers would intentionally cause jam to be allowed to pass through without weighing.
Kamau Njuguna, a director with the East Africa Chamber of Commerce and Industry, said long term solution lies in a dual-carriage.