Relations between Kenya and Tanzania are ripe for strengthening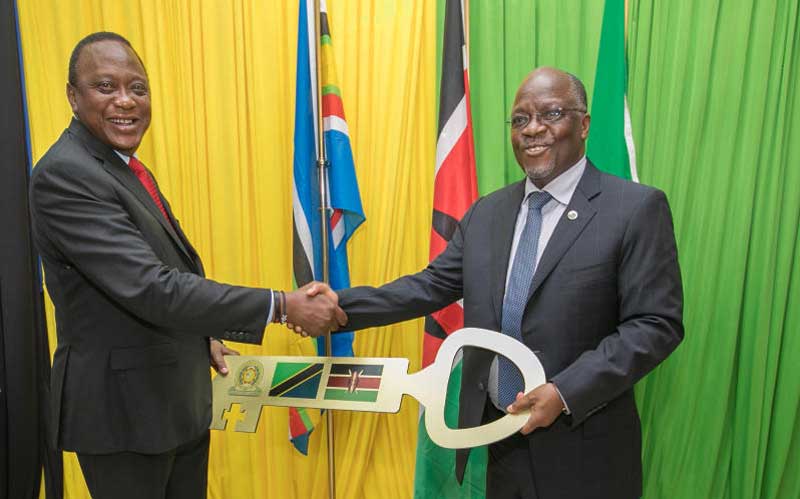 President Uhuru Kenyatta's recent visit to his Tanzanian counterpart John Magufuli marked great progress for bilateral relations between the two nations.
Our relations with Tanzania have not always been the strongest. A few weeks ago, MP Charles Njagua, also known as Jaguar, ruffled feathers with his xenophobic remarks about Tanzanians working here. However, his populist statements were quickly condemned by the government and all those who recognise that there is no place for such intolerance in Kenya.
After all, the trade and tourism exchange between Tanzania and Kenya make a big contribution to our economy. According to Magufuli, there are 504 Kenyan-owned companies in Tanzania, valued at $1.7 billion (Sh170 billion). Moreover, these companies provide 50,000 Tanzanians with jobs. At the same time, 24 Tanzanian companies in Kenya are valued at $189 million (Sh19 billion).
Last year alone, 10 per cent of the more than two million tourists to Kenya were Tanzanian, totalling 222,216 visitors. That's the second largest group after Americans.
But despite this mutual dependence, relations have not always been smooth, especially regarding trade. In July 2016, Tanzania declined to participate in the Economic Partnership Agreement (EPA) with the European Union, leaving Kenya and Rwanda to sign with the EU individually rather than as a fortified trading bloc. More recently, protectionist policies have made it difficult for foreign traders to access Tanzanian markets.
Though we are both members of the East African Community (EAC), traders going in both directions have been frustrated by duties on some goods, bans on certain commodity imports and cargo hold-ups at border crossings.
Close terms
But there is no use in a frosty alliance with what should be one of our closest partners. Luckily, Uhuru has recognised that we are much better off being on close terms with our neighbours.
This foundation of trust and mutual understanding will contribute to our economic growth in the coming months. Tanzania has now committed to opening up its borders for trade, and Kenya will begin to import natural gas from our neighbour.
This will be much cheaper and more environmentally friendly than shipping it from abroad.
In addition, a Single Customs Territory (SCT) will allow for seamless trade around the Lake Victoria region. This follows an April meeting between the two nations that resulted in an agreement to quickly and efficiently coordinate domestic taxes, levies and fees.
Moreover, the two heads of state reached an agreement that if a citizen of one country commits a crime in the other, he will be subject to the laws of the state in which he violated them. This shows a remarkable amount of confidence in each other's justice system, and should prove useful in the President's war on corruption.
According to the Economic Survey 2019, Kenyan exports to Tanzania increased from Sh28.5 billion to Sh29.8 billion between 2017 and 2018. With movement in the right direction, it is crucial to build on this momentum and double down on this important relationship.
The benefits of our positive relationship are immediate. Just recently, Kenya requested that Tanzania export millions of bags of maize to us directly in the next few months. While we have a maize deficit, Tanzania has a surplus, making it a win-win situation for both.
Uhuru is well aware of the importance of constantly maintaining good relationships with our neighbours. The recent state visit by South Sudan President Salva Kiir also attests to this fact. East Africa will be more prosperous as a unified region than as individual players.
During his speech in Tanzania, Uhuru pointed out both our common heritage and destiny as the driver behind regional partnerships. Indeed, many of our biggest challenges are shared by our neighbours, including poverty and global warming.
His call to break down barriers that hinder the free movement of people across East African borders is a visionary look at how the future of our nation will be as a result of his leadership.
- The writer is Personal Assistant and Advisor to the Cabinet Secretary for Devolution and ASALs