Uhuru vows to revive collapsed factories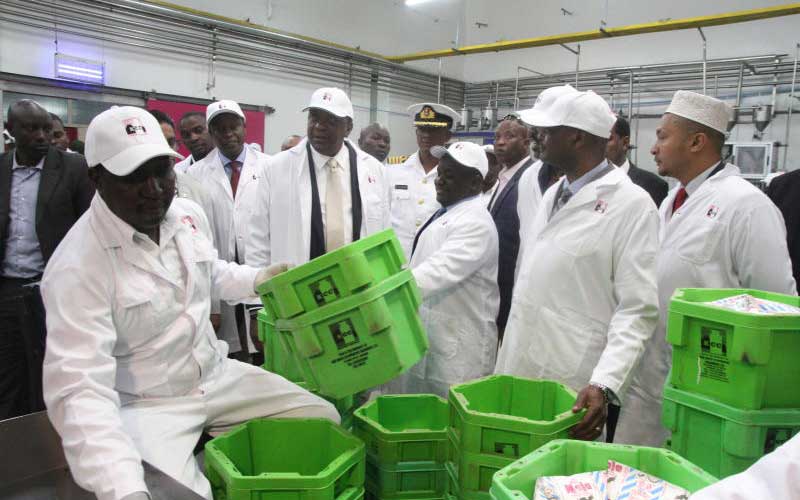 President Uhuru Kenyatta yesterday unveiled a revamped New Kenya Cooperative Creameries (KCC) milk processing plant in Dandora, Nairobi. The refurbished plant, with an installed capacity of 300,000 litres per day, has doubled its processing capacity to 160,000 litres per day from 80,000 litres per day.
"This is our third factory to reopen after Eldoret and Sotik. We are also planning to reopen Nyahururu and Kiganjo so that farmers can have the wealth they lost," said Mr Kenyatta while urging farmers to invest in high-grade cows to increase milk production.
He said the country has several bull stations from where farmers can get quality semen for cows to increase production. "Let us improve our dairy cows that have the capacity to produce more milk because we now have the market," said Kenyatta.
He said the reopening of the factory is part of the Government's plan to ensure Kenya has enough milk for local consumption and for the export market.
The president underscored the role that peaceful coexistence has played in development being witnessed in the country. Already, he said, the government has revived the textile processor Rivatex and Pan Paper Mills in Webuye.
President Kenyatta said: "We shall soon be in Kisumu to reopen the Port so that we can revive transport and trade through Lake Victoria."
During the event, President Kenyatta warned the current New KCC leadership not to run it down through corrupt practices like their predecessors did as this would deny thousands of workers and farmers income.
While at it, Kenyatta said he would not be threatened into submission by people who were more concerned with politics at the expense of development.
Export market
New KCC commands 40 percent of the dairy market share and plays an important role in the stabilisation of prices. The firm's Managing Director Nickson Sigei said Sh400 million has been used to raise the capacity of the Dandora plant and will target farmers from Kiambu, Nyeri, Muranga, Embu and Kajiado.
"The Maasai community is embracing dairy farming and one group from the county received Sh30 million for their milk delivery in one month," said Sigei.
He said farmers' income increased from Sh2.5 billion to Sh4.5 billion in the last two years and this was occasioned by the stability that has been brought by the modernisation of the factories.
Sigei said New KCC has spent about Sh1.2 billion on modernisation and is currently looking at the export market.
He said: "We are targeting today's consumer especially the young generation through improved products and those on the go. We have 33 different high-value products as opposed to just milk. We also produce ghee, butter and cream as well as yoghurt."
The milk processor's turnover increased by Sh4 billion and Sigei says, it has become one of the government's biggest dividend earner, from an industry that almost collapsed. The number of direct employees has increased from 1,200 to 2000.