De La Rue unit allowed to print local currency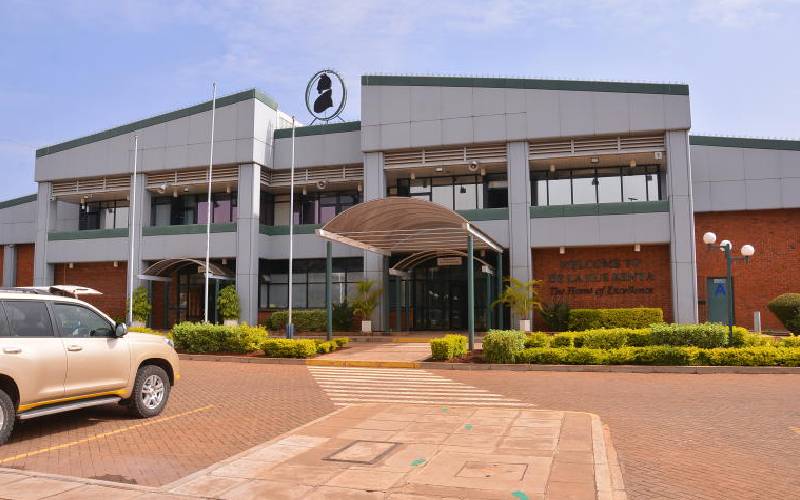 Kenyans should start seeing more of the new banknotes after the Government intervened to fast-track the printing process.
Trade and Industrialisation Cabinet Secretary Peter Munya on Thursday last week allowed British currency printing firm De La Rue's subsidiary operating under the export processing zone (EPZ) to produce fully for the local market.
"In exercise of the power conferred by Section 25(1) of the EPZ Act (517) Laws of Kenya, I hereby grant De La Rue Kenya EPZ Ltd Authority to sell up to 100 per cent of their annual production into the customs territory of one year, subject to payment of applicable duties and taxes due to the Government as required by law," said Munya in a letter to Acting Chief Executive of Export Processing Zones Authority, George Makateto.
Other than banknotes, De La Rue (pictured) also prints passports and secure product identifiers for cheques, raising fears that the firm might prioritise other businesses other than the printing of the new currency.
The waiver, however, paves the way for increased production of the new notes that are still in short supply since their introduction into the market on June 1.
A senior official at the ministry who did not want his identity revealed told The Standard the exemption of De La Rue Kenya EPZ Ltd Authority would free up its machines to go into full local production.
"The machines will be used for producing 100 per cent Kenyan notes," said the official.
With just less than two months before the Sh1,000 notes are phased out, CS Munya latest intervention tends to give credence to growing concerns that perhaps the country does not have enough of the new banknotes.
Kenyans have been dismayed by the fact that automated teller machines (ATMs) have continued to dispense old notes, including the soon-to-be-phased-out Sh1,000 notes.
Kenya Bankers Association (KBA) Chief Executive Habil Olaka said the machines were configured to dispense both the new and old banknotes. CBK Governor Patrick Njoroge while unveiling the new Sh50, Sh100, Sh500, and Sh1,000 banknotes said, the latter note would cease to be a legal tender as of October 1 in a bid to tackle illicit financial flows.
"However, we have assessed the grave concern that our large banknotes—particularly the older one thousand shillings series—are being used for illicit financial flows in Kenya and also other countries in the region," said Dr Njoroge, noting the emergence of counterfeits of the banknotes.
"To deal conclusively with these concerns, all the older one thousand shillings series shall be withdrawn. By a Gazette Notice dated May 31, 2019, all persons have until October 1, 2019, to exchange those notes, after which the older one thousand shillings banknotes will cease to be legal tender," he added.
With two months to the deadline, Kenyans have expressed concern that ATM machines continue to dispense the old Sh1,000 banknotes.