Uhuru visits Magufuli amid tensions over MP's remarks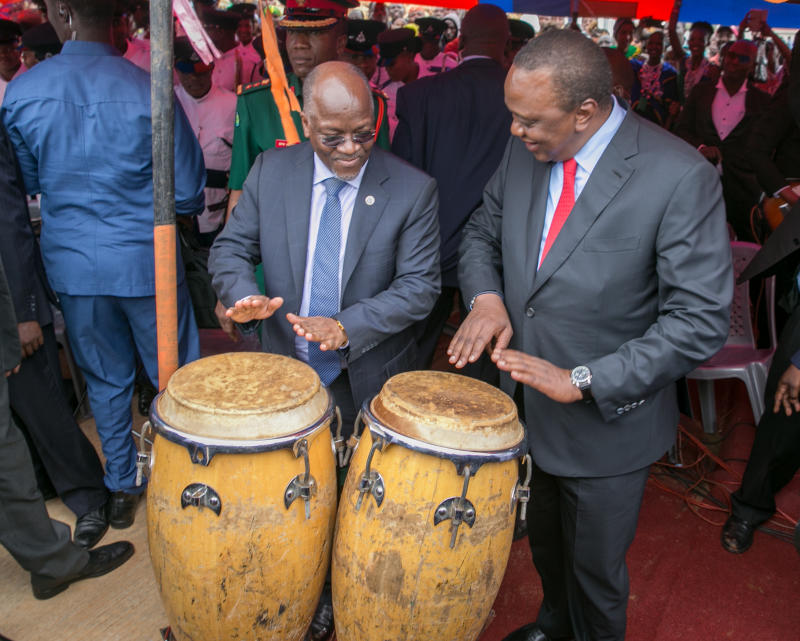 President Uhuru Kenyatta flies to Northern Tanzania this morning for a two-day private visit to President John Magufuli's Geita rural home.
The visit was announced in Tanzania on the same day that Uhuru sent a special message to Magufuli's government assuring him of Kenya's open doors to his nationals.
"The President of Kenya, Uhuru Kenyatta will arrive in the country on Friday at 10am at Chato airport. He will then proceed to President Magufuli's home in Mlimani Chato District," read a Statement from State House, Dar es Salaam.
On Wednesday, Kenya's High Commissioner to Tanzania Dan Kazungu met Prime Minister Kassim Majaliwa in his office to deliver Kenya's response following alleged remarks made by Starehe MP Charles Njagua that were seen as threatening foreigners including Tanzanians.
Nairobi says it has since taken action against the MP who was arrested and detained for a week before being charged in court, terming the sentiment as personal.
"The unfortunate exploitation of the freedom of free speech to dehumanise foreign communities and incite local constituents undermines the welcoming culture that Kenya is reputed for, and has to be condemned," the note verballe reads in part.
According to Kitutu Chache South MP Richard Onyonka, who once served as an assistant minister for Foreign Affairs, there will be bilateral issues based on trade, security in terms of terrorism, military cooperation and regional integration.
"For me it's important that Uhuru reiterate to Magufuli that we are not ready as a country to retaliate on Tanzania policy that appears to not allowing Kenyans trade freely. He needs to show Tanzania that there are more benefits with increased trade between the two nations," he says.
According to the MP, Uganda's expansion of regional trade has brought more benefits and the same can be replicated with Tanzania by opening up the East Africa community which is good for the country and encourage our good neighbourliness.
"There is also likelihood that the President is likely to discuss with his host some personal issues that may be of business in nature or of common interest between the two but are not of national interest," Onyonka says.
There are also reports that Opposition leader Raila Odinga, who is Magufuli's friend, may show up in the meeting.
Just like in Kenya, where Uhuru and Raila entered a pact to work together following divisive elections, Magafuli is also seeking to replicate the same after he held talks with opposition leader Edward Lowassa.
Initially, Uhuru was said to be uneasy with the closeness of Magufuli and Raila and in what appears like hitting back warmed himself to Lowassa, whom he has met several times in Nairobi.
Following the 2017 elections and Raila's mock swearing in, Tanzania was one of the locations that Raila supporters had contemplated swearing him in but Magufuli is said to have advised otherwise.
However with the new developments, the two leaders are now set to work together and mend the rifts which appear to be putting Kenya and Tanzania on a collision road since independence about 58 years ago, for the two nations.
The rivalry between Kenya and Tanzania is linked to the first collapse of the East African community in 1967. The EAC will later be revived in 1999 following the signing of the treaty.
Cry foul
Kenyans visiting or doing businesses in Tanzania often cry foul of the treatment meted on them by authorities and locals yet Kenya welcomes its neighbours.
"Our business companies are subjected to Tanzanian standard measures. Today, this country is flooded with fruits from Tanzania. Our farmers cannot sell their fruits in Tanzania. If our people are losing businesses, our people are losing jobs, we must protect them," National Assembly Majority Leader Aden Duale said recently in Parliament.
Just last week, a Kenyan trader Raphael Ongangi who runs a cargo transport business, was abducted in Dar only to be dumped in Mombasa by suspected security officers.