Extension officers to help increase food production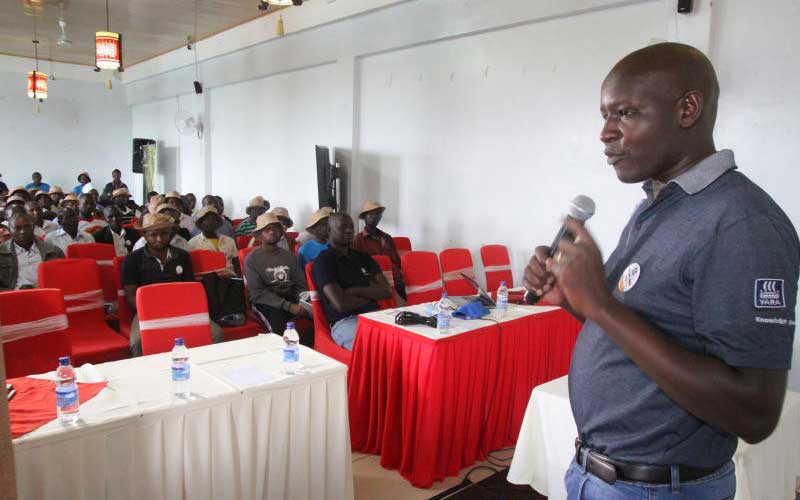 The government's plan to increase the number of agricultural extension workers may help grow food output by enabling farmers to employ good practices on their farms.
The Ministry of Agriculture recently said it plans to employ more technical experts in public service to handle the economic initiatives at the grass-roots level, which include working with players in the agricultural value chain.
Kenya Country Manager for global fertiliser firm, Yara, Mr William Ngeno said agricultural extension officers play a critical role in offering farmers advice on best crop husbandry practices.
He added that Yara, which is a regional player in importing and distribution of fertiliser, has over time employed such skills with farmers that it works with and produced good yields that have substantially increased farmers earnings.
"We have extension workers who offer value addition support to our customers on the importance of soil nutrition and good farming practice for quality production of food and cash crops," he said.
Jackline Njogu, CEC for Agriculture, Livestock, Veterinary and Fisheries, Kirinyaga County, noted that this move is set to help smallholder farmers who fall under the bracket of Small, Medium Enterprises (SMEs) improve on the standards and quality of produce. "Farmers are producers of food and cash crops that account for 37 per cent of the country's GDP. We, therefore, seek to ensure that our stakeholders know and embrace the benefits accrued from good quality assurance practices."
During an event in Mwea, Yara launched YaraMila Power NPK fertiliser used during trans-planting and YaraVera Amidas applied during top dressing.