Farmers and Artisans Market a hit at Mombasa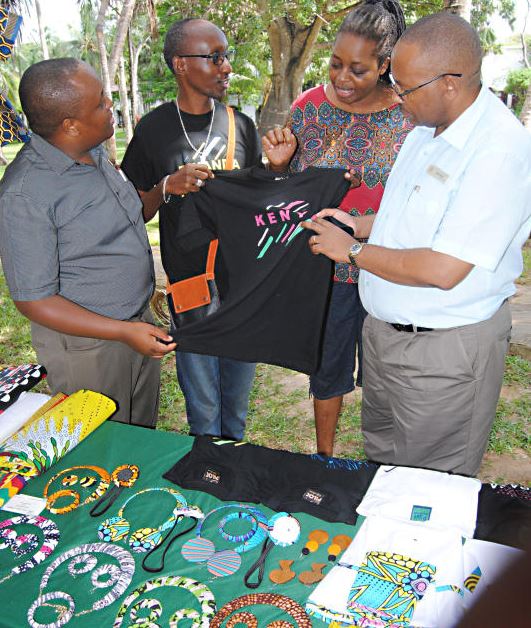 The second edition of the Mombasa Farmers and Artisans Market ended on a high with exihibitors calling on more government support to small scale artisans in a bid to spur economic growth.
It was held at the scenic beachfront of the Mombasa Serena Beach Resort and Spa over the weekend.
The inaugural Mombasa market was held on April 6, 2019 and was a huge success with 53 vendors lining up for the event. Largerly, the focus was on SMEs, micro and home industries that support the Made in Kenya and Tembea Kenya initiatives.
The event which is an impact entrepreneurship created to bring together farmers and artisans brought together 100 traders who displayed several wares from agricultural produce, textile products, bakery products, seafood providers, cheese makers, crafters and artisans.
'' We are greatful to the organisers for choosing Mombasa as their next destination market after Kigali, Rwanda which is the original spot and call upon more exihibitors to take advantage of this kind of market to come and showcase what they make,''Ms Esther Ingolo, Gender Director, County Government of Mombasa said.
Mombasa Serena Beach Resort& Spa General Manager, Mr Herman Mwasaghua said that they were happy to be part and parcel of the Farmers and Artisans venture.
''We have provided the venue and are happy to be associated with this kind of initiative. Our inhouse guests have also been walking upto the market site to make purchases,'' the GM said.
Speaking to The Standard, Founder of the original concept dubbed Kigali Farmers' and Artisans' Market (Kigalifaam), Ms Flo Mwashimba said that they were excited at the prospects of having a successful event in Mombasa after the one in Kigali which was started in 2017 proved a big hit.
''This event is meant to bring together farmers and artisans operating in the region with the goal of bridging the gap between producers and consumers. It's the first and consistent market of its kind in Rwanda,'' she said.
She added that the markets provide a direct connection to farms, nurseries, bakeries, meat and seafood providers, cheese makers, specialty food producers, crafters and artisans.
''Kigalifaam operates a market that contributes to the success of local artisans, food growers and producers and creates vibrant community gatherings,'' Flo added.
She explained that the success for vendors is our primary objective. Listening and learning from vendors and shoppers produces outstanding farmers' markets where vendors prosper and communities thrive.
''We also have an international section whereby vendors from other African countries promoting the #buylocalsupportlocal initiative can join us and expand their brands in Rwanda. Some of the vendors who've joined us intermittently so far have come from Kenya, Uganda, Burundi, DRC, Cote d'Ivoire and Ghana,'' she said.
In Kigali, the market happens every 1st Saturday of each month other than January and April. The next Mombasa market will be held in August.