Retailers step up public participation in plastic recycling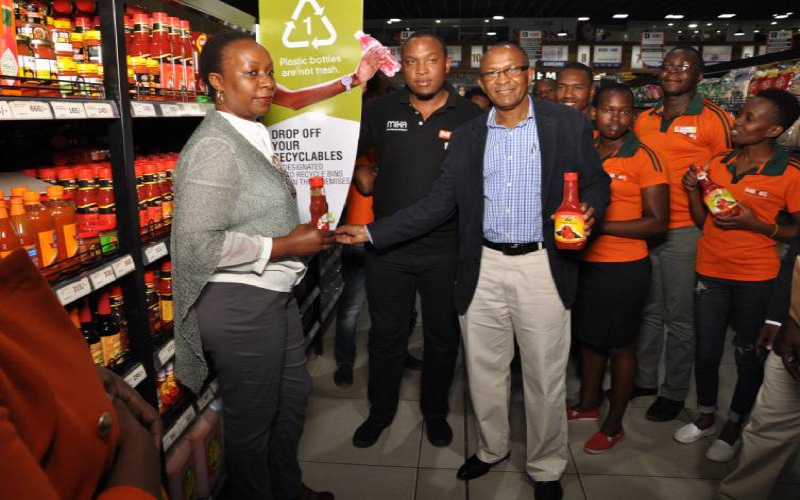 Consumers in Nairobi can now shop and recycle after PETCO, Kenya's industry body for the manufacturers and retailers of plastic bottled goods, unveiled 5 drop-off sites in city on Friday.
The drop-off sites will allow members of the public to return their recyclable products such as plastic bottles, shampoo bottles, glass bottles to the recycling partners.
PETCO Kenya Chairman John Withaka said that the drop-off points would offer consumers a solution for a disposal site for their recyclables, which currently ending up in dumpsites.
"This drop-sites, will allow our recycling partners to receive uncontaminated plastic bottles and other fractions for them to be able to manufacture new products such as polyester fibre, brush bristles, water tanks and composite building boards" he said.
"In line with our core strategy for 2019, which is to stimulate the collection and recycling of post-consumer PET packaging, aside from Capital Centre, we will be setting up similar sites at Two Rivers Mall, Shell Petrol station on Argwings Kodhek Road, South End Mall, Ciata Mall and of course Chandarana supermarkets also offer this facility in partnership with our members.," said Waithaka.
As members of PETCO, Naivas Supermarkets represented by Naivas Head of Administration Mr Gilbert Mbuthia encouraged shoppers and the general public to embrace this noble and environmentally friendly initiative to keep the country clean.
He was speaking at Capital Centre Shopping Complex during the unveiling of the drop off sites.
Petco Kenya aims to recycle 6,000 tonnes or 250 million bottles this year.