Asian markets plunge as Trump threatens to hike China tariffs
NEWS
By AFP | May 6th 2019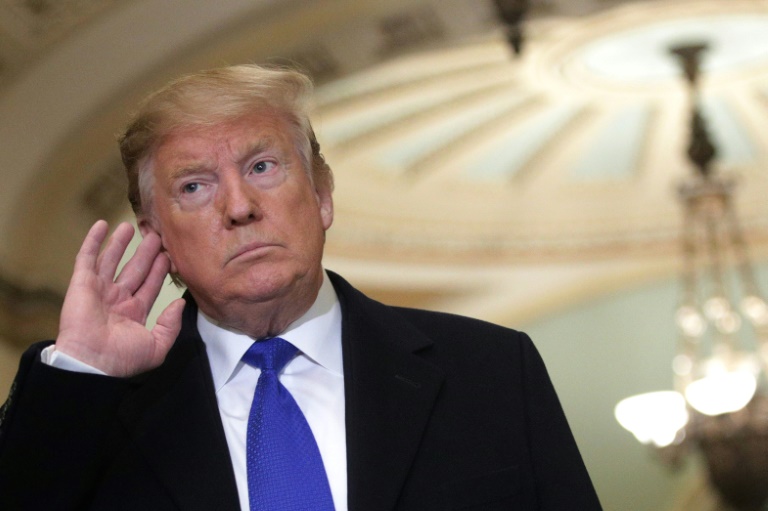 President Donald Trump sent Asian markets plunging Monday after threatening to hike tariffs on $200 billion of Chinese goods at the end of the week in a bid to speed up stuttering trade talks between the economic superpowers.
Shanghai plunged more than five percent as it led big losses across the region, with the Chinese yuan also taking a battering after the president threw a spanner into the high-level negotiations, which many observers were expecting to wrap up imminently.
"For 10 months, China has been paying Tariffs to the USA of 25 per cent on 50 Billion Dollars of High Tech, and 10 per cent on 200 Billion Dollars of other goods," Trump tweeted Sunday night. "The 10 per cent will go up to 25 per cent on Friday."
The warning will throw a shadow over the next round of talks, with a delegation from Beijing due in Washington this week, with Bloomberg News reporting the Chinese side are considering their position.
The two sides have imposed tariffs on $360 billion in two-way trade since last year. But Trump and his Chinese counterpart Xi Jinping agreed a truce in December, helping fan a surge across world stock markets for the past four months.
"Trump has taken the proverbial sledgehammer to the walnut this morning and the only two words likely to be on the minds of traders and investors this week are 'trade talks'," said OANDA senior market analyst Jeffrey Halley.
Hong Kong tumbled 3.3 percent by the break and Shanghai was off 5.2 percent as investors there returned for the first time since Tuesday. News that the People's Bank of China would slash the amount of cash lenders must keep in reserve, to support small businesses, had little impact in the face of Trump's warning.
Singapore was off 3.3 percent and Taipei shed 1.8 percent, while Sydney and Wellington were each one percent down.
Manila and Jakarta were also sharply lower. Tokyo and Seoul were closed for holidays.