Sand project off Diani beach runs into headwinds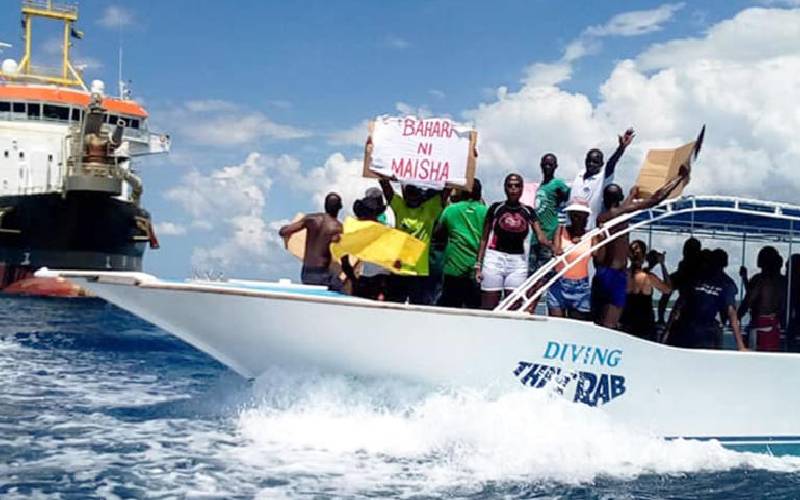 A parliamentary committee has directed the National Environment Management Authority (Nema) to convene a meeting to discuss the fate of the ocean sand harvesting off Kwale beaches.
Speaking during a crisis meeting at a hotel in Diani on Saturday, Parliamentary Committee on Environment and Natural Resources Chairman Japhet Mbiuki Kareke said that following hue and cry from marine environmentalists, fisherfolks, hoteliers and the public over adverse effects of sand harvesting, Nema should convene a meeting to deliberate on the matter.
Prior to the parliamentary committee session, locals held a protest march to denounce the sand harvesting activities.
"You have one week to bring together all key stakeholders for a meeting to identify the core problem and identify what needs to be done," Mr Kareke said.
He added that his committee had received several written submissions and video evidence on effects of sand harvesting and would table its report before the august House for action.
There were weeks of heightened protests that at one time saw protesters attempt to block a chartered sea dredger vessel Mv Whillem Van Oranje from scooping sand off the world acclaimed beaches, with reports emerging that a fisherman had been threatened for speaking loudly against the exercise.
Sand being harvested off the Kwale beaches is being used for upgrading expansion works at the Port of Mombasa, including a Sh40 billion Kipevu Oil Terminal.
The aggrieved stakeholders have come up with a pay bill number christened Mchanga platform to raise funds to protect the marine environment.
Matuga MP Kassim Tandaza said it was unfair for the Government to press on with the project.
"Since time immemorial, we have been dependent to a large extent on the ocean for our daily survival. We have nowhere to turn to if the ocean is heavily polluted and destroyed," Mr Tandaza, himself an environmental expert said.
During the five-hour stormy meeting, officials from Nema were heavily criticised for allowing the project to proceed without following proper procedures.
Mr Daniel Maina, an environmentalist with Kisimani Conservation Network, said initial Environmental Impact Assessment for the exercise in 2008 only covered dredging and disposal off Shelly Beach within Mombasa County.
"It emerged that the scope of work that was earmarked at the Port of Mombasa then was too much and required a lot of sand that was not readily available hence the moving to new sites off Diani beach," he said.
Nema officials conceded that they undertook an addendum to license the sand harvesting in 2012.