Complete old projects before starting new ones: State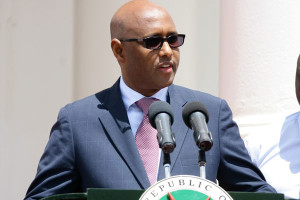 The Government has urged regional development authorities in the country to finish all their projects before jumping onto a set of new programmes.
Speaking in Mombasa, Cabinet Secretary for East Africa and Regional Development, Adan Mohamed said the Government should not allow any more wastage through abandoned and unfinished projects.
He was speaking when he launched the Coast Development Authority (CDA) board in Mombasa.
The CDA board appointed recently is chaired by former Labour Cabinet Secretary Mr Kazungu Kambi. Other members are Beatrice Gambo, Amina Abdalla, Mshenga Ruga, Omar Famau, George Kiti and Julius Ndegwa.
Mr Mohamed also said the ministry was keen in fighting corruption, issues of governance and multiplicity of projects that lead to loss of public funds.
"The government focus currently is that regional development authorities and any other state agency is that they must finish their projects before starting new ones. This will curb wastage of public funds," he said.
Mr Mohamed said CDA was fast tracking the revival of a mango processing plant in Hola, Tana River County that would serve more than 30,000 farmers in the Coast region. The processor was bought at a cost of Sh60 million and awaits commissioning.
He also said the development agency would run the Sh35 billion Mwache dam in Kwale County once constructed by the Ministry of Water.
"Mwache dam will be constructed by the Ministry of Water but CDA will come in to oversee its day to day operations," he said.
The CS noted that CDA initiated the Mwache dam project but the Water Ministry has taken it over for implementation.
The CS noted that there are multipurpose projects that no single institution or ministry can implement alone in the Coast region and CDA has focused on areas where it can put its strengths and make great impact on the lives of residents.
Mr Kambi said CDA has a qualified team that needed facilitation to deliver on its mandate.
"My team is prepared to steer CDA to deliver on its mandate in the areas of its jurisdiction with improved funding," Kambi said.
Last month, CDA managing director Mohamed Keinan said the agency was reviving the mango processor at a cost of Sh60 million to serve farmers from Tana River, Kilifi, Lamu and Garissa counties.
Dr Keinan said a new plant with a capacity to crush one to 1.5 metric tonnes of mangoes per hour or 12 metric tonnes per eight-hour shift has already been supplied and delivered to the site for installation.
The Boeing intern who rose to CEO
Dennis Muilenburg's elevation to the top job in a company, where he started off as an intern, shows that company loyalty can still pay off.