Tea workers on hunger strike threat over pay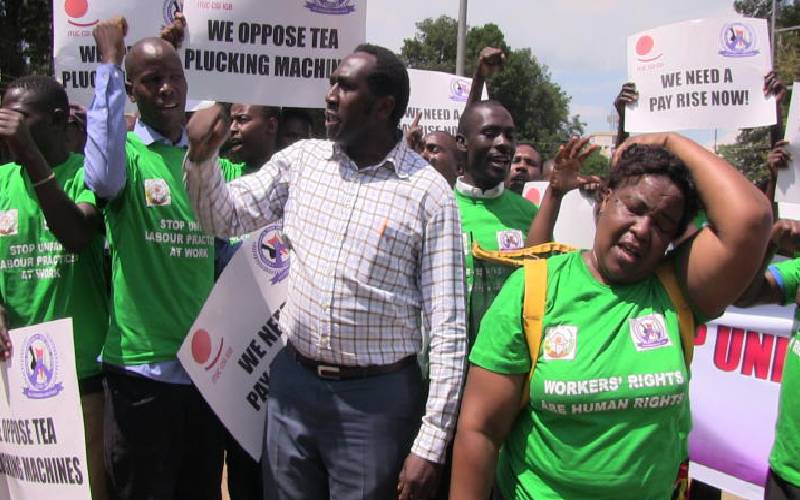 Workers in multinational tea farms have threatened to go on hunger strike if the firms do not sign a new pay deal with them.
They accused the firms of refusing to sign a new pay agreement for six years now and enslaving them.
Yesterday, the workers marched through Kericho streets before camping outside outside the Kenya Tea Growers Association (KTGA) offices where they left protest letters and placards.
The workers under the Kenya Plantation and Agricultural Workers Union (KPAWU) have been fighting to compel the tea companies to sign a Collective Bargaining Agreement with them since 2013.
They vowed not stop fighting for their rights until the multinationals grants them at least a 10 per cent salary increment.
"Today is just a warning shot. In two weeks' time, we will come back to the KTGA offices. We will not move out until we get the salary increment or die of hunger," said KPAWU's legal counsel, Mesherk Khisa.
"For the last six years, the workers have not had any salary increment. During the period, the cost of basic commodities has risen to more than a dollar, how are they expected to survive?" he said.
The union also protested the deployment of tea plucking machines by the companies saying these had rendered at least 3,000 workers redundant.
"We cannot watch as the economy of a town such as Kericho is killed through the mass unemployment in the tea industry. Governors in tea growing counties must ban the use of tea plucking machines," said Khisa.
However, KTGA Chief Executive Officer Apollo Kiarii accused the worker's union of using a 'militant approach' in demanding for a pay hike.
"All tea industry stakeholders must protect the industry. If we don't, we will be pushing it to the South African way where unions were so militant and pushed for such high wages that at the end of the day tea production was no longer economically viable," he said.
On mechanisation of tea industry, Kairi pointed out that it was not new in the country and in the world and that no one has lost a job after the introduction of tea harvesting machines.
"Mechanisation has been here since tea growing began. Not a single employee from commercial plantations has a lost a job because of mechanisation," he said.