Why Kenya is least prepared for artificial intelligence revolution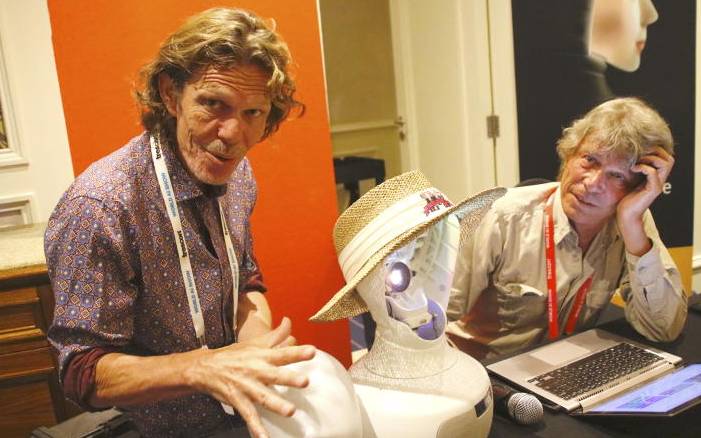 In the movie Frank and Robot, a son gets his retired, aging father a robot as a companion. At first, his father is hesitant to accept the new caregiver, but with time, the two forge a close friendship that is human-like in all its risks and rewards.
Countless such movies have come out of Hollywood, illustrating how artificial intelligence (AI) and automation have captured people's imagination.
Many people believe AI - computer systems trained to mimic human decisions and actions - will be the disruptive agent of the third industrial revolution and usher in a new age of machines.
Advancements in hardware and software have seen the forms of AI and their subsequent application grow exponentially, and experts say no sector will be spared from the revolution.
Some of these technologies were on display in Nairobi last week, where hundreds of delegates from across the globe converged for the World AI Show.
One of the displays that attracted much attention was Furhat, a social robot that conducts conversational exchanges while maintaining eye contact and mimics human expressions, such as smiling and lifting its eyebrows.
Furhat is different from Sophia, the humanoid robot unveiled by Hong Kong firm Hanson Robotics, that is equipped with human features like lips, teeth and eyes that move to create expressions.
Instead, a small projector behind a white plastic mask displays 3D expressions of joy, sadness or surprise, depending on the programming that is controlled through an average laptop that runs on an Intel Core i5 processor.
"This is a digital assistant, more or less the concept of Siri or Alexa that is present in our phones and homes, but instead you have a physical form to interact with," said Preben Wik, co-founder of Furhat Robotics, the company that manufacturers Furhat.
"Humans have more than 50 muscles in the face and they all have to move in symphony to create a single expression. But a mechatronic solution is complicated and noisy and no one has been able to do it properly yet," he said.
The robot has a camera equipped with sensors that can identify facial expressions and is able to make simple head movements and "speaks" through two obscured speakers at the front.
It has been deployed as a test in two schools in Sweden to help children with learning disabilities and Mr Wik says although mass deployment is still a long way off, the pace of automation is faster than most people acknowledge.
"It's happening so fast that it's a little bit scary," he said. "I think how we should deal with AI is an important conversation we should have as a society."
"There's an analogy of AI being the fuel of a rocket where it can take humans into space, but a rocket needs a steering mechanism and a target and at the moment, we just have the fuel but we don't know where we are going," said Wik.
Last year, ICT Cabinet secretary Joe Mucheru formed a taskforce to look into how the country can apply blockchain and AI technologies.
The taskforce has completed the report and handed it over to the Government with several recommendations that if implemented, could significantly change key functions and processes in the public and private sectors.
"We believe that AI, blockchain and other disruptive technologies can provide new ways of tackling the challenges of unemployment, corruption, insecurity and poverty,' said ICT Principal Secretary Jerome Ochieng during the summit last week.
"Furthermore, these technologies have the potential to enhance overall public service delivery, job creation, cyber security, trusted single digital identity, financial inclusion, reduction of transactional fraud, land titling, promotion of democracy and the sharing economy."
Everyday life
Mr Ochieng said examples of where blockchain can be used is in the allocation and funds management of the 500,000 proposed low-cost housing units, the voting and relaying of election results, as well as in education.
Bitange Ndemo, the chairman of the Distributed Ledgers and Artificial Intelligence Taskforce, says Government projects such as the controversial Huduma Namba are the first steps towards adopting these technologies into everyday Kenyan life.
"The Government has actually started implementing some of the recommendations," he said. "The application of AI and blockchain in Government needs a trusted identity and the Huduma number is key as we move towards a biometric identity."
However, concerns have been raised over ethical considerations, such as data privacy in the deployment of artificial technologies.
"The artificial intelligence sector accumulates a lot of personal data and a big amount of this is used by machine learning systems," says Catherine Kariuki, an ICT lawyer and partner at TripleOkLaw Advocates.
She says laws such as the European Union's General Data Protection Regulation that came into force last year, will impact how AI technologies are used.